How to Spot the World's Best Dividend Stocks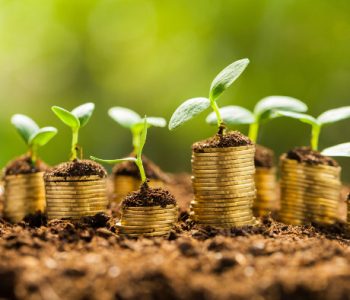 iStock.com/artisteer
While poking around my DVD collection the other day, I came across a copy of The Last Waltz.
The documentary celebrates the final concert of The Band, one of my favorite rock-and-roll groups from the 1960s and 1970s. Gathering on Thanksgiving 1976, the group put their stamp on those songs that defined an era in music: "The Weight," "The Shape I'm In," and "It Makes No Difference," among many others.
Even if you've never listened this concert before, you've definitely heard these songs on the radio. Many people in the music business rank The Last Waltz as one of the top concert movies of all time.
Anyway, I happened to mention it to my buddy Dave. As a pro concert photographer, I thought he'd might have some insight as to why the movie held up so well. After 40 some-odd years, why do people still listen to it?
"If you want something to last forever, you have to have the best," he answered.
"Martin Scorsese directed the film. You had Bob Dylan, Neil Young, Eric Clapton, and Muddy Waters. Not to mention a dozen or so other top names of the time. They didn't spare an inch on the stage for mediocre talent."
The Martin Scorsese Guide to Dividend Investing
Dave's comment kind of stuck with me. After mulling it over, I thought, "Hey, what a great rule for business and life in general."
So, what does this have to do with dividend investing? 
If you want to create income streams that can last decades, it pays to own the highest-quality assets. You need to ruthlessly slash the mediocre businesses from your portfolio. Only a collection of the biggest, most dominant companies will likely survive the test of time.
And for the most part, that rule shows up in most of our Automated Income recommendations for paid subscribers. We seek out businesses with entrenched market positions, top-tier management teams, and growing dividends for shareholders.
We're not just looking out the next quarter or two. We're thinking years and decades ahead. We want our portfolio to become the The Last Waltz of the dividend world, still cranking out income 40 years from now, and beyond.
Take Waste Management, Inc. (NYSE:WM), for example.
The company's dominance in landfill ownership makes Waste Management a formidable competitor in the waste industry. The company's vast network of collection routes makes it next to impossible for a small upstart to enter the business.
That has created a dividend powerhouse for shareholders. Waste Management has paid out a dividend every year since 1976 (the same year Scorsese filmed The Last Waltz). Shares have soared over 80% since we first covered the stock in 2015.
Or take one of my favorite dividend payers, Yum! Brands, Inc. (NYSE:YUM).
Yum! owns some of the most valuable restaurant brands in the world (KFC, Pizza Hut, and Taco Bell). It's raw size allows it to play hardball at the negotiating table with suppliers and push out smaller "mom and pop" stores.
And unless Americans develop a sudden taste for celery, I suspect this name will crank out dividends for decades to come. Yum! Brands has increased its distribution threefold since 2004. And since we recommended shares to readers in early 2015, the stock has delivered a 55% total return.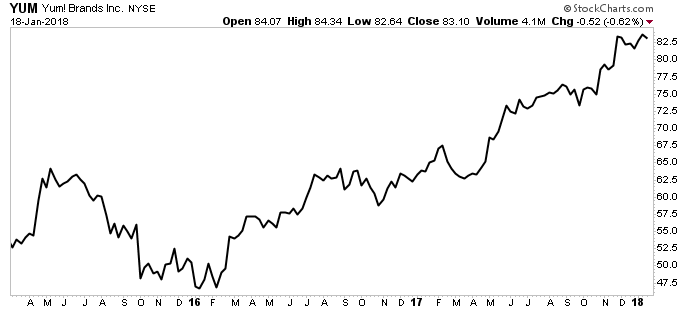 Source: StockCharts.com
Finally, we see the same theme play out once again in natural gas distributor WGL Holdings, Inc. (NYSE:WGL).
As long as Maryland residents want to heat their homes, they'll continue to write WGL big checks each month. And because it's not practical to have two different sets of pipes running through each house, the company will have a total monopoly on this market.
That has created a lucrative formula for shareholders. Since 1972, WGL has paid a dividend to shareholders every single year. And since we recommended the stock to Automated Income readers in 2014, shares have delivered a total return of 118.7%–and that's including dividends.
Spotting the World's Best Dividend Stocks
Of course, you have no sure things in investing.
But when you buy dominate businesses, with great management dividends, and growing dividends, you put the odds in your favor. Your portfolio stands the best chance of surviving the test of time.