Paychex Stock: A Forever Asset You've Never Heard Of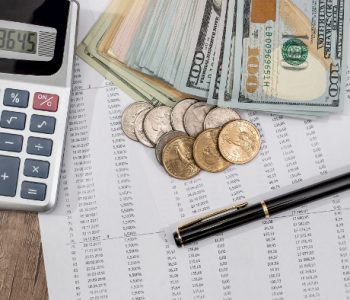 The Best Dividend Stocks Around
The world has caught on to our best dividend stock idea: "forever assets."
Over the past few years, forever assets have soared in value. These long-term dividend stocks are wonderful businesses you can literally buy today and hold for the rest of your life. We've seen owners of elite stocks like Clorox Co (NYSE:CLX), McDonald's Corporation (NYSE:MCD), and Colgate-Palmolive Company (NYSE:CL) making fortunes.
Case in point: Paychex, Inc. (NASDAQ:PAYX). This little-known firm provides payroll services for thousands of American businesses. And, while I doubt you hear it mentioned at cocktail parties, the stock has crushed the broader market for a couple of reasons.
For starters, Paychex cranks out profits. For businesses, it's expensive and time-consuming to go elsewhere. In addition, Paychex locks in customers with long-term contracts.
As a result, management can pass on small price hikes each year. The company generates $0.71 in gross margins for each dollar in sales. I can only think of a handful of businesses in the world in which this is profitable.
Better still, the firm gushes cash flow. Growth requires little in the way of ongoing investment. Most customers come to the business through word of mouth, so you don't even need much in the way of advertising.
Most of this cash gets passed onto shareholders. Today, Paychex sends out a quarterly dividend of $0.46 per share, which comes out to an annual yield of 3.2%. Since 2000, this payout has grown nearly eightfold.
These dividend hikes should continue, as Paychex's customer base looks ripe for cross-selling. The company has moved into other HR services, like retirement planning and healthcare administration.
These new businesses make a lot of sense, given that customers already trust Paychex for their payroll processing. And beyond just boosting sales, these measures should improve retention. After all, the more services that customers buy, the more sticky they become.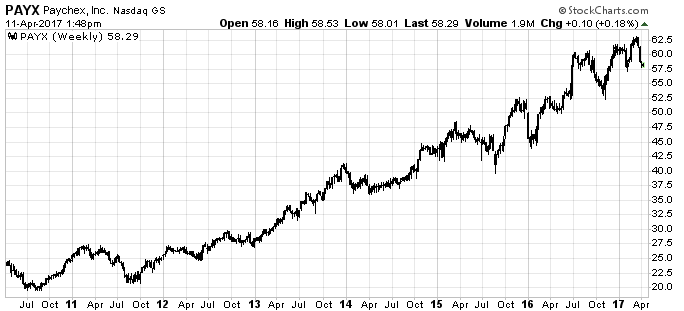 Chart courtesy of StockCharts.com
Bottom line: Paychex tops my list of forever assets. Buying these dividend stocks, and then compounding wealth with them for years, makes one of the surest ways to get rich in the stock market.
Of course, these names won't soar by triple-digits overnight. Instead, they form the core of a retirement portfolio. If you don't at least consider these potential best dividend stocks today, you might be kicking yourself in 30 years.
Also Read:
Dividend-Paying Bank Stocks to Consider for Retirement