Brookfield Renewable Partners LP: This High Dividend Stock Now Yields 6%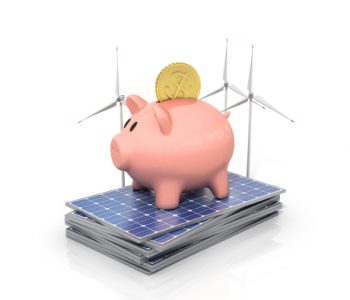 Earn 6% From This High Dividend Stock
Income investors are always excited finding a high dividend stock, but can such stocks be too good to be true?
Investing in high dividend stocks takes a bit more work compared to stocks of a blue-chip company. There are times a high yield is being offered, so the share price is supported with continued buying and liquidity. In this case, the question is, "are earnings sustainable to keep paying the dividend payment?" Brookfield Renewable Partners LP (NYSE:BEP) stock is a high-dividend stock that is highly disciplined towards making sure the payout is sustainable.
Let me explain three reasons why BEP stock is a quality high-dividend stock and why it will continue be in the future.
Huge Helping Hand from the Parent Company
Brookfield Renewable is a company that is focused on the future of clean, renewable power and operates in North America, Brazil, Columbia, and Europe. The company has operated for 17 years and has been public since 2011.
BEP stock has one key advantage that many companies don't have: it has a strong parent company in the form of alternative investing company Brookfield Asset Management Inc (NYSE:BAM). Brookfield Asset Management has a market cap of $46.0 billion and has approximately $250.0 billion assets under management. This is compared to a market cap of $5.7 billion and assets of approximately $26.0 billion for Brookfield Renewable. There are always opportunities to0 divest assets down from the parent company, which would increase the child's portfolio and payout.
In 2011, Brookfield Asset Management spun out approximately 82% of the business and retained 18% of the outstanding shares. To this day, it continues to be the largest shareholder of BEP stock. If Brookfield Renewable had a deal come its way and the balance sheet didn't support it, there is always the option of getting assistance from its parent company. (Source:"Brookfield Renweable Partners LP," Morningstar, last accessed October 28, 2016.)
For income investors, BEP stock offers a high dividend yield of 5.9%, compared to 1.44% for BAM stock. BEP also has the advantage of being a pure play in the renewable energy sector.
Analyst Outlook
The average price target is $32.93, which is a 8.7% upside move from the current price of $30.00. When the dividend is factored into this return, it would represent an overall estimated return of 14.7%, which is in line with the company's goal of a long-term average return of 12%–15%. Shares of BEP stock have been ranked as both "overweight" and a "buy" by analysts. (Source: "Brookfield Renewable Partners L.P.," MarketWatch, last accessed October 28, 2016.)
When is comes to the dividend, Brookfield Renewable is targeting a payout of 70% from funds from operations; the remaining 30% is retained by the company and invested in new projects. On an annual basis, the targeted dividend growth rate is five percent to nine percent, which it has managed to accomplish so far. From 2011 to the present, the average dividend growth has been 6.3%. (Source "Investor Meeting," Brookfield Renewable Partners LP, September 29, 2016.)
Assets Held in the Portfolio
The company operates in three segments: Hydroelectric, Wind, and Biomass. The current growth strategy is to invest $500.0 million to $600.0 million per year to acquire assets in existing segments to grow the portfolio.
Each of the different segments have different lifespans for projects; wind and solar assets have a lifespan of 25 years, with a return on capital of 65%. The main focus for management is hydro assets, because the return on capital for those is 98%. Hydro assets are also what keep the cash flow steady, because the life of the project is perpetual. These are the assets that the company has has its eye on when they are put up for sale. (Source Ibid.)
Some governments are implying a future carbon tax on emissions of carbon dioxide, which would hurt the bottom line of some companies. However, Brookfield Renewable has nothing to worry about with their clean energy initiative; rather, the company would actually be considered to receive subsidiaries due to its wind and solar assets.
Final Word on BEP Stock
All of this makes Brookfield one of my favorite high dividend stocks. It is very rare to find a company and its analysts on the same page, as with Brookfield Renewable. Such a company is one that investors should take notice of, because no matter how the economy is doing, the cash flow will be sustainable and continue to pay out a high yield.