Bank of America Corp: Should Investors Still Consider BAC Stock?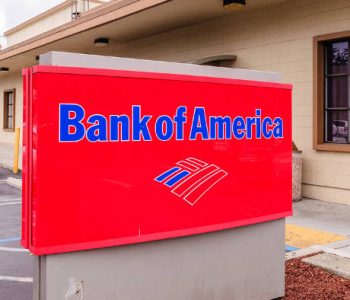 Upside for BAC Stock?
Bank of America Corp (NYSE:BAC) stock is up 74% over the past year and trading at an all-time high. But how did it get to this point?
The past is a great indicator of a company's performance and how it has impacted the bottom line. However, past performance does not guarantee future returns.
Therefore, investors considering BAC stock should take a look at how the future and the economy could impact the company. For BAC stock to continue trading higher, management needs to continue on their current path and focus on growing the business, which means shareholders would continue to be rewarded.
Is there more upside possible for BAC stock?
Positive Catalyst
Just last week, Bank of America reported its latest quarterly earnings, which were quite impressive. Many of the divisions saw positive growth when compared to the previous year, with brokerage assets, global wealth, and investment management and fixed income trading all seeing double-digit improvement. (Source: "Bank of America Reports Q4-16 Net Income of $4.7Billion, EPS of $0.40," Bank of America Corp, January 13, 2017.)
Growth of these divisions is not a one-quarter story, because once assets are received in these divisions, there is a long-term strategy in place to service clients. There is a close relationship between Bank of America and customers to work together, to achieve their mutual goals.
Another division that also saw growth and will continue to have a positive impact is the loan division. Further improvement in this division will come from continuing to grow the loan book and the impact of interest rates.
At this time, interest rates in the U.S. are sitting at historic lows of 0.75%, with really no downsides in sight. The U.S. Federal Reserve has been slowly increasing the benchmark rate, with two increases within a year. This move signals that the U.S. economy is growing and that future interest rate hikes should be expected.
The Fed's actions are a positive for BAC stock that will impact the net interest margins. Net interest margins are the difference in the interest rate that is charged to clients on their loans and the rate charged to those receiving interest on deposits into a savings account. As interest rates continue to increase, the net interest margins for BAC are expected to expand.
Valuation
When taking a look at the financial sector, one metric that should always be considered is the price-to-book ratio. This ratio calculates the current market trading price and compares it to the historic value of the company.
A price-to-book ratio of 1.0 times means that the current market price is trading at its historic value. As such, with a ratio of 0.90 times, BAC stock is currently trading at a discount to its historic value of 1.5 times.
Also when looking at price-to-earnings (P/E) ratio, there is more evidence that BAC stock is trading at a discount. Currently, BAC stock has a ratio of 15.3 times—much lower than the overall S&P 500, with a ratio of 25.49 times.
BAC stock could get a boost for both multiples as the business continues to grow.
Final Thoughts On BAC Stock
Currently BAC stock is trading at $22.94 and the current dividend that is offered is 1.31%. The dividend is paid on a quarterly basis in the amount of $0.75. BAC stock also is a dividend growth stock which has seen growth of 650% since 2014.
With all this being said, BAC stock is one that should be considered to be owned. Even though the past has been great for investors the future does look positive which will affect the bottom line of BAC and shareholders.