BAC Stock: Is It Time to Take Profits on Bank of America Corp?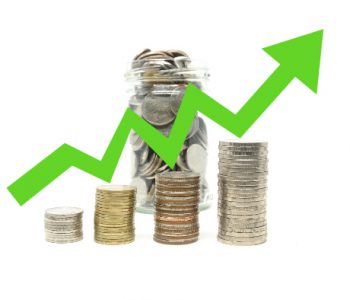 Any More Upside for BAC Stock?
Our Income Investors readers are up 40% in two months.
And it's not from some option or junior miner, either. It's from blue-chip Bank of America Corp (NYSE:BAC) stock.
Shares are surging to new highs. The company, though, has a number of catalysts that are poised to lift it ever higher. So the recent run in BAC stock could be just the beginning.
Let me explain.
Our best idea last year were bank stocks, by a mile.
In September, my colleague Jing saw the crisis at Wells Fargo & Co (NYSE:WFC) as a buying opportunity. The stock was hammered after an ethics scandal rocked the business. Readers who scooped up shares amidst the carnage, however, earned a tidy 20% profit.
A month later, my colleague Gaurav started pounding the table to buy Bank of America stock. Financials were hated at the time. Cost cuts, dividend hikes, and higher interest rates, he reasoned, could catch investors' attention.
He was right. Since the piece was published, BAC stock has soared more than 40%. That return has made the company one of our best-performing picks of 2016.
Bank of America, though, has a number of triggers that could lift shares further.
First, trimming expenses is boosting the bottom line. Chief Executive Officer Brian Moynihan is running a tight ship, targeting another $1.0 billion in cost cuts by 2018. Lower loan loss provisions–thanks to a rip-roaring economy and a shift to higher-quality customers–are also expected to improve profits. (Source: "Goldman Sachs U.S. Financial Services Conference Presentation 2016," Bank of America Corp, January 2017.)
Second, Bank of America should benefit from higher interest rates. Last quarter, the company earned $10.3 billion in net interest income–the spread between what the bank earns from loans and pays to depositors. Executives expect this figure to grow by $600.0 million in the next quarter.
Finally, a Donald Trump administration is welcomed news for bank investors. Trump has been vague on specific proposals, promising a combination of tax cuts and reduced regulations. But with the government stepping out of the way, a big weight over the industry has been lifted.
A growing cash pile is all good news for income investors. Over the past few years, Bank of America has started to return a little more capital to shareholders. The Obama team, however, have kept a tight lid on distributions, insisting banks keep ample reserves on their books. A more laissez faire President in the White House might turn this dividend trickle into a raging river of cash flow.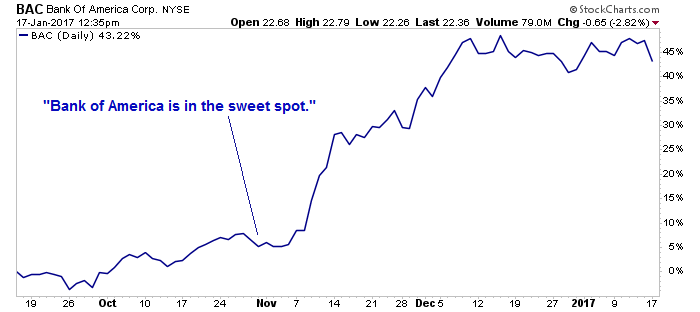 Source: StockCharts.com
Bottom line: bank stocks had all the markings of a grand slam home run, including an out-of-favor industry and executives making the tough choices to turn their businesses around.
And with the potential for dividend hikes, shares have regained investor interest. This is exactly what we look for in our top ideas.
BAC stock is on the verge of becoming a cash cow. I wouldn't be surprised to see a little profit-taking short term, and earnings certainly need to catch up to the stock price. But even if you missed our original call, this name still has more upside in 2017.