Amgen Inc. (NASDAQ:AMGN) Raises Quarterly Dividend 15%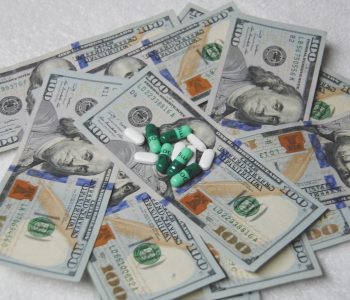 iStock.com/CI_ROME
Amgen Announces Dividend Increase
Today's chart highlights the power of a growing dividend.
Most income investors want a large, upfront yield. But for those with a little more patience, a smaller, growing distribution can often make a smarter proposition.
Case in point: Amgen, Inc. (NASDAQ:AMGN). In 2011, the biotech giant paid its first dividend to shareholders. Over the past few years, management has boosted the payout by an average of nearly 30% annually.
That trend has continued in the latest Amgen dividend news. On Tuesday, the company raised its quarterly distribution to $1.32 per share. This represents a 15% increase from the previous payout. (Source: "Amgen Announces 15 Percent Increase In 2018 First Quarter Dividend," Amgen, Inc., December 12, 2017.)
For investors, this Amgen dividend increase raises the yield on shares to three percent. That might not be enough to knock the socks off of the most discerning income hunter, but as you can see in the chart below, such rapid distribution growth has resulted in outstanding overall returns.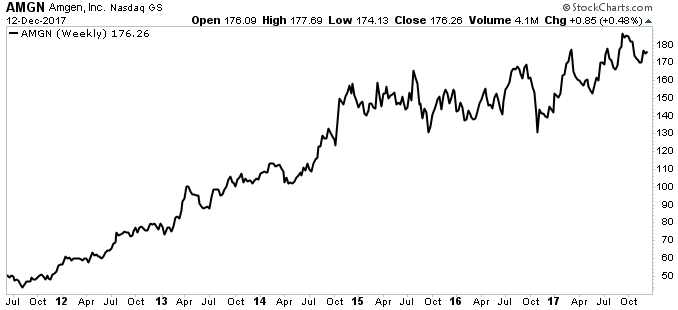 Source: StockCharts.com
Amgen should have no problem keeping the dividend hikes coming. The company spends only 45% of profits to cover distribution payments. This leaves management with lots of room to raise the payout further.
Also Read:
Eli Lilly and Co Raises Quarterly Dividend 8%
Moreover, several of the company's main products continue to grow sales at a double-digit clip. Management has also built a long pipeline of potential new drugs, which features 12 late-stage clinical programs.
In other words, don't dismiss a wonderful business because of a low yield. This dividend trickle today could become a raging river of cash flow.