American Tower Corp: This Dividend Could Double Again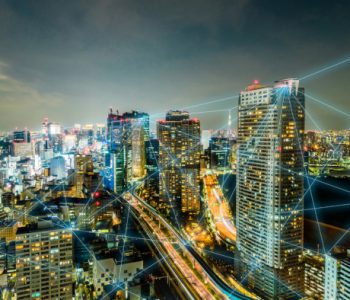 iStock.com/metamorworks
Stock Pays Out More and More
Earlier this month, I told you about one of the biggest trends in the country: fifth generation mobile technology ("5G").
The switch promises to boost Internet speeds 100-fold from today's levels. That could make a host of new technologies possible, such as smart cities, self-driving cars, and the "Internet of Things."
Verizon Communications Inc. (NYSE:VZ) CEO Lowell McAdam says 5G could spark America's "fourth industrial revolution." Some analysts predict 5G revenues could top more than $12.0 trillion per year worldwide. But even if the market only ends up being a fraction of what the industry expects, the prize here is still huge. (Source: "Verizon's Lowell McAdam: 5G will usher in the fourth industrial revolution," CNBC, September 14, 2017.)
I told you the best way to invest is to buy companies selling "picks and shovels" to the 5G gold rush. Some of these stocks have already posted explosive gains. But if you're sitting on the sidelines, it's not too late to get invested.
AMT Stock and the 5G Gold Rush
Last week, shares of American Tower Corp (NYSE:AMT) hit an all-time high.
We hold this real estate investment trust in my Passive Monthly Income portfolio. The partnership owns thousands of broadcast sites around the world, which it leases out to mobile carriers for steady income.
As the smartphone has become an indispensable part of our daily lives, this trust as prospered. American Tower Corp has reported booming sales, profits, and cash flows. Units have delivered a total return, including distributions, of 550% over the past decade.
And this could be just the beginning. As carriers begin rolling out 5G, they will need to spend billions beefing up their networks. The technology requires more broadcast sites, in more places, and with more capacity.
That has pushed up rental income for American Tower Corp. Last quarter, the partnership saw adjusted fund flows from operations just 20.1% year-over-year. Moreover, management just raised their earnings and sales guidance for the full year.
Those figures represent huge growth numbers. By comparison, most companies have struggled to grow earnings by even five or six percent over the past 12 months. Boosting their profit outlook also shows a lot of confidence in the underlying business.
American Tower chairman and chief executive officer James Taiclet attributes this growth to the 5G boom.
"As momentum for 5G builds, a number of trends in network deployments are expected to increasingly contribute to our demand profile as well. […] In addition to helping usher in the deployment of new spectrum, we anticipate that 5G is likely to open up a host of new business and consumer services, including a tremendous expansion in IoT functionality," he said. (Source: "American Tower (AMT) Q3 2018 Results – Earnings Call Transcript," Seeking Alpha, October 30, 2018.)
In essence, American Tower will sell "picks and shovels" to the 5G gold rush. No one can predict which gadget maker will come out on top during the boom. But all of these companies will need data transmission sites, which this partnership owns in spades.
For shareholders, this has created quite the income stream.
Since 2012, AMT stock's distribution has risen every single quarter. Over that period, the payout has grown nearly fourfold.
Today, shares yield only two percent. That might not impress some investors, but analysts project the payout of AMT stock to double over the next four to five years. At that rate, even a dividend trickle can become a raging river of cash flow.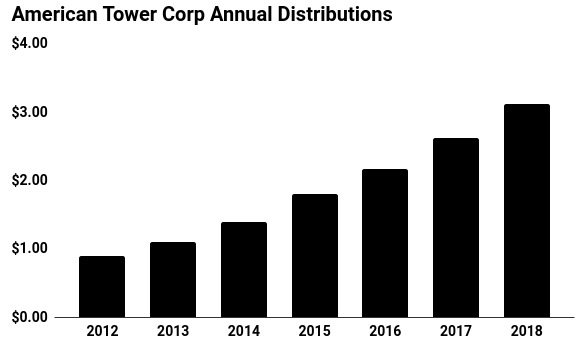 Source: "Dividend History," American Tower Corp, last accessed December 18, 2018.
The Bottom Line on AMT Stock
But while American Tower stock looks reasonably priced today, I don't expect this opportunity to last forever.
Several research outfits have recently slapped a "buy" rating on this trust. A number of hedge funds have also started accumulating units.
As a result, AMT stock has surged 16% over the past six months. And I expect units to keep moving higher as Wall Street catches onto the 5G story.
American Tower Corp remains a hidden gem, but I don't expect it to stay that way for long.