Amcor Stock: Beaten-Down 4.5%-Yielder Reports Strong Results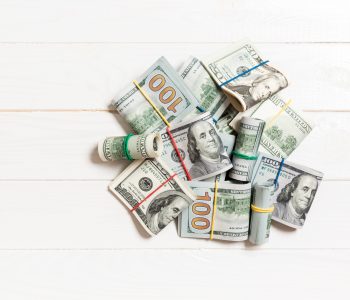 Why AMCR Stock Is Worth Keeping an Eye On
Stock market volatility continues to grip Wall Street as the fallout from the recent financial crisis is still in its infancy. Stubbornly high inflation, rising interest rates, and the ever-looming fears of a recession are also creating uncertainty. It's the perfect economic environment for so-called boring blue-chip stocks like Amcor PLC (NYSE:AMCR).
Many analysts believe the stock market may have already peaked for 2023. If so, it would eerily echo 2022, when the S&P 500 peaked for the year on January 5.
Leon Cooperman, billionaire investor and CEO of Omega Advisors, is bearish on the stock market and doesn't think the S&P 500 will hit a new high for a long time. He has also warned of a coming recession and has said stocks could plunge by 20%. (Source: "Leon Cooperman on 'Self-Induced' Crisis, Federal Reserve," YouTube, uploaded by Bloomberg Radio, March 20, 2023.)
This highlights the need for investors to be cautious. Many advisors will say to focus on so-called recession-proof stocks, although there really is no such unicorn. Every stock experiences volatility at some point or another, but there are blue-chip stocks that perform better than others during periods of economic turmoil and rebound quicker than others when conditions improve.
At the moment, there are blue-chip stocks out there beating the market and providing reliable, high-yield, rising dividends. Amcor stock is one of them.
About Amcor PLC
Amcor is a packaging company that operates in the consumer discretionary sector. Most investors wouldn't equate the term "consumer discretionary" with companies that are recession-proof. However, with the growth of discount retailers and e-commerce, the need for various types of packaging has been fairly resilient. Moreover, there will always be a need for packaging.
Amcor PLC was formed in June 2019 after Australia-based Amcor Ltd. acquired U.S.-based Bemis Co. Inc. and the two packaging giants merged. Amcor Ltd had already been trading on the New York Stock Exchange, and it has brought its long dividend history to the merged company.
Now headquartered in Zurich, Switzerland, Amcor PLC is a leading provider of a diverse array of packaging products for consumers all over the world. The company has two main business segments: Flexibles and Rigid Packaging. (Source: "Amcor Overview: February 2023," Amcor PLC, last accessed March 22, 2023.)
The Flexibles segment provides flexible and film packaging to the food, beverage, medical, personal care, pharmaceutical, and other industries. Of the company's flexible packaging, 83% is designed to be recycled.
The Rigid Packaging segment provides containers for food and beverage products, including carbonated soft drinks, water, juices, sports drinks, milk-based beverages, alcohol, sauces, dressings, and spreads. This segment also provides containers for personal care items and plastic caps for various applications. Of its rigid packaging, 96% is designed to be recycled.
Amcor PLC's "specialty" cartons are designed to be 100% recyclable.
The vast majority of the company's sales, 95%, come from consumer end markets. This generates consistent revenue growth. Some of its biggest customers are Anheuser-Busch Inbev SA (NYSE:BUD), Johnson & Johnson (NYSE:JNJ), Kimberly Clark Corp (NYSE:KMB), PepsiCo, Inc. (NASDAQ:PEP), Coca-Cola Co (NYSE:KO), Keurig Dr Pepper Inc (NASDAQ:KDP), and Unilever plc (NYSE:UL).
Amcor PLC's customers aren't just balanced by industry, but also by geography, with 49% of its sales coming from North America, 25% from emerging markets, and 23% from western Europe. To meet its customers' demands, Amcor has approximately 220 manufacturing plants in 43 countries.
Last December, it sold off its Russian business for $365.0 million. This is in addition to approximately $65.0 million of cash on hand in Russia, which was repatriated upon the closing of the sale.
In January, Amcor PLC announced plans to acquire Shanghai-based MDK, a leading provider of flexible packaging for the medical device segment. MDK generates annual sales of approximately $50.0 million. The acquisition is expected to close by the end of the third quarter of Amcor's fiscal 2023 (March 31).
Excellent Financial Results; Amcor Stock's Dividend Hiked for 26 Years
Boring is boring, but Amcor PLC being an industry juggernaut means consistent revenue growth, high cash flow, a solid balance sheet, and acquisitions (30+ since 2010).
For the first six months of its fiscal 2023 (ended December 31, 2022), the company's net sales increased by six percent year-over-year to $7.3 billion. Its net income in the period went up by 62% to $691.0 million, or $0.37 per share. (Source: "Amcor Reports Strong First Half and Second Quarter Fiscal 2023 Result," Amcor PLC, February 7, 2023.)
Commenting on the results, Amcor's CEO, Ron Delia, said, "Amcor delivered strong financial performance for the first half of fiscal 2023, demonstrating excellent operating leverage amid ongoing challenges in the macroeconomic environment. For the year-to-date, organic net sales growth of 2% drove an 8% increase in adjusted earnings per share on a comparable constant currency basis." (Source: Ibid.)
"Boring" can also mean growing dividends and regular share repurchases. During the first half of fiscal 2023, Amcor PLC returned $400.0 million to shareholders through dividends and share repurchases.
AMCR stock currently pays quarterly cash dividends of $0.1225 per share, for a current yield of 4.5%. That's triple the S&P 500's current yield of 1.5%.
The company has raised its dividends in the last 26 years, earning it the title of dividend aristocrat, an S&P 500 company that has raised its dividend annually for at least 25 years. Amcor stock's rising-dividend streak should continue; its payout ratio is just 67.9%.
Over the last three years, Amcor PLC has repurchased more than eight percent of its outstanding shares for $1.5 billion. For the six months ended December 31, 2022, Amcor repurchased 3.0 million of its own shares for $40.0 million. The company expects to repurchase $500.0 million worth of its shares in fiscal 2023.
Share-Price Performance & Forecast
In addition to returning billions of dollars to shareholders via reliable, high-yield dividends and share repurchases, Amcor PLC has been rewarding buy-and-hold investors with price appreciation. Since 2000, with dividends reinvested, AMCR stock has generated returns of 483%, versus 170% from the S&P 500.
Recently, however, Amcor stock has been taking a bit of a hit, much like the broader market. As of this writing, it's down by 6.8% year-to-date and 0.2% year-over-year.
The next 12 months look bright for shares of Amcor PLC. Analysts have provided an estimate of $11.60 per share, which points to potential upside of approximately six percent. That's far better than the analyst call for the S&P 500, which is for it to tumble by 20% in the next 12 months.
Chart courtesy of StockCharts.com
The Lowdown on Amcor PLC
As mentioned above, Amcor PLC is a global leader in consumer and health-care packaging and has a long history of reporting strong and growing cash flow. Amcor's free cash flow, which is well in excess of $1.0 billion annually, helps support its capital expenditures, acquisitions, share buybacks, and frothy dividends.
Amcor has a healthy balance sheet and a solid foundation for financial growth, which is good news for AMCR stockholders.