2023 Dividend Aristocrat List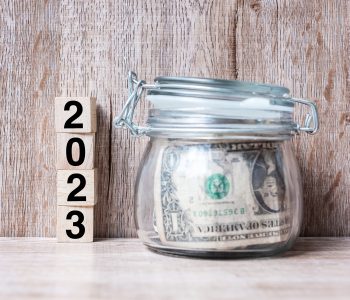 These S&P 500 Stocks Are Dividend Aristocrats
The year 2022 was miserable for stock investors, with the S&P 500 having one of its worst years and the Nasdaq falling deep into bear-market territory. Even the stable, boring Dow Jones Industrial Average ended 2022 flirting with a correction.
The outlook for 2023 isn't exactly bullish. Stocks need a reason to bottom and rebound, and that hasn't happened yet. Interest rates are still rising and inflation is at decades-high levels. Moreover, the odds of a recession happening in 2023 are pretty high, which means a slowing economy, weaker corporate earnings, and more volatility in the stock market.
Investors who are looking for financial growth in 2023 will need to look beyond share prices.
That's where dividend stocks come in. They're the shares of companies that make a lot of money and return cash to investors in the form of monthly or quarterly payments.
Who wouldn't love that?
It can come at a cost, though. Some companies tout their frothy dividends, but their underlying business could be weak, which means they could end up cutting or suspending their payouts. That kind of action can kill off investor sentiment and send a share price plunging. This means investors who are attracted to high yields could see their initial investments evaporate.
In a year when a recession is all but guaranteed, not just any dividend stock will do. Investors who want stable dividends need to find companies that raise their payouts on an annual basis. The longer the company's history of doing that, the better.
Why? Safe, growing dividends are a testament to a company's underlying strength. It means the company can generate money at every point of the economic cycle and isn't fazed by things like pandemics, wars, or other Black Swan events. No matter what's going on in the world, the company continues to reward buy-and-hold shareholders with annual raises.
Investors who want to juice their portfolios with reliable dividend stocks should consider dividend aristocrats. They are, without question, some of the safest dividend stocks on Wall Street.
What Is a Dividend Aristocrat?
A dividend aristocrat is an S&P 500-listed stock that has raised its dividend annually for at least 25 consecutive years. Not only do dividend aristocrat companies raise their dividends every year, but they have a history of outperforming the broader market in terms of share price. As such, dividend aristocrats are a great way to fight inflation and stock market volatility.
The dividend aristocrat list isn't static; companies get added each year for crossing the 25-year threshold for raising dividends annually. As of this writing, 65 stocks qualify as dividend aristocrats. Since these companies are the cream of the crop, chances are good you'll be familiar with many of them.
List of Dividend Aristocrats in Alphabetical Order
Company Name
Stock Ticker
Sector
Dividend Yield
Years of
Dividend Increases
3M Co
NYSE:MMM
Industrial
4.9%
64
Abbot Laboratories
NYSE:ABT
Health Care
1.9%
51
AbbVie Inc
NYSE:ABBV
Health Care
3.7%
51
Aflac Incorporated
NYSE:AFL
Financial Services
2.4%
41
Air Products & Chemicals Inc.
NYSE:APD
Basic Materials
2.1%
40
Albemarle Corporation
NYSE:ALB
Basic Materials
0.7%
27
Amcor PLC
NYSE:MCR
Consumer Cyclical
4.1%
40
AO Smith Corp
NYSE:AOS
Industrial
2.1%
29
Archer-Daniels-Midland Co
NYSE:ADM
Consumer Defensive
1.7%
47
Atmos Energy Corporation
NYSE:ATO
Utilities
2.6%
39
Automatic Data Processing Inc
NASDAQ:ADP
Industrial
2.1%
48
Becton Dickinson and Co
NYSE:BDX
Health Care
1.4%
51
Brown-Foreman Corporation
NYSE:BF.B
Consumer Defensive
1.2%
39
Brown & Brown, Inc.
NYSE:BRO
Financial Services
0.8%
29
Cardinal Health Inc
NYSE:CAH
Health Care
2.5%
35
Caterpillar Inc.
NYSE:CAT
Industrial
2.0%
29
Chubb Ltd
NYSE:CB
Financial Services
1.5%
29
Church & Dwight Co., Inc
NYSE:CHD
Consumer Defensive
1.3%
26
Cincinnati Financial Corporation
NASDAQ:CINF
Financial Services
2.7%
62
Clorox Co
NYSE:CLX
Consumer Defensive
3.3%
45
Cintas Corporation
NASDAQ:CTAS
Industrial
0.9%
40
Chevron Corporation
NYSE:CVX
Energy
3.2%
35
Coca-Cola Co
NYSE:KO
Consumer Defensive
2.8%
60
Colgate-Palmolive Company
NYSE:CL
Consumer Defensive
2.4%
60
Consolidated Edison, Inc.
NYSE:ED
Utilities
3.3%
48
Dover Corp.
NYSE:DOV
Industrial
1.5%
67
Ecolab Inc
NYSE:ECL
Basic Materials
1.4%
31
Emerson Electric Co
NYSE:EMR
Industrial
2.2%
66
Essex Property Trust Inc
NYSE:ESS
Real Estate
4.1%
27
Expeditors International of Washington Inc
NASDAQ:EXPD
Industrial
1.3%
27
Exxon Mobil Corp
NYSE:XOM
Energy
3.4%
40
Federal Realty Investment Trust
NYSE:FRT
Real Estate
4.2%
55
Franklin Resources, Inc.
NYSE:BEN
Financial Services
4.5%
43
General Dynamics Corporation
NYSE:GD
Industrial
2.0%
66
Genuine Parts Company
NYSE:GPC
Consumer Cyclical
2.0%
66
Hormel Foods Corp
NYSE:HRL
Consumer Defensive
2.4%
57
IBM
NYSE:IBM
Technology
4.7%
27
Illinois Tool Works Inc.
NYSE:ITW
Industrial
2.4%
58
Johnson & Johnson
NYSE:JNJ
Health Care
2.6%
60
Kimberly Clark Corp
NYSE:KMB
Consumer Defensive
3.4%
50
Leggett & Platt Inc
NYSE:LEG
Consumer Cyclical
5.5%
51
Linde PLC
NYSE:LIN
Basic Materials
1.4%
29
Lowe's Companies Inc
NYSE:LOW
Consumer Cyclical
2.1%
60
McCormick & Co Inc
NYSE:MKC
Consumer Defensive
1.9%
35
McDonald's Corp
NYSE:MCD
Consumer Cyclical
2.3%
47
Medtronic PLC
NYSE:MDT
Health Care
3.5%
45
NextEra Energy Inc
NYSE:NEE
Utilities
2.0%
26
Nucor Corporation
NYSE:NUE
Basic Materials
1.5%
50
Pentair PLC
NYSE:PNR
Industrial
1.9%
45
PepsiCo, Inc.
NASDAQ:PEP
Consumer Defensive
2.5%
50
PPG Industries, Inc.
NYSE:PPG
Basic Materials
2.0%
51
Procter & Gamble Co
NYSE:PG
Consumer Defensive
2.4%
66
Realty Income Corp
NYSE:O
Real Estate
4.7%
26
Roper Technologies Inc
NYSE:ROP
Industrial
0.6%
30
S&P Global Inc
NYSE:SPGI
Financial Services
1.0%
49
Sherwin-Williams Co
NYSE:SHW
Basic Materials
1.0%
44
Stanley Black & Decker, Inc.
NYSE:SWK
Industrial
4.2%
55
SYSCO Corporation
NYSE:SYY
Consumer Defensive
2.6%
52
T Rowe Price Group Inc
NASDAQ:TROW
Financial Services
4.3%
36
Target Corporation
NYSE:TGT
Consumer Defensive
2.9%
54
VF Corp
NYSE:VFC
Consumer Cyclical
7.4%
50
Walgreens Boots Alliance Inc
NASDAQ:WBA
Health Care
5.1%
47
Walmart Inc
NYSE:WMT
Consumer Defensive
1.6%
49
West Pharmaceutical Services Inc.
NYSE:WST
Health Care
0.3%
30
WW Grainer Inc
NYSE:GWW
Industrial
1.2%
51