These Top Dividend Stocks Yield Up to 13%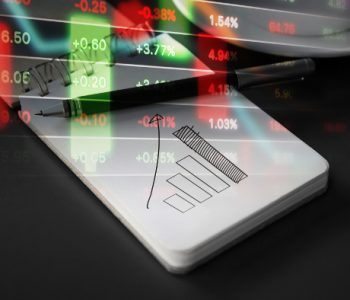 How to Spot Top Dividend Stocks
This company caps the list of top dividend stocks in the world.
If you had invested $1,000 into this business in 1970, your stake would be worth $928,000 today. What's more, your investment would be spinning out nearly $30,000 in dividend income each year. No other stock in the world comes close to matching these returns.
What innovative company could this be? It must have been disruptive. It must have been exciting. It must have been on the cusp of a new industry, leading the biggest trends of the 20th century.
Nope.
I'm talking about cigarette giant Altria Group Inc (NYSE:MO), the ultimate cash cow.
The Best Dividend Stocks to Own Forever
"Cash cows" can be the most lucrative investments around, though they get little coverage in the press.
As the name implies, these businesses can be "milked" for income. You tend to find them in dull, slow-growing sectors. With their big growth days over, they can just pay out most of their profits as dividends.
Yet despite their stodgy reputation, cash cows owners have become rich over the decades. In a 2015 paper, Credit Suisse Group AG (NYSE:CS) published the returns of each industry between 1900 and 2010. The best businesses tended to be slow, mature industries like food, chemicals, and electrical equipment. (Source: "Credit Suisse Global Investment Returns Yearbook 2015," Credit Suisse Group AG, last accessed March 8, 2017.)
Cigarettes topped the list. After all, they cost a penny to make, sell for a dollar, and are addictive. And because the industry matured decades ago, you don't need new factories or other equipment. As a result, makers like Altria can just pay out their profits to shareholders.
These findings don't come as a surprise to cash cow owners. I've met many people who have built huge fortunes just by holding these stocks for decades. New shareholders love them too, given they often pay out big yields.
Take my favorite cash cow, Iron Mount REIT (NYSE:IRM), for example. The firm has the excitement of milk toast. The company stores paper documents for businesses, charging a fee in exchange for warehouse space.
These facilities cost little to maintain, since you just need to buy a big, grey warehouse in some industrial park. And because moving stacks of files can be a hassle for customers, Iron Mountain can pass on small price hikes each year.
It has been a lucrative formula for owners. If you had invested $10,000 back in 1996, your stake would be worth $190,000 today. Better still, these shares would be paying out $12,000 each year in dividends.
J M Smucker Co (NYSE:SJM) looks like a textbook cash cow.
The company makes jam, pet food, and other pantry items. In other words, timeless products that don't need to be reinvented every few years. Smuckers will probably look the same decades from now.
In contrast, consider tech names like HP Inc. (NASDAQ:HPQ) and Apple Inc. (NASDAQ:AAPL). They must make huge investments into research and development just to stand in place. Most of their product lines will be out of date in five years.
You don't spend a lot of cash on research and development in the jam business. For this reason, this stock can crank out oversized dividends year after year. The firm has paid a distribution for decades and yields over three percent right now.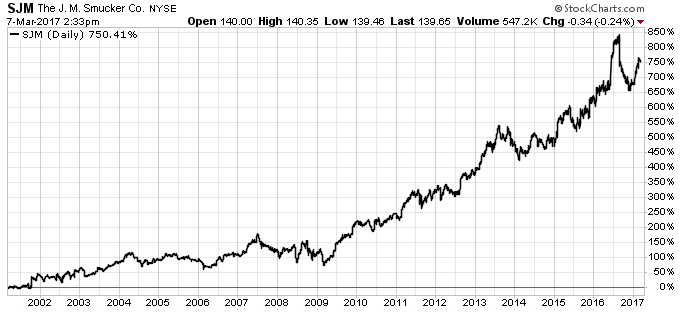 Source: StockCharts.com
Enbridge Energy Partners, L.P. (NYSE:EEP) might be the best cash cow of all.
Oil drillers spend billions hunting for new fields, hoping to strike it rich on the next gusher. Pipeline-owner Enbridge, in contrast, earns a tidy fee shipping barrels from wellheads to refineries. The company's network acts like the toll road of the energy patch.
This means stable profits. Sure, energy prices can be volatile. The number of barrels moving through pipelines, though, stays stable from year to year.
Best of all, the business throws off cash flow. Once buried underground, a pipeline just sits there. Ongoing costs come in at just a fraction of revenues, which allows Enbridge to pass on most of its profits to owners.
Shares currently yield around 13%.
The Bottom Line on Cash Cows
Bottom line, growth stocks make most of the headlines, but they don't always make investors the most money. Investing in a hot industry can be exciting, but who can say which firms will survive? Will these businesses even be profitable?
The real money, as the top dividend stocks above show, comes from compounding small returns over long periods of time. You typically find those kinds of profits in businesses that don't grow, don't innovate, and don't make headlines. But if you're willing to trade being the talk of your next cocktail party for steady returns, cash cows might be some of the best investments around.