3 Top Dividend Stocks for Rising Interest Rates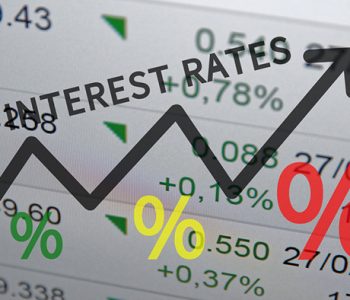 Top Dividend Stocks Hedging Against Rising Rates
With interest rates sitting at historic lows, the U.S. Federal Reserve seemingly has no choice but to raise interest rates. The first increase since 2006 came in December of last year, when the benchmark rate rose from between zero and 0.25% to between 0.25% and 0.5%. This behavior by the Fed shows confidence that the economy is growing. But with the rate hike in the history books, now the question is: when will the rates continue to increase and how gradual will it be?
What investors are concerned with in regards to a rate hike is what are the top dividend stocks and how to obtain the best earnings growth. There are some companies that won't perform well due to poor balance sheets or negative interest rates. As an investor you want to make money and focus on companies that will affect your bottom line.
Below are three excellent large-cap top dividend stocks that are positioned to take advantage of higher interest rates and reward shareholders.   
Boeing Co
Boeing Co (NYSE:BA) stock, with a dividend yield of 3.2%, is an example of a company that would meet the needs of those looking for a dividend-paying stock and earnings growth. The dividend has seen its payout triple in the last nine years thanks to strong management and the orders already in the pipeline.
Boeing has $472.0 billion, which would amount to 5,700 airline orders. Just to give you an idea how large this number is to the company, in the second quarter, BA stock reported revenue of $24.0 billion. The pipeline or current orders would be equivalent to approximately 20 quarters of earnings. (Source: "Boeing Reports Second-Quarter Results," Boeing Co, July 27, 2016.)
This is just one catalyst for the company, as with a large pipeline in place, capital financing will benefit as well. Boeing has already signed deals to sell their airplanes, so it won't be difficult to convert customers to sign with the financial division. As of the second quarter, the net portfolio balance was $3.0 billion, which has a lot of room to grow with so many orders in place.
JPMorgan Chase & Co
JPMorgan Chase & Co (NYSE:JPM), the largest bank in the U.S. based on assets, is one company that can't wait for higher interest rates. This is due to their lending business; as interest rates increase, it means JPMorgan can charge their clients more for outstanding loans. The net interest margin will increase, which is the money lent out and what depositors earn on their short-term and savings accounts. Further, in the most recent quarterly statement, the lending business grew tremendously. The commercial banking business saw 14% growth when comparing the numbers to the previous year.  (Source: "JPMorgan Chase Reports Third-Quarter 2016 Net Income of $6.3 Billion, Or $1.58 Per Share; 13% Return On Tangible Connon Equity," JPMorgan Chase & Co, October 14, 2016.)
JPM stock currently is yielding 2.82%. The current quarterly payment is $0.48, and this number has just been growing. The company also bought back $2.1 billion worth of shares in the third quarter of this year. (Source: "Financial Results," JPMorgan Chase & Co, October 14, 2016.)
Starbucks Corporation
Starbucks Corporation (NASDAQ:SBUX) stock is a top dividend stock with a growing payout. SBUX stock's dividend has quadrupled over the past six years, with a current yield of 1.49%, or $0.20 per share.
Starbucks is aggressively expanding into China, with 2,000 stores already opened in 100 Chinese cities. The company plans on opening 500 new stores each year for the next five years to take advantage of China's large population and growing middle class. (Source: "Starbucks to Add Thousands of Stores in China," The Wall Street Journal, January 12, 2016.)
The most famous Chinese Starbucks location is inside "Shanghai Disney," which is owned by Walt Disney Co (NYSE:DIS). It is China's flagship store in the country, with approximately 110 employees at that location alone. In addition, Starbucks is planning to open a Starbucks Roastery and Reserve in the country, making it the first such international location. (Source: "Starbucks Opens Flagship Store at Disneytown in China," Starbucks Corporation,  June 7, 2016.)