19.8%-Yielding MV Oil Trust Stock Up 18% Year-Over-Year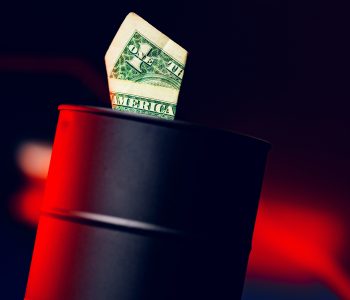 Oil & Gas Market Could Be Boon for MVO Stock Investors
Oil is trading around $70.00 per barrel, down from its March 2022 high of $130.00 per barrel. Despite the decline, there are compelling tailwinds that could lead oil prices to rebound, which would be great for MV Oil Trust (NYSE:MVO).
Despite the recent drop in oil prices, Goldman Sachs Group Inc (NYSE:GS), the big Wall Street investment bank, has advised investors to buy energy and mining stocks, saying the two sectors are poised to benefit from economic growth in China. (Source: "3 Reasons Why Oil & Gas Is Goldman Sachs' Favorite Sector," OilPrice.com, April 26, 2023.)
Strategists at Goldman Sachs have predicted that, over the next 12 months, the price of Brent and West Texas Intermediate crude oil will climb in excess of 20% to near $95.00 and $100.00 per barrel. The bank has said that the decision of the Organization of the Petroleum Exporting Countries Plus (OPEC+) to keep a tight grip on the oil supply means the current dip in prices could see oil breaking above $100.00 per barrel before the end of the year.
Some might think that, after having a winning 2021 and 2022, the energy sector might be one of the most overvalued segments of the stock market. But that isn't the case.
Despite being the biggest winner of the last two years, energy is one of the most undervalued segments. Of the 11 stock market sectors, energy has the cheapest valuation, with a current price-to-earnings (P/E) ratio of 5.8. The next cheapest sector is basic materials, with a P/E ratio of 11.5. (Source: "Sector," finviz, last accessed May 8, 2023.)
The low valuation, high earnings, and supply deficit could spark a rally in oil prices, especially as the summer driving season approaches. That's good news for MV Oil Trust and its shareholders.
Based in Dallas, Texas, MV Oil is an oil and natural gas exploration and production company that holds interests in the oil and gas properties of MV Partners LLC in Kansas and Colorado. (Source: "Form 10-K," United States Securities and Exchange Commission, March 16, 2023.)
Whereas most oil and gas exploration and production companies spend millions of dollars drilling new sites, MV Oil focuses on getting as much as it can out of its existing operations. Then it gives the vast majority of its profits to its unitholders.
That comes with three caveats.
First, because MV Oil Trust pays out all of its cash flow to investors, its dividend yield can be exceptionally high.
Second, its oil and gas wells will eventually run dry. When I last wrote about the partnership in February 2022, it had approximately 900 oil and gas wells. As of March 16, it had interests in about 860 wells. The projected reserve life of the company's underlying properties is more than 44 years.
Third, the partnership's earnings and dividends fluctuate based on oil and gas production levels and prices, both of which are unpredictable.
MV Oil Trust Stock Paid $0.345/Unit in April
In the first quarter of 2023, MV Oil generated 147,971 barrels of oil equivalent (BOE), with an average price of $72.67 per BOE. This resulted in gross proceeds of $10.8 million and net profits of $5.5 million. (Source: "MV Oil Trust Announces Trust First Quarter Distribution," MV Oil Trust, April 5, 2023.)
It also resulted in a quarterly distribution of $4.0 million, or $0.345 per unit. That works out to a current inflation-crushing yield of 19.9%. For context, the U.S. inflation rate is currently about five percent.
In the second quarter of 2022, the company generated 158,092 BOE at an average price of $102.11 per BOE. This resulted in a distribution of $8.1 million, or $0.70 per unit. (Source: "MV Oil Trust Announces Trust Second Quarter Distribution," MV Oil Trust, July 5, 2022.)
That illustrates how much MVO stock's quarterly distribution can fluctuate—and why it's important for investors to pay close attention to what's going on in the energy sector. Since the partnership's distribution and share price ebb and flow along with oil and gas prices, MV Oil Trust stock isn't a stock you can just stick in your portfolio and forget about.
That said, save for the last few months, MVO stock has been one of the best-performing stocks in the energy industry. Between March 2020 and January 2023, the price of MV Oil Trust stock soared by more than 1,300% from $1.11 to $15.57 per unit.
MVO stock's price has retraced a little from that record level, but as long as the company keeps pulling oil and gas from the ground, its dividends will be safe. The biggest question is exactly how high the payouts will be.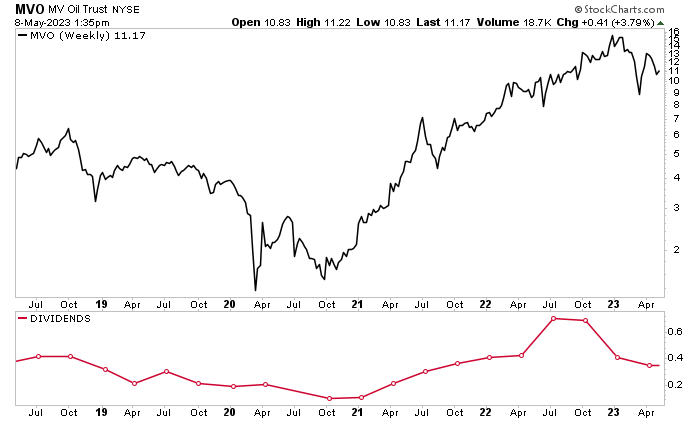 Chart courtesy of StockCharts.com
As of this writing, MV Oil Trust stock is up by 18% year-over-year. Thanks to OPEC+ cutting oil production, the Chinese economy bouncing back, and expectations that the upcoming recession will be short and mild, the outlook for this dividend stock is solid.
The Lowdown on MV Oil Trust
As a royalty trust, MV Oil Trust pays out virtually all of its cash flow to investors. That's great news when the economy is running on all cylinders, but it can be a tough pill to swallow when there's a recession. Despite the short-term macroeconomic headwinds, MVO stock continues to reward investors with reliable, high-yield dividends and significant share-price gains.
Again, investors need to understand how fickle some energy stocks' prices and distributions can be. For risk-tolerant investors who don't mind having to keep a close eye on their investments, MV Oil Trust stock could be a lucrative option.
MVO stock will no doubt experience periods of volatility, much like the rest of the stock market, but its dividends should help investors weather any near-term turbulence.