KMI Stock: Top Dividend Stock Warren Buffett is Buying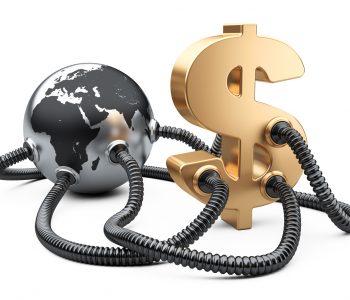 1 Top Dividend Stock for 2017?
If you're looking for new investment ideas, you could do worse than scanning through a list of Warren Buffett stocks.
There's no doubt that Buffett is one of the best investors on Earth. Since 1964, his holding company, Berkshire Hathaway Inc. (NYSE:BRK.A), has generated a 30% compounded annual return for investors. Over that time, he's grown the once small textile maker into a major corporate empire.
For this reason, it never hurts to peek over the shoulders of this investing legend. I always pay attention to which stocks Buffett is buying, if only to get a few new ideas. And right now, he's making an interesting bet on this top dividend stock.
One of My Favorite Warren Buffett Stocks
The stock market is looking lofty. With the Dow Jones approaching 20,000, even the great Warren Buffett is struggling to find new investment ideas. In November, Berkshire Hathaway revealed its cash pile had hit a record $84.8 billion last quarter. (Source: Cash at Buffett's Berkshire Hathaway hits new record with stock market near highs, MarketWatch, November 7, 2016.)
Buffett, though, is still nibbling at some top dividend stocks. An October Securities and Exchange Commssion (SEC) filing revealed that Buffett owns 20-million shares in pipeline company Kinder Morgan Inc (NYSE:KMI). (Source: "Stock Holdings," Insider Monkey, last accessed January 11, 2016.)
Kinder Morgan is one of those classic Warren Buffett stocks for a couple of reasons.
First, the business is predictable. A pipeline is a steel tube buried underground. There's not much in the way of fuel, maintenance, or operating costs. You don't even need any employees; computers control the oil flow.
And once you've laid a pipeline, it just sits there, delivering oil to customers. Most of these deals are done in the form of long-term contracts. This locks in a stream of revenue that can last 10 or 20 years.
You build in a provision for inflation, check the customer's credit, and then collect your dividends. Pipelines don't care about stock market panics. Their profits are relatively immune to recessions and wars in the Middle East.
The second sign of a Buffett stock is a competitive advantage. Buffett often describes a successful company as a castle that is constantly under attack. You want a deep, wide moat around the business to protect your profits from rivals.
Kinder Morgan has a moat filled with angry mutant sharks. Trucks and railways can't compete once a pipeline is in place. The only way to cut into Kinder Morgan's profits would be to build a second line right beside theirs.
This, however, would be difficult to pull off. Like your electric utility, it rarely makes sense to have two competing pipelines side by side. Governments and landowners are often hesitant to grant the rights-of-way for new construction. For proof, just look at how difficult it has been to build the TransCanada Corporation's (NYSE:TRP) "Keystone XL" pipeline.
As a result, pipelines can crank out oversized profits decade after decade. Because they're regulated, however, Kinder Morgan can't charge customers whatever they want. These contracts, though, usually allow them to earn a lucrative rate of return.
Finally, Warren Buffett prefers businesses when they're on sale. During the shale boom, pipeline companies took on enormous amounts of debt to build out new projects. Their eye-popping growth made them the toast of Wall Street, but those profits turned to losses when the bubble burst.
Also Read:
Kinder Morgan's(NYSE:KMI) Dividend Outlook in 2018
Kinder Morgan wasn't spared from the carnage. Investors have been dumping anything related to oil, regardless of the quality of the underlying assets. Kinder executives, in a bid to conserve cash, were also forced to slash the company's dividend.
Despite what the stock price action might suggest, the business isn't going anywhere. As the largest pipeline operator in the industry, Kinder has the raw scale needed to survive the current downturn. If you're willing to pick through the market's discount bin, this top dividend stock could be a true bargain.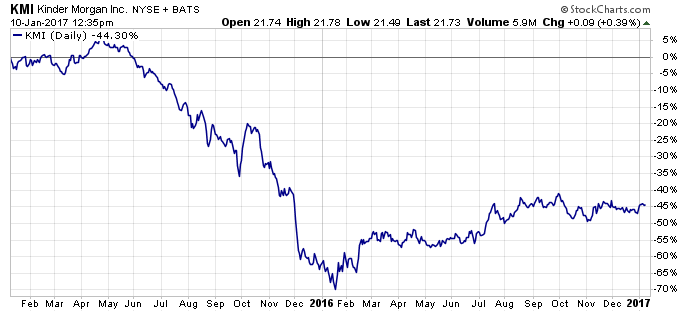 Source: StockCharts.com
Indeed, Kinder Morgan could bounce back from the downturn stronger than before. The recent dividend cut has left the business less reliant on capital markets and freed up cash flow to grow its business. Once management repairs the company's balance sheet, executives will likely get back to their long tradition of dividend hikes.
Billionaires Pouring Millions Into This Dividend Stock
Kinder Morgan is one of those classic Warren Buffett stocks, but he's not the only one who's bullish.
Billionaire oilman T. Boone Pickens owns a large position in the business. Other hedge fund managers, including D. E. Shaw, Ken Griffin, and Paul Tudor Jones, also initiated positions last quarter.
What could have these titans of business so excited? I'd say it means one thing: they see a lot of upside ahead.