Kinder Morgan's (NYSE:KMI) Dividend Outlook in 2018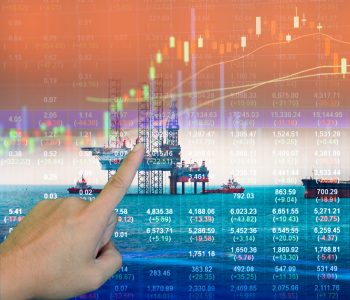 iStock.com/Kanoke_46
Will KMI Dividend Increase in 2017?
Kinder Morgan Inc (NYSE:KMI) was once a dividend giant. But due to the downturn in oil and gas prices in the last few years, the company has had a tough time. Will the energy company be able to get its dividend back on the growth track again? In this article, we are going to take an in-depth look at Kinder Morgan's business, its dividend history, and the latest KMI dividend forecast.
KMI Business Overview
Kinder Morgan is in the midstream oil and gas sector and is one of the largest energy infrastructure companies in North America. The company owns an interest in or operates around 84,000 miles of pipelines, which transport a variety of energy products such as crude oil, natural gas liquids, gasoline, jet fuel, and diesel. The company's midstream asset portfolio also includes 155 storage terminals.
Note that just a few years ago, there were several companies trading under the Kinder Morgan umbrella. These included Kinder Morgan Energy Partners LP, Kinder Morgan Inc, Kinder Morgan Management LLC, and El Paso Pipeline Partners.
Then, in 2014, Kinder Morgan decided to combine these four publicly traded businesses into one company. Basically, Kinder Morgan Inc purchased all outstanding shares of the other three companies. The transaction was valued at approximately $76.0 billion and was closed in November 2014. (Source: "Kinder Morgan Announces Closing of the Merger Transaction," Kinder Morgan Inc, November 26, 2014.)
Right now, Kinder Morgan operates through the following five business segments:
Natural Gas Pipelines: This is a key business for Kinder Morgan. The company has approximately 70,000 miles of natural gas pipelines, making it the largest natural gas transporter in North America. It is responsible for moving approximately 40% of all natural gas consumed in the U.S. The pipeline system is connected to every major natural gas resource play in the U.S., such as Eagle Ford, Haynesville, and Utica.
Products Pipelines: This is another major segment of KMI. The company's product pipeline system moves approximately 2.1-million barrels per day, making it the largest independent petroleum products transporter in North America.
Terminals: Kinder Morgan runs the biggest storage depot for energy products in North America. Its liquid terminals have a capacity of around 152-million barrels and can store refined petroleum products, chemicals, and ethanol, just to name a few. Its 53-million-ton dry bulk terminals are capable of handling materials such as coal, steel, and petroleum coke.
CO2: You may be wondering how carbon dioxide has anything to do with the energy business. Well, as it turns out, CO2 injection is widely used in enhanced oil recovery (EOH). Kinder Morgan transports around 1.3 billion cubic feet of CO2 every day, mostly to EOH projects in the Permian Basin. KMI is the largest transporter of CO2 in North America.
Kinder Morgan Canada: This segment's Trans Mountain pipeline system transports crude oil from Alberta's oil sands to Vancouver and Washington State. It is the only oil sands pipeline serving Canada's West Coast. The system's current capacity is 300,000 barrels per day, but the company's proposed expansion will increase that to around 890,000 barrels per day.
KMI Current Dividend Policy
Right now, Kinder Morgan stock pays quarterly dividends of $0.125 per share. At the current price, that translates to an annual dividend yield of 2.55%, which is pretty decent considering that the average dividend yield of all S&P 500 companies right now is at just 1.88%. (Source: "S&P 500 Dividend Yield," Multpl, last accessed July 19, 2017.)
KMI Dividend History
While KMI stock has a decent yield today, its dividend payments were much more substantial just a few years ago. In November 2015, the company paid a quarterly cash dividend of $0.51 per share, which is more than four times today's per-share quarterly payout.
Moreover, in the four-year period from November 2011 to November 2015, Kinder Morgan has raised its dividend every single quarter. The total per-share payout increase was 70% during this period.
But then bad news came. On December 8, 2015, the company announced that it would cut its quarterly dividend rate from $0.51 per share to $0.125 per share, starting with the payment in February 2016. (Source: "Kinder Morgan Announces 2016 Outlook," Kinder Morgan Inc, December 8, 2015.)
The 75% reduction in KMI dividend was certainly not good from an income investor's perspective. But the company had a good reason to do it. Kinder Morgan had quite a bit of debt back then. And since the summer of 2014, the downturn in oil and gas prices meant business wasn't that great. What's more is that the company had expansion projects, which required a lot of cash.
After considering all the options, Kinder Morgan decided that it would be best to pay a smaller dividend, leaving the bulk of its cash flow to fund capital expenditures. This way, the company would not need to issue more shares to get additional funding. The decision would also allow Kinder Morgan to remain its investment grade credit rating.
Since then, the company has been paying quarterly cash dividends of $.125 per share till this day. The table below shows KMI dividend history since April 2011.
| | | | | |
| --- | --- | --- | --- | --- |
| Declaration Date | Ex-Dividend Date | Record Date | Payment Date | Amount |
| 04/19/17 | 04/27/17 | 05/01/17 | 05/15/17 | $0.13 |
| 01/18/17 | 01/30/17 | 02/01/17 | 02/15/17 | $0.13 |
| 10/19/16 | 10/27/16 | 11/01/16 | 11/15/16 | $0.13 |
| 07/20/16 | 07/28/16 | 08/01/16 | 08/15/16 | $0.13 |
| 04/20/16 | 04/28/16 | 05/02/16 | 05/16/16 | $0.13 |
| 01/20/16 | 01/28/16 | 02/01/16 | 02/16/16 | $0.13 |
| 10/21/15 | 10/29/15 | 11/02/15 | 11/13/15 | $0.51 |
| 07/15/15 | 07/29/15 | 07/31/15 | 08/14/15 | $0.49 |
| 04/15/15 | 04/28/15 | 04/30/15 | 05/15/15 | $0.48 |
| 01/21/15 | 01/29/15 | 02/02/15 | 02/17/15 | $0.45 |
| 10/15/14 | 10/29/14 | 10/31/14 | 11/17/14 | $0.44 |
| 07/16/14 | 07/29/14 | 07/31/14 | 08/15/14 | $0.43 |
| 04/16/14 | 04/28/14 | 04/30/14 | 05/16/14 | $0.42 |
| 01/15/14 | 01/29/14 | 01/31/14 | 02/18/14 | $0.41 |
| 10/16/13 | 10/29/13 | 10/31/13 | 11/15/13 | $0.41 |
| 07/17/13 | 07/29/13 | 07/31/13 | 08/15/13 | $0.40 |
| 04/17/13 | 04/25/13 | 04/29/13 | 05/16/13 | $0.38 |
| 01/16/13 | 01/29/13 | 01/31/13 | 02/15/13 | $0.37 |
| 10/17/12 | 10/29/12 | 10/31/12 | 11/15/12 | $0.36 |
| 07/18/12 | 07/27/12 | 07/31/12 | 08/15/12 | $0.35 |
| 04/18/12 | 04/26/12 | 04/30/12 | 05/16/12 | $0.32 |
| 01/18/12 | 01/27/12 | 01/31/12 | 02/15/12 | $0.31 |
| 10/19/11 | 10/27/11 | 10/31/11 | 11/15/11 | $0.30 |
| 07/20/11 | 07/28/11 | 08/01/11 | 08/15/11 | $0.30 |
| 04/20/11 | 04/28/11 | 05/02/11 | 05/16/11 | $0.14 |
Source: "Dividend History," Kinder Morgan Inc, last accessed July 19, 2017.
KMI Dividend Outlook 2018
Kinder Morgan's strategy to temporarily cut its dividend has certainly worked, as the company is in a much better financial position right now. In fact, KMI just delivered some major good news to income investors.
On July 19, Kinder Morgan announced that it expects to declare $0.80 of annual dividend for 2018. That translates to a payout of $0.20 on a quarterly basis. Given that the company's current quarterly dividend rate is at $0.125 per share, its proposed dividend for next year would represent a 60% increase. (Source: "Kinder Morgan Announces Expected 60% Dividend Increase in 2018 and Projects 25% Annual Dividend Growth from 2018 Through 2020," Kinder Morgan Inc, July 19, 2017.)
And that's just the start. For the years 2019 and 2020, the company expects its dividend to grow at a rate of 25% annually. In other words, KMI stock's quarterly dividend rate is expected to be $0.25 per share in 2019 and $0.3125 per share in 2020. That would be a huge step up from its current payout.
On top of that, Kinder Morgan also announced a new $2.0-billion share repurchase program. When the company buys back its shares, investors don't get paid directly. But because it reduces the number of shares outstanding–$2.0 billion represents about five percent of KMI's market cap right now–each existing shareholder will get a slightly larger ownership of the company.
The market cheered for the news. After Kinder Morgan's announcement on Wednesday afternoon, its share price climbed 4.6% in after-hours trading.
Will KMI dividend increase in 2017?
Well, according to the company's latest press release, KMI's board of directors has just approved a quarterly cash dividend of $0.125 payable on August 15, 2017. Since Kinder Morgan has already announced an expected 60% dividend increase in 2018, the company likely won't change its dividend policy for 2017.
But of course, with what happened in the past, some investors may still be wondering: is Kinder Morgan's dividend safe?
Is KMI Dividend Safe?
Well, since dividends are paid in cash, let's take a look at Kinder Morgan's financials.
In the first six months of this year, Kinder Morgan generated $6.79 billion in revenue, representing a 7.1% increase year-over-year. Net income came in at $738.0 million, a substantial increase from the $609.0 million earned in the year-ago period.
For Kinder Morgan, distributable cash flow (DCF) is a key metric because that's where the dividends are paid from. In the first half of 2017, KMI's DCF per share was $1.00, which is well over the $0.25 in dividends declared for the period.
For full-year 2017, Kinder Morgan expects to generate $4.66 billion in DCF, translating to $1.99 per share. This will provide more than enough coverage for the company's current annual dividend of $0.50 per share.
So if your question is "will KMI cut its dividend?" the answer is no.
Will Kinder Morgan Stock Split?
To see whether there will be a Kinder Morgan stock split soon, we need to first understand why companies split their shares.
Share price alone does not determine a company's valuation. However, with a huge rally, a company's stock price may rise to a point where it becomes prohibitively expensive in the eyes of retail investors, especially when there is a minimum trading parcel involved.
When this happens, the company may choose to split its shares. For instance, a two-for-one stock split doubles the number of shares outstanding. This does not change the fundamentals of the company. As a result, the share price would theoretically be halved after the two-for-one split.
In the past, Kinder Morgan Inc has had two stock splits. There was a three-for-two split on October 5, 1993, and another three-for-two split on January 4, 1999.
KMI Stock Split History
| | |
| --- | --- |
| Date | Type |
| 10/05/93 | 3-for-2 |
| 01/04/99 | 3-for-2 |
Source: "Kinder Morgan Stock Split History," Stock Split History, last accessed July 19, 2017.
Note that Kinder Morgan Energy Partners LP (KMP), which is now part of KMI and no longer publicly traded, also had two stock splits. The first was a two-for-one split on October 2, 1997, followed by another two-for-one split on September 4, 2001.
KMP Stock Split History
| | |
| --- | --- |
| Date | Type |
| 10/02/97 | 2-for-1 |
| 09/04/01 | 2-for-1 |
Source: "KMP Split History," Split History, last accessed July 19, 2017.
The important thing here is share price. The chart below shows KMI stock's performance for the last five years: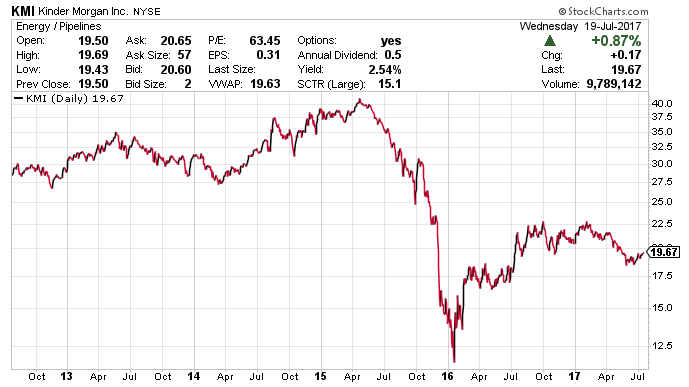 Chart Courtesy of StockCharts.com
As you can see, Kinder Morgan stock had a huge tumble in 2015. While the stock has climbed a bit, it is still far from making a full recovery.
Based on its share price performance, the company is unlikely to conduct a stock split anytime soon.
Final Thoughts on KMI's Dividend
The best dividend stocks are the ones that can deliver steady and hopefully increasing payouts. KMI used to be a solid dividend payer. I mean, it was even one of Warren Buffett's stocks not that long ago.
Kinder Morgan has had some tough times. While the company has hedged the commodity price risk by providing fee-based services, there is still a level of volume risk. The dividend cut in 2015 was a major letdown for income investors.
But now, things are improving. An expected 2018 KMI dividend hike has been announced. And with the company's stronger balance sheet and stable cash flows, Kinder Morgan could have more good news for dividend investors in the years ahead.
Advertisement
Related Articles
© Copyright 2019: Income Investors. All rights reserved. No part of this document may be used or reproduced in any manner or means, including print, electronic, mechanical, or by any information storage and retrieval system whatsoever, without written permission from the copyright holder.
---
Dear Reader: There is no magic formula to getting rich. Success in investment vehicles with the best prospects for price appreciation can only be achieved through proper and rigorous research and analysis. We are 100% independent in that we are not affiliated with any bank or brokerage house. Information contained herein, while believed to be correct, is not guaranteed as accurate. Warning: Investing often involves high risks and you can lose a lot of money. Please do not invest with money you cannot afford to lose. The opinions in this content are just that, opinions of the authors. We are a publishing company and the opinions, comments, stories, reports, advertisements and articles we publish are for informational and educational purposes only; nothing herein should be considered personalized investment advice. Before you make any investment, check with your investment professional (advisor). We urge our readers to review the financial statements and prospectus of any company they are interested in. We are not responsible for any damages or losses arising from the use of any information herein. Past performance is not a guarantee of future results. All registered trademarks are the property of their respective owners

Please wait...
Sign up to receive our FREE Income Investors newsletter along with our special offers and get our FREE report:
5 Dividend Stocks to Own Forever
This is an entirely free service. No credit card required. You can opt-out at anytime.
We hate spam as much as you do.
Check out our privacy policy.