Yamana Gold Inc.: This Gold Mining Stock Just Raised its Dividend Again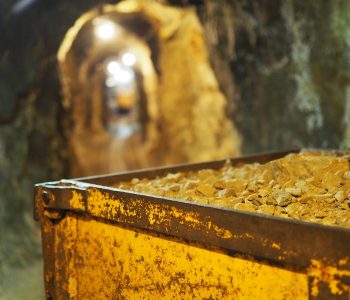 A Dividend Stock You Likely Haven't Considered
For the most part, gold mining stocks aren't exactly known as the go-to choice for income investors. But when a gold mining company delivers two massive dividend hikes within a few months, I'd say it deserves attention.
The company in question is Yamana Gold Inc. (NYSE:AUY), a precious metals producer headquartered in Toronto, Ontario, Canada.
Canada is known for having some of the biggest gold mining companies in the world, and Yamana is one of them. In 2019, the company was expecting to produce 899,000 ounces of gold, 10 million ounces of silver, and 61 million pounds of copper. (Source: "Our Million: to mine precious metals profitably and responsibly," Yamana Gold Inc., last accessed December 16, 2019.)
Other than running a substantial precious metals production business, Yamana Gold also has exploration properties, development-stage properties, and land positions in Argentina, Brazil, Canada, and Chile.
On July 25, Yamana Gold announced a quarterly dividend rate of $0.01 per share, starting with its third-quarter payment. The amount represented a 100% increase from its prior quarterly dividend rate of $0.005 per share. (Source: "Yamana Announces a 100% Increase to Its Dividend and Declares Third Quarter Dividend," Yamana Gold Inc., July 25, 2019.)
Doubling one's payout is truly impressive, but the company is not done yet.
On December 16, Yamana Gold announced another 25% increase to its quarterly dividend rate to $0.0125 per share, bringing its annualized rate to $0.05 per share. (Source: "Yamana Gold Announces a Further 25% Dividend Increase and Establishes a New Dividend Policy to Ensure the Sustainability of Dividends," Yamana Gold Inc., December 16, 2019.)
The new rate will come into effect in the first quarter of 2020. So in just a few months, AUY stock's per-share payout has grown by 125%.
With Yamana Gold stock trading at $3.63 per share, the company has a forward yield of 1.1%.
And this could be just a start.
In the company's latest dividend increase press release, Yamana Gold said, "These initial two increases are part of a gradual and progressive approach to dividend increases as the Company's cash balances continue to grow from increasing free cash flow and successful and continuing initiatives to monetize its portfolio of non-producing assets and financial instruments." (Source: Ibid.)
Furthermore, the company will start to report dividends on a per-gold-equivalent ounce (GEO) of production basis. Thanks to the latest dividend hike, Yamana Gold's dividend level is brought to $50.00 per GEO of production.
Yamana Gold Inc.'s Dividend Hikes Backed by Growing Business
As you'd expect from those substantial payout increases, business has been booming at Yamana Gold Inc. Just take a look at the company's latest earnings report and you'll see what I mean.
In the third quarter of 2019, Yamana Gold generated adjusted earnings of $49.5 million, or $0.05 per share. The amount more than doubled the adjusted net earnings of $23.6 million, or $0.02 per share earned in the year-ago period. (Source: "Yamana Gold Reports Third Quarter Cash Flows From Operating Activities of $157.4 Million, Increases Earnings, and Lowers Debt; Cash Flows Significantly Exceed the Average of the Three Preceding Quarters," Yamana Gold Inc., October 24, 2019.)
The company also substantially improved its ability to generate cash. In the reporting quarter, Yamana Gold generated $157.4 million in cash flow from operating activities. To put that in perspective, the amount was 72% higher than the average operating cash flow over the previous three quarters.
Of course, as a gold mining company, Yamana Gold Inc has exposure to the price of gold. However, because of the company's efficient operations, it should be able to stay profitable even if precious metals prices fall. And if their prices go up—a scenario that could happen if uncertainty increases—the company would be making even bigger profits.
In the third quarter, Yamana Gold achieved a cash cost of $678.00 per GEO and an all-in sustaining cost of $1,039 per GEO. In comparison, the yellow metal is trading around $1,480 per ounce at the time of this writing.
For income investors who want to get some exposure to gold, AUY stock could be an opportunity.