This Is Why Exxon Mobil Shares Are Surging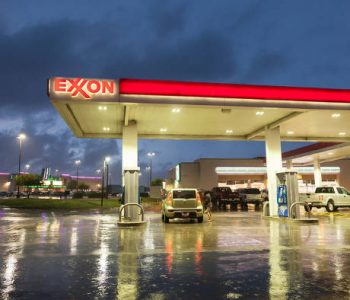 OPEC Deal Sends XOM Stock Soaring
More oil-producing nations agreed to slash energy production Monday, sending shares of producers like Exxon Mobil Corporation (NYSE:XOM) stock surging.
Over the weekend, a group of heavyweight producers outside of the Organization of the Petroleum Exporting Countries (OPEC) agreed to scale back production by 558,000 barrels a day. The move is aimed at ending the two-year slump in energy prices, rebalancing the oversupplied energy market. (Source: "Oil hits highest since mid-2015 as global producers agree to cut," Reuters, December 12, 2016.)
Brent Crude futures, the global benchmark for oil prices, were up by $1.88, or 3.5%, at $56.21 per barrel in London. West Texas Intermediate futures rose by $1.82, or 3.6%, to $53.32 per barrel on the New York Mercantile Exchange.
Exxon stock rallied on the news. In New York, shares of XOM stock soared by $2.24, or 2.52%, to $91.24. U.S. shale producers like Continental Resources, Inc. (NYSE:CLR) and oil-field services firms like Schlumberger Limited (NYSE:SLB) have also gained.
All energy companies benefit from higher oil prices, but XOM stock is one of the bigger winners. At $40.00 crude, the energy giant was forced to scale back share buybacks and dividend hikes. But with oil prices creeping higher, Exxon could consider new options to reward shareholders.
New expansion projects could also be back on the table. Exxon Mobil slashed capital expenditures to $23.0 billion in 2016, down 25% from the previous year. Higher oil prices, though, could encourage executives to refocus on expansion, which could be a major catalyst for XOM stock.
But, while today's OPEC deal looks like a sure thing, it could be months until we find out if members will follow through on the agreement. For the deal to be effective, all parties must stick to their word. Traders will be watching official oil prices in Russia and Saudi Arabia to see if cartel members are serious about cutting output.
Regardless, higher energy prices are a blessing for Exxon stock. Analysts will be eager to hear the company's quarterly report in January, which could reveal as to how executives will capitalize on higher oil prices. A splurge of dividends, share buybacks, and new expansion projects would be a boon for XOM stock.