WTR Stock: How to Buy a Top Dividend Stock at a 5% Discount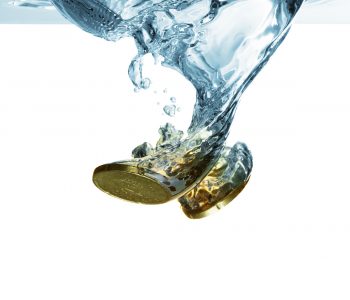 iStock.com/Vitaliy_ph
Investing in a Top Dividend Stock at Below Market Price
In today's market, buying shares at a discount may seem too good to be true. However, it is possible. For instance, the top dividend stock I'm about to show you allows certain investors to purchase shares at a five-percent discount from the prevailing market price.
The company in question is Aqua America Inc (NYSE:WTR), a water and wastewater utility company headquartered in Bryn Mawr, Pennsylvania. It currently serves around three-million people in Pennsylvania, Ohio, North Carolina, Illinois, Texas, New Jersey, Indiana, and Virginia.
Aqua America is a top dividend stock due to its wide economic moat and excellent track record. For those not in the know, an economic moat is a term coined by billionaire investor Warren Buffett to refer to a company's competitive advantage. Over time, a company's competitive advantage acts like a moat to protect its profits from competing firms.
For Aqua America, its economic moat comes from its entrenched position in the water utility business. The company's history can be traced all the way back to 1886, when a group of college professors were granted a charter to supply water to residents of Springfield Township in Pennsylvania. Over the years, Aqua America has grown to become one of the largest publicly traded water and wastewater companies in the country.
Note that in the U.S., the water utility market is highly fragmented with a small private sector. And due to high barriers to entry, existing players can enjoy monopoly status in their respective markets. Moreover, water is one of the most essential resources, and the consistent demand allows the company to generate steady cash flows year after year.
In fact, Aqua America was able to pay not only a steady dividend, but an increasing one. The company has raised its payout in each of the last 27 years, meaning it is a "dividend aristocrat," a company with at least 25 consecutive years of annual dividend increases. (Source: "Dividend History," Aqua America Inc, last accessed September 6, 2017.)
How to Get the 5% Discount
Quality items seldom go on sale. But to attract investors to sign up for its dividend reinvestment and direct stock purchase plan, Aqua America offers a five percent discount when participants reinvest their cash dividends into additional shares of WTR common stock.
Regular readers of this column would know that I'm a big fan of dividend reinvestment plans, or DRIPs. Due to the power of compounding, a DRIP from a solid dividend-paying company can significantly boost an investor's total return over the long term.
It's fairly easy to sign up for Aqua America's dividend reinvestment plan. All you need to quality is to own at least five shares of WTR stock registered in your name. Alternatively, you can also participate by making an initial investment of at least $500.00.
There is no sign-up fee and the commission associated with dividend reinvestment is paid for by the company. Once signed up, investors will be able to reinvest a portion or all of the dividends into additional shares of Aqua America stock at a five-percent discount.
Investors interested in signing up for the plan of this top dividend stock should visit the web site of the company's transfer agent, Computershare Shareholder Services Inc.
Also Read:
7 Water Utility Stocks to Consider in 2017
Utility Stock List: Earn Steady, Reliable Income