WPG Stock: Is This 11.5% Yield Safe?
iStock.com/adempercem
This 11.5% Yield Looks Tempting
Struggling to find a decent yield after a 10-year bull market? How about searching through the 52-week low list?
You can sometimes find great investment ideas from the stock market discount rack. No doubt, some of the names arrive there for a reason. But if you're willing to do some extra digging, you can pick up an outright bargain.
Case in point: Washington Prime Group Inc (NYSE:WPG). With brick-and-mortar retailers dropping left and right, stock traders have punished shares of shopping mall owners. In the case of Washington Prime, units now yield as much as 11.5%.
So is this name a bargain or a yield trap? Let's dig into the numbers.
For the past three years, Washington Prime has paid out a dividend every single quarter. The company's distribution has stood at $0.25 per share, which totals $1.00 annually.
We can't interpret much from such a short track record. Usually, I look for consistent dividends paid out for a decade or longer. That way, you can be sure management has a commitment to rewarding shareholders.
The good news here? Cash flow.
In every year of the company's operations, the business has generated significantly more cash flow than paid out in dividends. This gives management lots of wiggle room if business sours.
We saw that again last year. In 2016, Washington Prime generated $398.1 million in funds from operations (FFO), an important measure of profitability for real estate companies. During the year, the company paid $235.1 million in distributions.
So the payout ratio here is a comfortable 60%. Typically, I like to see a management payout ratio below 75%, so Washington Prime's numbers sit well within my comfort zone.
Of course, you have some wrinkles here.
The outlook for the nation's malls looks like the inside of an outhouse after a lightning strike. Retailers have announced thousands of store closings in recent months.
And bad news for property owners: about a quarter of the nation's shopping malls could shut their doors in the next five years, according to estimates by Credit Suisse Group AG (ADR) (NYSE:CS). (Source: "Wall Street bank says a quarter of shopping malls will close in 5 years," Business Insider, May 31, 2017.)
Washington Prime has positioned itself better than most. A light debt load and collection of prime properties has allowed it to troll through the retail depression better than most.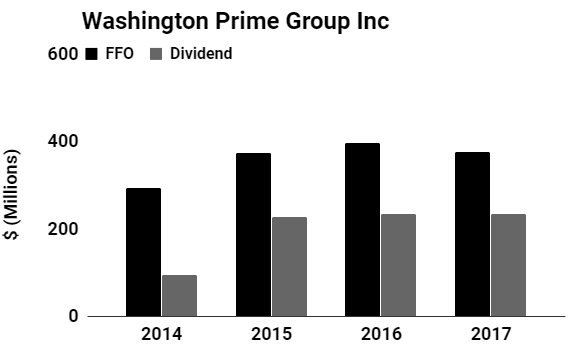 (Source: Washington Prime Group Inc corporate filings)
That said, management projects that funds from operations (FFO) will drop five percent next year. That figure will be more than enough to cover the dividend, but it's a worrying trend to keep an eye on.
Bottom line: Washington Prime's 11.5% yield looks tempting. The company has some problems, like any stock on the 52-week low list. But, given that the company's cash flow can easily cover the dividend, this payout looks safe for now.