WP Carey Inc: 5.3% Yielder Has Raised Dividends Every Year Since 1998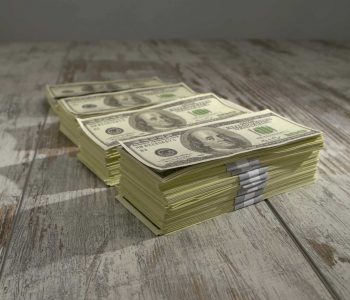 WPC Stock Could Be the Perfect Stock for Income Hogs
The perfect combination for income hogs is a rising share price and dividend. The poster child for that dynamic is WP Carey Inc (NYSE:WPC). As one of the largest net lease real estate investment trusts (REITs), WP Carey has the distinction of raising its annual dividend since 1998, by about 1.3% annually.
Whereas some companies only increase their dividends once a year, WP Carey does it on a more regular basis. In fact, the company has raised WP Carey stock's dividend every single quarter since 2001.
Most recently, on June 17, the company increased its quarterly dividend from $1.048 to $1.05 per share. (Source: "Dividend Information," WP Carey Inc., last accessed September 10, 2021.)
The company pays out approximately 88% of its earnings as dividends. In addition to providing reliable quarterly dividends, WP Carey has paid out special dividends in 2007, 2009, and 2013. Those are represented in the chart below by the spikes in the red line.
In addition to providing one of the most reliable, safest passive income streams on the planet, WPC stock rewards buy-and-hold investors with significant capital appreciation. From 2000 to 2020, WP Carey stock expanded at a compound annual growth rate of 13.3%. Not even the Federal Reserve can upset this cash cow.
On a more short-term basis, WPC stock is up by:
19% over the last six months
15% year-to-date
20% year-over-year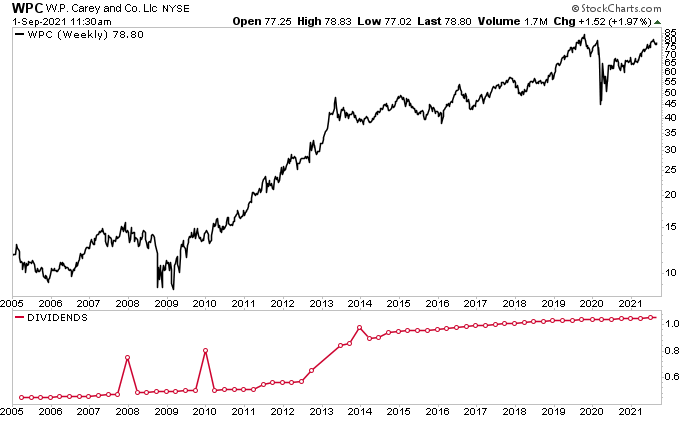 Chart courtesy of StockCharts.com
That reliable momentum is expected to continue. Of the analysts providing a 12-month share-price forecast for WP Carey stock, their average price target is $88.40, with a high estimate of $90.00. This represents potential upside of 12% to 14%.
So what's the big deal about WP Carey Inc? It's not hard to see why Wall Street and individual investors love this dividend stock.
WP Carey is one of the largest net lease REITS. It has an enterprise value of approximately $21.0 billion and a diverse portfolio of 1,266 net lease properties covering 150 million square feet (equivalent to 2,605 NFL football fields). (Source: "Portfolio Overview," WP Carey Inc., last accessed September 10, 2021.)
The company's properties have an occupancy rate of 98%, with annual base rent (ABR) of $1.2 billion. Of its 1,266 lease properties, 99% come with rent escalations.
WP Carey Inc leases its properties to a total of 356 different tenants in about 25 countries in North America, Europe, and Asia. The company's U.S. tenants account for the majority of the properties (61.9%), followed by Europe (36.1%) and "other" (2.0%).
The property diversification is spread across industrial (24.9%), warehouse (23.4%), office (21.3%), retail (17.5%), self-storage (4.9%), and other (8.0%).
The company's top 10 tenants comprise 20.7% of the company's ABR and have a weighted average lease term of 12 years.
U-Haul International, Inc: 78 net lease self-storage properties in the U.S.
State of Andalucia: 70 government office properties in Spain
Hellweg: 35 do-it-yourself retail properties in Germany
Metro Cash & Carry: 20 business-to-business wholesale stores in Italy and Germany
Pendragon PLC: 69 auto dealerships in the U.K.
Extra Space Storage, Inc (NYSE:EXR): 27 net lease self-storage properties in the U.S.
Advance Auto Parts, Inc. (NYSE:AAP): 30 distribution facilities in the U.S.
Marriott International Inc (NASDAQ:MAR): 18 net lease hotel properties in the U.S.
Nord Anglia Education, Inc: three K–12 private schools in the U.S.
Forterra Inc (NASDAQ:FRTA): 27 industrial properties in the U.S. and Canada
Excellent Q2 Results
Thanks to WP Carey's diverse portfolio of tenants, it has been able to achieve great financial results during good times and bad. Things have been going so well that the company recently raised and narrowed its guidance range for its adjusted funds from operations (AFFO). (Source: "W. P. Carey Inc. Announces Second Quarter 2021 Financial Results," WP Carey Inc., July 30, 2021.)
For the second quarter ended June 30, WP Carey announced that its revenue increased by 10% year-over-year to $319.7 million. Its real estate revenues, including reimbursable costs, were $314.8 million, up by 11.0% from $283.6 million in the 2020 second quarter.
WP Carey Inc's 2021 second-quarter net income was $120.2 million, or $0.67 per share, up by 14.2% from the 2020 second-quarter net income of $115.0 million, or $0.61 per share. Its net income from real estate attributable to WP Carey was $114.7 million, compared to $81.8 million in the same prior-year period and $44.5 million in the previous quarter.
The all-important AFFO for the 2021 second quarter were $228.7 million, or $1.27 per diluted share, up by 11.4% from $197.0 million, or $1.14 per diluted share, in the 2020 second quarter.
"Our accelerated pace of deal closings during the second quarter brought investment volume for the first half of the year to $1 billion, driving AFFO growth and putting us on a trajectory to generate record annual deal volume," said Jason Fox, CEO. (Source: Ibid.)
The wonderful results, combined with an active deal pipeline and favorable cost of capital, have allowed WP Carey to maintain a strong pace of investments and raise its guidance. For 2021, WP Carey Inc has raised and narrowed its AFFO guidance range to $4.94–$5.02 per diluted share, including real estate AFFO of $4.82–$4.90 per diluted share.
The Lowdown on WP Carey Inc
For passive income investors, there are few better stocks than WPC stock.
WP Carey Inc has a massive, global, diverse portfolio of single-tenant properties subject to long-term net leases with built-in rent escalators. This has allowed the company to provide WP Carey stock investors with rock-solid, high-yield dividends that keep rising.