WP Carey Inc Bumps Dividend for 79 Consecutive Quarters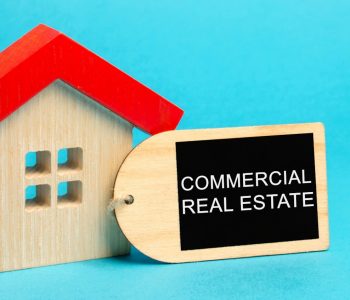 WPC Stock May Be the Best REIT Stock Out There
For income investors, it's all about the dividends. That means finding a company that not only has a strong enough balance sheet to provide stable dividends, but a company that has a long history of raising its dividends. For income-starved investors who've seen their portfolios take a beating during the coronavirus pandemic, it might be time to put WP Carey Inc (NYSE:WPC) on the radar.
If you're looking for a real estate investment trust (REIT) to help weather stock market volatility, WP Carey stock could be it.
In addition to being one of the largest net lease REITs on the planet, WP Carey has the distinction of having one of the best dividends anywhere. The company has raised its annual dividends for 23 consecutive years and has raised its quarterly dividends for 79 consecutive quarters. It currently pays an annual dividend of $4.19 per share, for a dividend yield of 5.6%. (Source: "Dividend Information," WP Carey Inc, last accessed May 18, 2021.)
It's tough to argue with numbers like that.
WP Carey has an enterprise value of approximately $19.0 billion and a diverse portfolio of 1,261 net lease properties in 25 countries. The vast majority of the properties are in the U.S. (62.4%) and Europe (35.6%). (Source: "Portfolio," WP Carey Inc, last accessed May 18, 2021.)
Those properties cover a total of 146 million square feet (roughly 2,535 NFL football fields). WP Carey has an occupancy rate of 98.3% and leases with rent escalations that total 99%. The annualized base rent (ABR) across the company's portfolio is $1.2 billion.
WP Carey Inc's top 10 tenants represent 21.5% of its ABR and have a weighted average lease term of 12.1 years. These tenants are:
U-Haul International, Inc.: 78 net lease self-storage properties in the U.S.
Hellweg: 42 do-it-yourself retail properties in Germany
State of Andalucia: 70 government office properties in Spain
Metro Cash & Carry: 20 business-to-business wholesale stores in Italy and Germany
Pendragon PLC: 69 auto dealerships in the U.K.
Extra Space Storage, Inc (NYSE:EXR): 27 net lease self-storage properties in the U.S.
Advance Auto Parts, Inc. (NYSE:AAP): 30 distribution facilities in the U.S.
Marriott International Inc (NASDAQ:MAR): 18 net lease hotel properties in the U.S.
Nord Anglia Education, Inc: three K-12 private schools in the U.S.
Forterra Inc (NASDAQ:FRTA): 27 industrial properties in the U.S. and Canada.
(Source: Ibid.)
Thanks to the company's diverse portfolio of tenants and inflation-busting rent escalations, WP Carey has been able to provide strong financial results, no matter what's going on around the world.
Solid Q1 Results
For the first quarter ended March 31, 2021, WP Carey's total revenue was $311.2 million, up 0.7% from $309.0 million in the first quarter of 2020. Its real estate revenue was up 3.9%, at $306.2 million, up from $294.6 million in the first quarter of 2020. (Source: "W. P. Carey Inc. Announces First Quarter 2021 Financial Results," WP Carey Inc, April 30, 2021.)
The REIT's net income was $51.6 million ($0.29 per share), down from $66.1 million ($0.38 per share) in the same prior-year period. Its adjusted funds from operations (AFFO) were $1.22 per share, down by 2.4% from $1.25 per share in the first quarter of 2020.
During the 2021 first quarter, WP Carey Inc completed investments totaling $213.8 million. Subsequent to the 2021 first quarter, the company completed three acquisitions totaling $186.1 million, bringing its total investment volume year-to-date to $399.9 million.
"The first quarter provided a strong start to the year on a number of fronts — most notably the strength of our investment activity — allowing us to raise our guidance," said Jason Fox, CEO. (Source: Ibid.)
Looking ahead, the company has raised and narrowed its guidance range for fiscal 2021. The company expects its AFFO to be in the range of $4.87 and $4.97 per share (including real estate AFFO between $4.74 and $4.84 per diluted share), which is more than enough to cover its $4.19 annual payout.
Excellent Stock Performance
WP Carey Inc's consistently strong financial results help explain why WPC stock has performed so well over the years. Over the last 20 years, the stock has delivered a total return, with reinvested dividends, of 987.2%.
As of this writing, WP Carey stock is up 26.2% year-over-year and 5.5% year-to-date.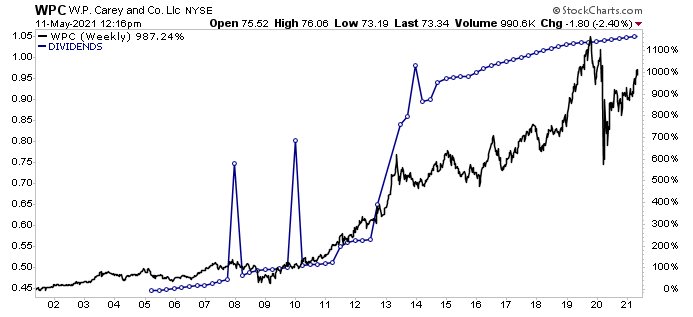 Chart courtesy of StockCharts.com
As you can see in the above chart, WPC stock's dividend payments (blue line) have been climbing steadily higher.
In 1998, WP Carey Inc paid an annual dividend of $1.65 per share. In 2020, it was $4.17 per share, representing an increase of 152%. The company's quarterly dividend increased from $0.4225 in the first quarter of 2002 to $1.0458 in the first quarter of 2021, an increase of 147.5%. That means, throughout 2020, the year of COVID-19, WP Carey gave its investors raises four times.
Since WP Carey has one of the best track records for paying dividends, it's fair to say that WP Carey stock's payout is safe.
The Lowdown on WP Carey Inc
WP Carey Inc continues to be one of the best net lease REITs out there. It has a huge, diverse portfolio of properties that's going to get bigger. Thanks to its great balance sheet, the company is poised to act on the strongest pipeline it has seen in years.
For income investors, WPC stock is one of the most reliable REITs you can find.