WMT Stock: Why Investors Should Not Ignore Wal-Mart Stores Inc.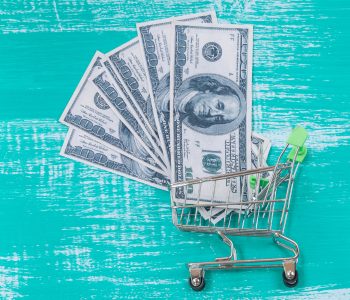 Collect Rock-Solid Dividends from WMT Stock
In today's market, even some of the most solid dividend stocks can be ignored. Wal-Mart Stores Inc (NYSE:WMT) stock is the perfect example.
Walmart has been the largest retailer in the world for quite some time and has rewarded income investors with increasing dividends for decades. However, WMT stock is far from being a hot commodity. While the U.S. stock market is surging past its all-time high, Walmart stock just managed to break even in the past two years.
What's the concern? Well, it doesn't have much to do with what Walmart is doing on its part. Instead, the concern comes from the rise of the e-commerce industry. When consumers can get everything they need—including groceries—with just one click, why bother going to physical stores?
Indeed, growth at online shopping platforms such as the ones run by Amazon.com, Inc. (NASDAQ:AMZN) has been way more impressive than what's happening at brick-and-mortar retailers.
However, what investors shouldn't ignore is that while Walmart is not really in the most exciting business, the company is far from over. In particular, the retail giant still has what it takes to keep rewarding income investors.
Walmart has an enormous presence with its 11,723 stores in 28 countries. Every week, over 260 million customers around the world visit these stores.
Despite not being a market favorite, the company is more than solid when it comes to financials. In its fiscal year 2017 ended January 31, 2017, Walmart generated $485.9 billion in revenue, representing a 0.8% increase over the previous fiscal year. Excluding the impact of exchange rate fluctuations, the company's total revenue would have been up 3.1%. (Source: "Earnings Release," Wal-Mart Stores Inc, February 21, 2017.)
Walmart also managed to generate a solid $31.5 billion in operating cash flow, which is a good thing since dividends are cold, hard cash. Through dividends and share repurchases, the company returned a total of $14.5 billion to shareholders in its fiscal year 2017.
The chart below shows that WMT stock has been increasing its cash returns to shareholders.
Generating Strong Cash Returns for Shareholders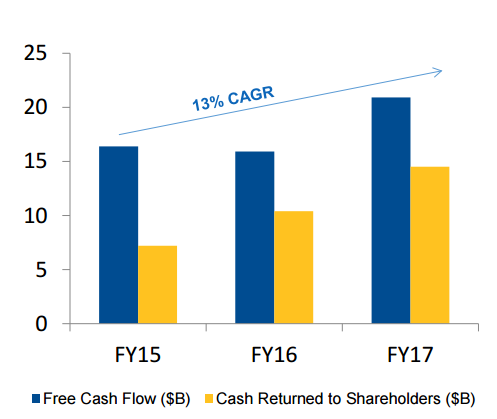 Source: "Raymond James Institutional Investors Conference," Wal-Mart Stores Inc, March 8, 2017.
It also helps that the company is in the right type of retail business. There are many types of retail outlets: department stores, warehouse stores, specialty stores, etc. Walmart's stores range from 260,000-square-feet Supercenters to 15,000-square-feet Walmart Express stores. And the low prices are shared between them all.
And that's a key reason for owning WMT stock. Some stores do extremely well when the economy is booming. But when the next downturn arrives—and it will arrive, since the economy moves in cycles—people will be looking for value. Known for "Everyday Low Prices," Walmart has proven many times that it can survive economic downturns.
This means owning WMT stock may be a good way to collect some recession-proof dividends. As a matter of fact, Walmart has raised its annual payout every year since paying its first dividend in 1974. All the ups and downs in the global economy over the years did not prevent the company from increasing its payout to dividend investors.
Bottom line: Walmart stock may not be a hot commodity, but with a rock-solid business and a growing payout, it's a dividend stock that income investors should not ignore.