WMT Stock: Why Wal-Mart Stores, Inc. Is Still a Top Dividend Pick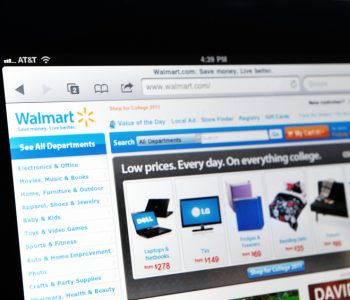 Wal-Mart Stock: 42 Consecutive Years of Dividend Hikes
For decades, Wal-Mart Stores, Inc. (NYSE:WMT) stock has been a staple for many dividend investors. More recently though, there have been some concerns. The biggest worry is this: what would be left for Wal-Mart stock investors if e-commerce companies like Amazon.com, Inc. (NASDAQ:AMZN) take over the retail industry?
The concern is legitimate, as Amazon has seeped into every corner of our lives. If you are an Amazon Prime Fresh member, you can even get fresh groceries and meals delivered to your door for free. As consumers move from brick-and-mortar stores to online channels, retailers like Wal-Mart could be in trouble.
So, for income investors, is it time to bail on Wal-Mart stock?
Not really. From what Wal-Mart has been doing lately, the retail giant seems to be just fine.
You see, Wal-Mart's comparable store sales (comp sales) rose 1.6% year-over-year in the second quarter of 2016. Year-over-year comparison of comp sales is a good indicator of how well a retailer is performing, and not just how specific locations are performing. (Source: "Walmart reports Q2 FY17 EPS of $1.21, adjusted EPS of $1.07, Raises full-year adjusted EPS guidance range to $4.15 to $4.35," Wal-Mart Stores, Inc., August 18, 2016.)
Moreover, although consumers have undoubtedly been embracing online shopping lately, the trend did not seem to prevent them from going to Walmart stores. In the second quarter, the retailer's comparable traffic increased by 1.2%. This was Wal-Mart's eighth consecutive quarter of positive comp sales and seventh consecutive quarter of positive traffic.
At the same time, don't forget that Wal-Mart has its own e-commerce segment. The company has opened a network of fulfillment centers, and just like Amazon, has rolled out an online grocery service. Its in-store pickup services have also gained momentum. On a constant currency basis, Wal-Mart's gross merchandise volume (GMV) increased 13% year-over-year in the second quarter, while e-commerce sales rose 11.8%.
Wal-Mart's latest move in the e-commerce segment is the announcement of a $3.3-billion acquisition of Jet.com, Inc. Jet is a one of the newer e-commerce companies in the industry, but has already amassed a sizable user base. According to Wal-Mart, Jet.com processes an average of 25,000 orders per day and is adding more than 400,000 new shoppers each month. (Source: "Walmart Agrees to Acquire Jet.com, One of the Fastest Growing e-Commerce Companies in the U.S.," Wal-Mart Stores, Inc., August 8, 2016.)
Note that Jet.com is not just another niche e-commerce web site. In fact, it is challenging Amazon by offering lower pricing on its products. Jet is able to do so because of its sophisticated pricing algorithm. Products on Jet.com are priced based on their locations in distribution centers. If a consumer chooses to buy multiple items located in the same distribution center, the price will be lower than if they are located in separate distribution centers. This acquisition could not only equip Wal-Mart with Jet's pricing algorithm, but also give it access to Jet's warehouses and customer data.
Of course, even with comp sales growth and a booming e-commerce segment, Wal-Mart stock still doesn't sound as exciting as the trending names in the tech sector. But note this: while WMT stock doesn't make headlines that often, it has an unrivaled track record when it comes to returning value to income investors. Since declaring its first annual dividend of $0.05 per share in March of 1974, Wal-Mart has raised its annual payout every single year; that's 42 consecutive years of dividend increases!
The latest dividend hike came this February, when the retail giant raised its quarterly dividend rate by two percent to $0.50 per share. At today's price, Wal-Mart stock has an annual dividend yield of 2.84%.
The Bottom Line on WMT Stock
Despite all the concerns, quarter after quarter of operational results show that Wal-Mart is still one of the most powerful retail brands in the world. Moreover, recent developments in its e-commerce segment should provide Wal-Mart stock bears wrong when more consumers embrace online shopping. However you look at it, Wal-Mart stock deserves a spot on many income investor's watch lists.