WMT Stock: Time to Bail on This Dividend Aristocrat?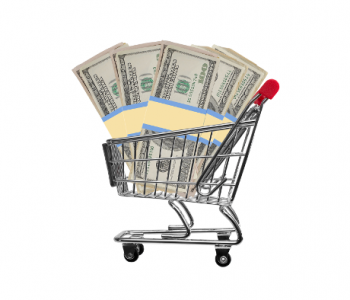 iStock/USGirl
Here's Why You Shouldn't Give Up on Wal-Mart Stores Inc
There's no denying that the e-commerce industry is firing on all cylinders. According to market research firm eMarketer, worldwide retail e-commerce sales is on track to grow 23.2% this year to $2.29 trillion. (Source: "Worldwide Retail and Ecommerce Sales: eMarketer's Estimates for 2016–2021," eMarketer, July 18, 2017.)
While online shopping platforms are making money hand over fist, the rise of the e-commerce industry has led to the slowdown of many brick-and-mortar businesses. Wal-Mart Stores Inc (NYSE:WMT) is currently the largest physical retailer in the world. Does the surging e-commerce sales mean it's time to ditch WMT stock?
Not really. Allow me to explain.
First of all, while quiet a few retailers—including Macys' Inc (NYSE:M) and Sears Holdings Corp (NASDAQ:SHLD)—have experienced sizable sales declines, the situation at Walmart was not bad at all.
In the second quarter of Walmart's fiscal year 2018, the company generated $123.4 billion in total revenue, representing a 2.1% increase year-over-year. Excluding impacts from foreign exchange translation, revenue would have grown by 2.9%. (Source: "Walmart U.S. Q2 comps 1 grew 1.8% and Walmart U.S. eCommerce GMV2 grew 67%, Company reports Q2 FY18 GAAP EPS of $0.96; Adjusted EPS3 of $1.08," Wal-Mart Stores Inc, August 17, 2017.)
Also Read:
WMT Stock: Why Investors Shoud Not Ignore Wal-Mart Stores Inc.
Comparable store sales, a crucial measure of a retailer's performance, grew 1.8% year-over-year. Note that the second quarter of Walmart's fiscal year 2018 marked the company's 12th consecutive quarter of comp sales growth.
The company also continues its track record of returning cash to shareholders. WMT stock is a "dividend aristocrat," a company with at least 25 years of quarterly dividend increases. The latest dividend hike, which arrived in February of this year, marked Walmart's 44th consecutive annual payout increase. (Source: "Walmart raises annual dividend to $2.04 per share, marking 44th consecutive year of dividend increases," Wal-Mart Stores Inc, February 21, 2017.)
Turning E-Commerce into a Catalyst
Best of all, instead of fighting against the e-commerce industry, Walmart managed to turn the e-commerce boom into a catalyst.
In the second quarter of the company's fiscal year 2018, net sales at Walmart.com grew 60% year-over-year. Gross merchandise volume posted an even faster growth rate of 67%. Walmart's e-commerce platform has expanded tremendously in recent years and now carries more than 67-million stock keeping units (SKUs).
Last month, the company said that thanks to strong growth in its e-commerce segment, Walmart's consolidated net sales are expected to grow at least three percent in the next fiscal year. Moreover, the company expects to further expand its e-commerce growth by adding 1,000 online grocery locations. (Source: "Walmart Highlights Progress on Strategic Initiatives and Outlines Plan to Win with Customers and Shareholders at its Meeting for the Investment Community," Wal-Mart Stores Inc, October 10, 2017.)
The bottom line is expected to improve as well. For the next fiscal year, Walmart's earnings per share is expected to increase by approximately five percent from this year.
Last but certainly not least, Walmart announced a $20.0-billion share repurchase program. While investors won't get a check in the mail like a dividend payment when the company buys back its stocks, the program would reduce the number of shares outstanding, so existing shareholders would each own a slighter larger portion of the company.
In other words, Walmart is just getting started on its next growth trend. Instead of bailing out, investors might want to consider loading up some WMT shares.