Will Qualcomm, Inc. (NASDAQ:QCOM) Raise its Dividend in 2017?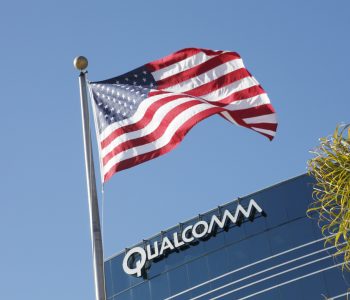 iStock.com/DNY59
QCOM Dividend Outlook
In the fast-changing tech sector, Qualcomm, Inc. (NASDAQ:QCOM) is one of the few companies that pays generous dividends. But most recently, the stock has experienced a quite sizable downturn. Did Qualcomm announce its dividend hike? Will it raise its dividend in 2017? In this article, we are going to take an in-depth look at QCOM stock from an income investor's perspective.
QCOM Business Overview
Headquartered in San Diego, California, Qualcomm is a multinational semiconductor and telecommunications equipment company. The company was founded in 1985 and helped to develop the first code division multiple access-based cellular base station in 1990. Qualcomm was a pioneer in 3G and 4G technologies and is currently leading the transition into 5G networks.
Qualcomm operates through three main segments: Qualcomm Technology Licensing (QTL), Qualcomm CDMA Technologies (QCT), and Qualcomm Strategic Initiatives (QSI).
Qualcomm's QTL segment is the company's licensing business and includes the vast majority of the company's patent portfolio. QCT is the company's semiconductor business. Qualcomm's QSI segment is responsible for making strategic investments that could bring future opportunities for Qualcomm's technologies. Other than these three, Qualcomm also has an Other Business/Corporate segment that includes small cells, data centers, and other non-reportable segments and corporate functions.
Based on each segment's function, it's easy to see that QTL and QCT are responsible for generating the bulk of the company's revenue. In the company's fiscal year 2016, its semiconductor business QCT contributed 65.5% of the company's total revenue, while its licensing business QTL contributed 32.6%. (Source: "Qualcomm Announces Fourth Quarter and Fiscal 2016 Results," Qualcomm Inc, November 2, 2016.)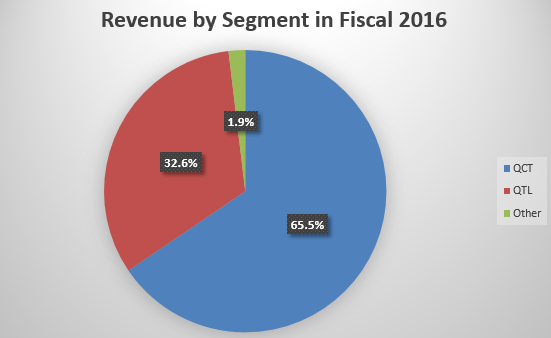 Source: "Qualcomm Announces Fourth Quarter and Fiscal 2016 Results," Qualcomm Inc, November 2, 2016.
QCOM Current Dividend Policy
As I mentioned earlier, Qualcomm is a rare find in today's tech world because of its generous dividends. Right now, the company has a quarterly dividend rate of $0.57 per share, which translates to an annual dividend yield of 4.42%.
To give you some perspective, the communications equipment industry has an average dividend yield of 2.91%, while the semiconductor industry has an average yield of 2.88%. The average S&P 500 company, on the other hand, is yielding an even lower 1.95%.
In other words, by investing in QCOM stock, investors can earn a much higher yield than the industry's average and more than twice the yield of the average S&P 500 company.
Qualcomm Dividend History
Qualcomm's dividend yield is not the only reason why it deserves the attention of income investors. The company has also been raising its payout.
The table below shows QCOM stock's dividend history for the past 10 years:
| | | | | |
| --- | --- | --- | --- | --- |
| Declaration Date | Ex-Dividend Date | Record Date | Payment Date | Amount |
| 13-Jul-17 | 28-Aug-17 | 30-Aug-17 | 20-Sep-17 | $0.57 |
| 12-Apr-17 | 26-May-17 | 31-May-17 | 21-Jun-17 | $0.57 |
| 12-Jan-17 | 27-Feb-17 | 1-Mar-17 | 22-Mar-17 | $0.53 |
| 6-Oct-16 | 28-Nov-16 | 30-Nov-16 | 16-Dec-16 | $0.53 |
| 12-Jul-16 | 29-Aug-16 | 31-Aug-16 | 21-Sep-16 | $0.53 |
| 8-Apr-16 | 27-May-16 | 1-Jun-16 | 22-Jun-16 | $0.53 |
| 12-Jan-16 | 29-Feb-16 | 2-Mar-16 | 23-Mar-16 | $0.48 |
| 9-Oct-15 | 27-Nov-15 | 1-Dec-15 | 18-Dec-15 | $0.48 |
| 7-Jul-15 | 31-Aug-15 | 2-Sep-15 | 23-Sep-15 | $0.48 |
| 8-Apr-15 | 1-Jun-15 | 3-Jun-15 | 24-Jun-15 | $0.48 |
| 14-Jan-15 | 2-Mar-15 | 4-Mar-15 | 25-Mar-15 | $0.42 |
| 16-Oct-14 | 26-Nov-14 | 1-Dec-14 | 18-Dec-14 | $0.42 |
| 18-Jul-14 | 29-Aug-14 | 3-Sep-14 | 24-Sep-14 | $0.42 |
| 8-Apr-14 | 2-Jun-14 | 4-Jun-14 | 25-Jun-14 | $0.42 |
| 22-Jan-14 | 3-Mar-14 | 5-Mar-14 | 26-Mar-14 | $0.35 |
| 24-Oct-13 | 27-Nov-13 | 2-Dec-13 | 19-Dec-13 | $0.35 |
| 17-Jul-13 | 30-Aug-13 | 4-Sep-13 | 25-Sep-13 | $0.35 |
| 9-Apr-13 | 3-Jun-13 | 5-Jun-13 | 26-Jun-13 | $0.35 |
| 15-Jan-13 | 6-Mar-13 | 8-Mar-13 | 27-Mar-13 | $0.25 |
| 17-Oct-12 | 5-Dec-12 | 7-Dec-12 | 21-Dec-12 | $0.25 |
| 6-Jul-12 | 5-Sep-12 | 7-Sep-12 | 26-Sep-12 | $0.25 |
| 3-Apr-12 | 30-May-12 | 1-Jun-12 | 20-Jun-12 | $0.25 |
| 10-Jan-12 | 29-Feb-12 | 2-Mar-12 | 23-Mar-12 | $0.22 |
| 11-Oct-11 | 21-Nov-11 | 23-Nov-11 | 21-Dec-11 | $0.22 |
| 13-Jul-11 | 24-Aug-11 | 26-Aug-11 | 23-Sep-11 | $0.22 |
| 7-Apr-11 | 25-May-11 | 27-May-11 | 24-Jun-11 | $0.22 |
| 14-Jan-11 | 23-Feb-11 | 25-Feb-11 | 25-Mar-11 | $0.19 |
| 13-Oct-10 | 22-Nov-10 | 24-Nov-10 | 22-Dec-10 | $0.19 |
| 8-Jul-10 | 25-Aug-10 | 27-Aug-10 | 24-Sep-10 | $0.19 |
| 8-Apr-10 | 26-May-10 | 28-May-10 | 25-Jun-10 | $0.19 |
| 7-Jan-10 | 24-Feb-10 | 26-Feb-10 | 26-Mar-10 | $0.17 |
| 2-Oct-09 | 23-Nov-09 | 25-Nov-09 | 23-Dec-09 | $0.17 |
| 8-Jul-09 | 26-Aug-09 | 28-Aug-09 | 25-Sep-09 | $0.17 |
| 8-Apr-09 | 27-May-09 | 29-May-09 | 26-Jun-09 | $0.17 |
| 16-Jan-09 | 25-Feb-09 | 27-Feb-09 | 27-Mar-09 | $0.16 |
| 22-Oct-08 | 9-Dec-08 | 11-Dec-08 | 7-Jan-09 | $0.16 |
| 16-Jul-08 | 27-Aug-08 | 29-Aug-08 | 26-Sep-08 | $0.16 |
| 10-Apr-08 | 28-May-08 | 30-May-08 | 27-Jun-08 | $0.16 |
| 16-Jan-08 | 27-Feb-08 | 29-Feb-08 | 28-Mar-08 | $0.14 |
| 11-Oct-07 | 5-Dec-07 | 7-Dec-07 | 4-Jan-08 | $0.14 |
| 13-Jul-07 | 29-Aug-07 | 31-Aug-07 | 28-Sep-07 | $0.14 |
| 3-Apr-07 | 30-May-07 | 1-Jun-07 | 29-Jun-07 | $0.14 |
| 12-Jan-07 | 28-Feb-07 | 2-Mar-07 | 30-Mar-07 | $0.12 |
Source: "Dividend/Split History," Qualcomm Inc, last accessed August 21, 2017.
As you can see from the table, Qualcomm's payout has been consistently increasing. In fact, since the company started paying a dividend in March 2003, it has raised its quarterly dividend rate every single year.
That's quite an achievement. During this period, our economy experienced the Great Recession, which, according to the International Monetary Fund, was the worse global recession since the Great Depression. Many businesses were badly hit. But even during the height of the crisis, QCOM stock was still raising its payout to income investors.
Qualcomm's dividend hikes are also particularly impressive due to the nature of its business. Technology evolves rapidly. Companies operating in the sector often have to reinvest quite a bit of their profits just so they could stay relevant in the future. In fact, if you take a look at Qualcomm's peers back in the 1990s, you'd see that some of the companies have ceased to exist. The fast-changing nature of the tech world makes QCOM's 15 consecutive years of dividend increases much more special.
Also Read:
Top Dividend Stocks: 3 Technology Names For 2017
Warren Buffett's Tech Stock Picks for 2017
Will QCOM Raise Its Dividend in 2017?
For those that are wondering whether there will be a QCOM dividend increase in 2017, the answer is that the company has already increased it.
On March 7, 2017, Qualcomm announced that its board of directors has approved a quarterly dividend rate of $0.57 per share. That represented a 7.5% increase from its previous quarterly dividend rate of $0.53 per share. (Source: "Qualcomm Increases Quarterly Dividend by 7.5%," Qualcomm Inc, March 7, 2017.)
The new dividend rate started with the company's June payment. The next $0.57 per share dividend will be paid September 20, 2017 to shareholders of record as of August 30. The ex-dividend date is August 28. Investors wishing to collect this payment need to own shares of QCOM stock before the ex-dividend date.
QCOM Dividend Trend
Past performance does not guarantee future results. But for income investors, analyzing a company's dividend trend may provide valuable insights into the future.
This is because dividends are sticky. When a company announces a dividend, the implication is that it will keep paying at least this much going forward. As plenty of examples have shown, a dividend cut can result in some serious investor disappointment.
Therefore, companies usually don't want to raise their payout to unsustainable levels. What this also means is that if a company have been consistently increasing its dividend, it must have some form of durable competitive advantage.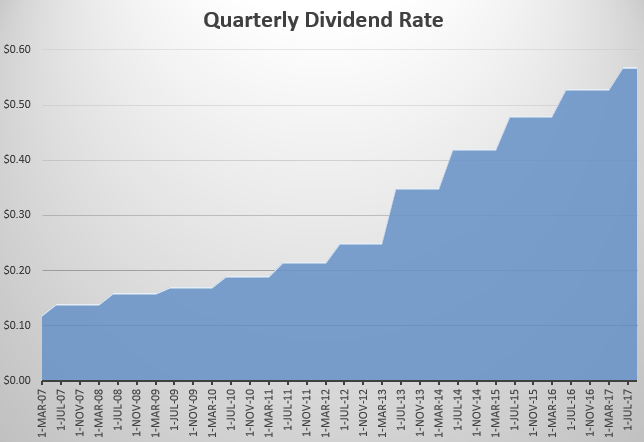 Source: "Dividend/Split History," Qualcomm Inc, last accessed August 21, 2017.
As you can see from the company's dividend trend above, Qualcomm's dividend increases have not shown signs of slowdown. In the last 10 years, the company's quarterly dividend rate has grown from $0.12 to $0.57, translating to a compound annual growth rate (CAGR) of 16.9%. In the last five years, Qualcomm's dividend growth rate averaged an even higher 21%.
Will the QCOM Dividend Increase in 2018?
To see whether Qualcomm will be able to keep its dividend increase track record continue in the future, let's take a look at the company's financials.
In Qualcomm's fiscal year 2016, the company generated $23.5 billion of revenue and $4.44 of earnings per share. While both figures represented single-digit year-over-year declines, note that the company was still making more than enough money to cover its dividends. Qualcomm paid total dividends of $2.02 per share in fiscal 2016, so it had a payout ratio of 45.5%, leaving a margin of safety.
If you have been paying attention to Qualcomm recently, you would know that its fiscal 2017 hasn't really turned out that great. In particular, the company just settled an arbitration with BlackBerry Ltd (NASDAQ:BBRY), resulting in Qualcomm paying $940.0 million. Qualcomm also paid $927.0 million related to the Korea Free Trade Commission fine. (Source: "Qualcomm Announces Third Quarter Fiscal 2017 Results," Qualcomm Inc, July 19, 2017.)
Both of these items were recorded in the company's third quarter of fiscal year 2017. This resulted in a significant reduction to the company's cash flow for the quarter.
However, note that these charges were nonrecurring, and the company's fundamentals haven't deteriorated that much. For instance, Qualcomm reported non-GAAP diluted earnings of $0.83 per share, which beat Wall Street's expectation of $0.81 per share. As a matter of fact, the company has beaten analysts' EPS estimates in all four quarters of the past calendar year. (Source: "Qualcomm Incorporated (QCOM)," Yahoo! Finance, last accessed August 21, 2017.)
The company has also built a huge cash pile. By the end of its fiscal third quarter, Qualcomm's cash, cash equivalents, and marketable securities totaled $37.8 billion, representing a 21.9% increase from a year ago. Having a solid cash pile is great for a dividend-paying company, and that's because at the end of the day, earnings can be adjusted, but dividends are cold, hard cash paid out to shareholders.
For the full fiscal year, Wall Street expects the company to generate $23.07 billion in revenue, which would represent a 1.9% decline year-over-year. Full-year earnings are expected to come in at $4.16 per share, which would be 6.3% lower than the $4.44 per share earned in the previous fiscal year.
Still, the company should have no problem covering its dividends. All four quarterly dividends in Qualcomm's fiscal 2017 have been declared; the amount totals $2.20 per share. If the company meets analysts' expectations, it would achieve a payout ratio of 52.9%. So dividend safety should not be a concern for now.
As for future dividend increases, keep in mind that Qualcomm has raised its payout at least once a year for the past 15 years. With a low payout ratio and a solid balance sheet, the company will likely want to keep its track record continuing. I would not be surprised if Qualcomm announces another dividend increase in the spring of 2018.
How Much Will Qualcomm Raise Its Dividend?
When it comes to the size of future dividend increases, note that the current year is not really sunshine and rainbows for Qualcomm. Before the company gets back on the growth track, it would probably want to be more cautious with its payout, meaning the next dividend increase may not be as aggressive as in the previous years. But based on the company's fundamentals, a low-to-mid-single digit increase is certainly possible in 2018.
Qualcomm Dividend Reinvestment Plan (DRIP)
Regular readers of this column would know that I'm a big fan of dividend reinvestment plans, or DRIPs. For investors who don't need to use the dividends right away, reinvesting dividends can use the power of compounding to significantly boost portfolio return.
Qualcomm offers a dividend reinvestment plan. Once signed up, a QCOM shareholder can have their dividends automatically reinvested into additional shares of QCOM stock. Investors interested in participating in Qualcomm's DRIP can contact the company's transfer agent Computershare Trust Company. (Source: "Direct Stock Purchase Plan," Qualcomm Inc, last accessed August 21, 2017.)