Will New Residential Investment Corp's 12% Yield Last?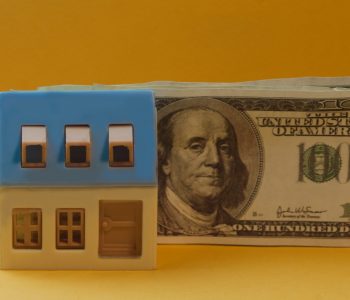 Can You Trust New Residential Investment Corp's 12% Yield?
Dividend hunters have flocked to a new corner of the stock market in their search for yield: real estate investment trusts (REITs).
Through the first three weeks of January, investors poured $1.0 billion into the industry. (Source: "Falling Yields Drive Bond Buyers to REIT Stocks," The Wall Street Journal, January 28, 2020.)
That sent the Dow Jones Composite All REIT Index to fresh all-time highs.
Those inflows have put a big bid underneath shares of New Residential Investment Corp (NYSE:NRZ). The fund invests primarily in government-insured mortgage loans, which throw off steady income. And with a dividend yield topping 12%, this REIT offers one of the best payouts around.
But can you trust such an oversized distribution? Savvy investors will want to dig into the financials before pulling the trigger on such a high-yield stock. So let's review the numbers.
In fairness, New Residential's financial statements highlight some problems.
The partnership makes its money on the "spread," the difference between short- and long-term bond yields. This spread has contracted in recent years, squeezing New Residential Investment Corp's profits with it.
For 2019, analysts estimate the business generated $839.0 million in net investment income. Based on the current distribution, management will pay out $830.0 million to unitholders for that period. That doesn't leave executives much wiggle room to keep making payments.
But relief has appeared on the horizon.
In 2019, the Federal Reserve slashed its overnight interest rate on three occasions in a to bid to jump-start the economy. This has allowed New Residential Investment Corp to refinance its outstanding debt, saving the business millions in interest expenses.
And this could just be the beginning. A slew of weak economic data in recent weeks could force the central bank to cut interest rates further in the coming months. That would reduce the partnership's interest expenses and boost profits further.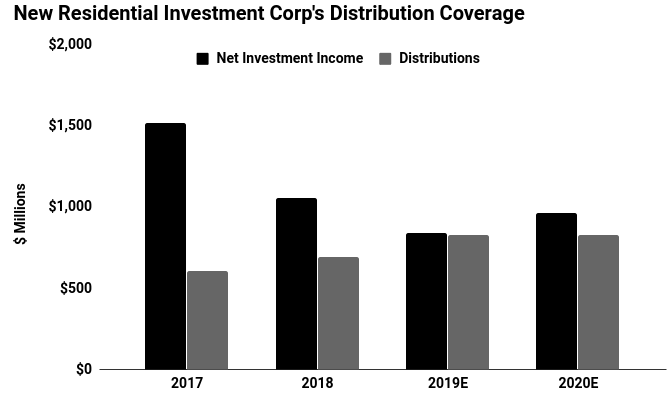 (Source: "Investor Relations," New Residential Investment Corp, last accessed January 31, 2020.)
All of which further solidifies New Residential's financial position.
Looking forward, Wall Street projects that the partnership's net interest income will jump to $962.0 million in 2020. Assuming management keeps the distribution constant, that will lower the payout ratio to 86%.
Generally, I want to see a business pay out no more than 90% of its earnings before calling its distribution safe. So if New Residential Investment Corp can grow its profits as expected, its dividend safety rating will likely need an upgrade.