Will Microsoft Corporation Increase Its Dividend in 2018?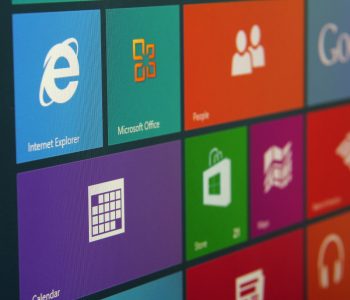 iStock.com/MrIncredible
MSFT Stock Returning Value to Investors
Today's chart highlights one of my favorite dividend-paying stocks for the 21st century, that of Microsoft Corporation (NASDAQ:MSFT).
If you are reading this article, chances are you are currently using one of Microsoft's services, or have at least used one before. Started by making BASIC interpreters for the "Altair 8800" computer in the 1970s, Microsoft managed to establish a leading position in the personal computer (PC) operating system market with its "MS-DOS" in the 1980s.
Today, Microsoft is by far the most dominant player in the PC operating system marketplace. According to NetMarketShare, Microsoft's "Windows" operating system is currently running on 88.8% of all desktops and laptops in the world. (Source: "Operating System Market Share," NetMarketShare, last accessed May 1, 2018.)
While the company captured its target market decades ago, it didn't start paying regular dividends until the 2000s. Still, after establishing its dividend policy, Microsoft's payout growth has been nothing short of impressive.
Microsoft paid its first quarterly dividend in 2004, at an amount of $0.08 per share. Since then, the company has raised its quarterly dividend rate every single year. With its current quarterly dividend rate standing at $0.42 per share, the tech giant's payout has grown by a whopping 425%.
Microsoft Corporation Dividend History
The chart below shows MSFT stock's annual dividend history for each of the company's last five fiscal years.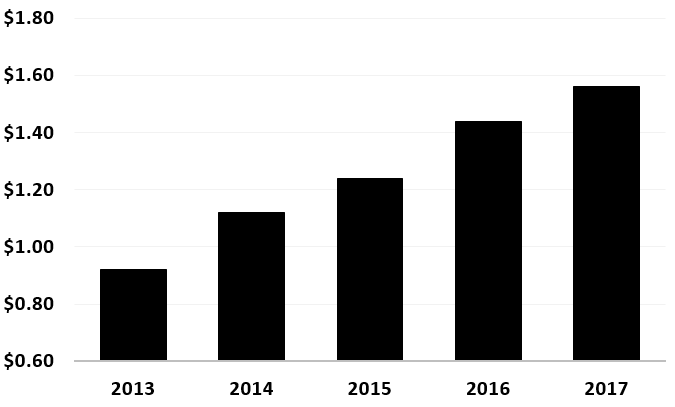 (Source: "Microsoft Corporation Dividend Date & History," Nasdaq, last accessed May 1, 2018.)
In Microsoft's fiscal-year 2013, it paid total dividends of $0.92 per share. By fiscal-year 2017, the amount had grown to $1.56 per share. That translated to a compound annual growth rate (CAGR) of over 14%.
The big question now, of course, is whether the company can continue its dividend increase track record.
Will MSFT Stock Increase Its Dividend in 2018?
Dividends come from profits; there's no rocket science here. And if a company wants to pay a reliable dividend, it needs to generate enough profits.
On that front, things look pretty solid. Excluding nonrecurring items, Microsoft generated adjusted diluted earnings of $3.31 per share in the company's fiscal-year 2017. Considering that it declared total dividends of $1.56 per share during the year, it had a payout ratio of 47.1%. (Source: "Earnings Release FY17 Q4," Microsoft Corporation, July 20, 2017.)
Here at Income Investors, we prefer companies that pay out less than 75% of their profits. At just 47.1%, Microsoft's payout ratio has left a wide margin of safety.
Of course, raising dividends due to a low payout ratio has its limit. This is because, with profits staying constant, continuous dividend increases will push the payout ratio up to 100% at some point.
Therefore, in order for a company to grow its dividends in the long run, it also needs to grow its business. The good news is, that's exactly what Microsoft Corporation has been doing.
In the third quarter of Microsoft's fiscal-year 2018, ended March 31, 2018, it generated $26.8 billion in revenue, representing a 16% increase year-over-year. (Source: "Earnings Release FY18 Q3," Microsoft Corporation, April 26, 2018.)
Growth was across the board. Microsoft's "Productivity and Business Processes" segment revenue increased 17% year-over-year to $9.0 billion. Revenue from "Intelligent Cloud" was also up 17%, while revenue from "More Personal Computing" rose 13%.
The bottom line turned out to be even more impressive. Microsoft's diluted earnings came in at $0.95 per share for the quarter, up 36% from the year-ago period.
Note that the company's earnings per share figure provided more than twice the coverage of its quarterly dividend rate of $0.42 per share.
Combining a low payout ratio and double-digit earnings growth, Microsoft is in a strong position to continue increasing its dividends.
Microsoft Corporation's Cash Pile
Don't forget that, as Microsoft grew its business over the years, it also built up an incredible cash position.
By the end of March 2018, Microsoft had total cash, cash equivalents, and short-term securities of over $132.0 billion. To put it in perspective, that's more than the entire market capitalization of 3M Co (NYSE:MMM).
With most of that cash stored overseas, Microsoft would have to pay the repatriation tax if it wants to bring that cash back to the United States.
But even after paying that tax, the company would still have a huge amount of money left. Microsoft could use that money for strategic acquisitions, stock buybacks, dividend increases, or to simply pay a special dividend like it did in 2004.
Microsoft's board of directors usually reviews its dividend policy in September. Based on the company's current financial situation, I expect MSFT stock to deliver at least a high-single-digit increase to its quarterly dividend rate in September 2018.