Why Warren Buffett Just Invested Billions in My Favorite Dividend Stock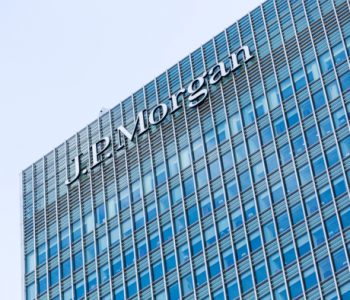 iStock.com/BackyardProduction
Warren Buffett Is Buying This
It's one of my favorite dividend stocks out there, and apparently billionaire Warren Buffett agrees with me.
I started recommending bank stocks to subscribers in the May 2016 issue of my monthly research letter, Retirement Riches. At the time, I highlighted how firms like Citigroup Inc (NYSE:C), Wells Fargo & Co (NYSE:WFC), and Bank of America Corp (NYSE:BAC) served as the "financial backbone" of the American economy. They rise and fall with our country's ability to make, save, or transmit money.
The favorite stock in question is JPMorgan Chase & Co (NYSE:JPM). The company benefits from a nearly unrivaled combination of scale and scope within the United States, allowing it to earn outsized profits over its peers.
It boasts $1.4 trillion in deposits, around $400.0 billion of which it pays no interest on whatsoever. The company ranks as the No. 1 issuer of credit cards in the U.S., the top investment bank by fee income globally, and the leading fixed-income trading desk by volume in the world.
And JPMorgan has shot the lights out in 2018. Credit quality remains immaculate, the balance sheet looks strong, and the bank passed its recent mid-year stress test from the Federal Reserve with flying colors.
Now that the U.S. economy is rocking and rolling, we've seen core loans growing at a healthy pace. Assets under management recently topped a record high.
Going forward, analysts project big increases in net income, given that central banks have started raising interest rates.
For investors, this has translated into a growing stream of income. Since I originally recommended the stock to paid subscribers of Retirement Riches in 2016, JPMorgan has nearly doubled its distribution. Today, the company pays a quarterly dividend of $0.80 per share, which comes out to an annual yield of nearly three percent. Management has also returned billions to shareholders through its lucrative stock buyback program.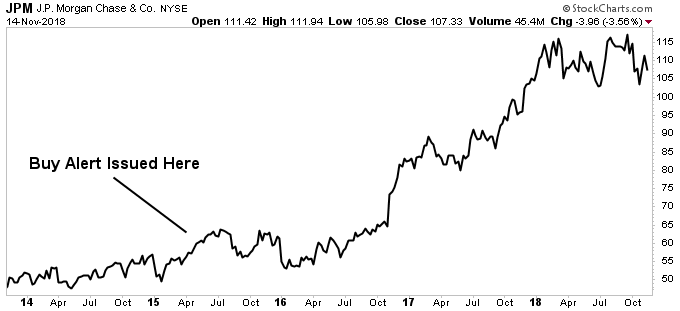 Chart courtesy of StockCharts.com
Warren Buffett, it seems, agrees with my bullish assessment. On Tuesday, his holding company, Berkshire Hathaway Inc. (NYSE:BRK.A, NYSE:BRK.B), revealed it had added more than 35 million shares of JPM stock last quarter. That values his stake in the company at over $4.0 billion, according to the firm's latest filing with the U.S. Securities and Exchange Commission (SEC). (Source: "Berkshire Hathaway reveals stake in JP Morgan as Warren Buffett raises bet on the US banking system," CNBC, November 14, 2018.)
What's interesting is that Berkshire paid as much as $119.00 per share for its recent acquisitions—almost double what my readers paid for JPM stock back in 2016. As you would expect, traders went wild; shares surged in pre-market trading, closing in on a fresh 52-week high.
Investment analysts at Bank of America reiterated their $134.00-per-share target price on the news. Readers of my Retirement Riches newsletter are up 81% and are likely to make much more on this investment. If Buffett is buying at $120.00 per share, that means JPM stock has more room to run.