This Number Shows Why STAG Industrial Is a Top Monthly Dividend Stock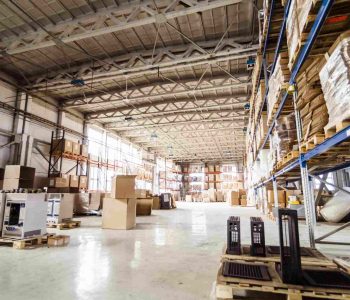 Earn Pandemic-Proof Monthly Dividends?
Most people have never heard of STAG Industrial Inc (NYSE:STAG). But if you want to earn monthly dividends, this company offers one of the most reliable payouts in today's market.
Headquartered in Boston, STAG Industrial is a real estate investment trust (REIT) that owns, operates, and acquires single-tenant industrial properties in the United States.
To see why this REIT is special, here's a number: 98%.
That's the percentage of second-quarter rent the company collected as of July 28. (Source: "STAG Industrial Announces Second Quarter 2020 Results," STAG Industrial Inc, July 28, 2020.)
Let that sink in.
The second quarter of 2020 has proven to be an extremely challenging environment for companies across industries. The reason is simple: the COVID-19 pandemic resulted in the closure of numerous businesses. The unemployment rate quickly shot up, and as people stayed at home, the economy slowed down dramatically.
For REITs, which are basically landlords, the pandemic meant that collecting rent got a lot more difficult. Imagine if you owned an apartment building and the tenants suddenly became unemployed, or if you owned a shopping mall and all the shops closed their doors, or if you owned an office building and the businesses shut down.
The situation would be very, very bad.
Luckily, STAG Industrial does not own any of the properties I just mentioned. As of June 30, the company's portfolio consisted of 376 warehouses and 70 light manufacturing facilities. (Source: "Supplemental Information Unaudited Second Quarter 2020," STAG Industrial Inc, last accessed August 10, 2020.)
The neat thing about warehouses is that they are an essential part of e-commerce. Without a physical storefront, online vendors usually keep their inventory in a warehouse. And e-commerce happens to be a prospering industry, despite the pandemic; when brick-and-mortar stores are closed, people have to shop online.
Therefore, by having a portfolio that's largely made up of warehouses, STAG Industrial managed to achieve a strong rent collection rate in a very challenging period.
It helps that STAG Industrial has Amazon.com, Inc. (NASDAQ:AMZN), by far the most dominant e-commerce company in the U.S., as its biggest tenant. Moreover, a tenant survey last year showed that 43% of the REIT's portfolio handled e-commerce activity. (Source: "2020 Spring/Summer," STAG Industrial Inc, last accessed August 10, 2020.)
Of course, REITs are considered income investments. Even though STAG Industrial has delivered a very impressive number in terms of rent collection, it also needs a durable dividend policy for it to be worth considering for income investors.
The good news is, STAG stock has been providing reliable dividends to shareholders for quite some time. It even switched to a more frequent payment schedule (from quarterly to monthly) in 2013. Since STAG Industrial stock went public in 2011, the company has paid a higher dividend every single year. (Source: "Dividends," STAG Industrial Inc, last accessed August 10, 2020.)
The best part is that, even after all the dividend increases—and under this unprecedented operating environment—the REIT has had no problem covering its payout.
In the second quarter of 2020, STAG Industrial generated core funds from operations (FFO) of $0.47 per share, which represented a 4.4% increase year-over-year. Considering that the company paid three monthly dividends totaling $0.36 per share for the quarter, its core FFO covered the payout with ease. (Source: STAG Industrial Inc, July 28, 2020, op. cit.)
Again, keep in mind that we are in a period when a lot of companies have been reporting substantial year-over-year declines in their financials. Yet at STAG Industrial, things are actually getting better.
In the second quarter, the REIT generated $117.6 million of total revenue, up 22% from the same quarter a year ago. Same-store cash net operating income came in at $73.9 million for the quarter, up 2.1% compared to the second quarter of 2019.
The portfolio looked solid, too. At the end of June, STAG Industrial's portfolio was 97% leased, with a weighted average lease term of 5.1 years.
The properties, which total 91.8 million square feet, were leased to 422 tenants in 38 states. (Source: "Supplemental Information Unaudited Second Quarter 2020," STAG Industrial Inc, op.cit.)
With these metrics, I wouldn't be surprised to see the company continue to generate a predictable stream of rental income and pass that income to shareholders through monthly dividend payments.
Of course, there will still be uncertainty going forward. But management has already declared monthly dividends of $0.12 per share for August, September, and October. (Source: "Stag Industrial Announces Common And Preferred Stock Dividends," Cision PR Newswire, July 9, 2020.)
Moreover, they continue to expect STAG Industrial to earn between $1.80 and $1.88 per share in core FFO for full-year 2020, meaning the dividend payout would be well covered. (Source: "STAG Industrial Inc. (STAG) CEO Ben Butcher on Q2 2020 Results – Earnings Call Transcript," Seeking Alpha, July 29, 2020.)
Bottom Line on STAG Industrial Inc
Trading at $33.92 per share, STAG Industrial Inc offers an annual dividend yield of 4.9%.
Combining a rock-solid business with a generous payout, STAG stock is one of the top names to consider for those looking for monthly dividends.