Why Shares of CSX Corporation Have Spiked 19% Since October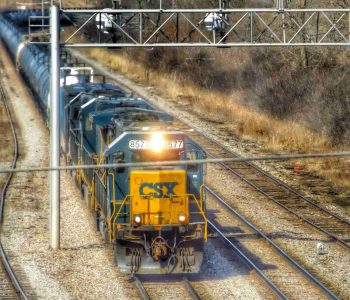 Cost-Cutting Sends CSX Stock Soaring
Hopes of a COVID-19 vaccine sent railroad stocks surging in November. But that wasn't the only reason Wall Street liked shares of long-time Automated Income favorite CSX Corporation (NYSE:CSX).
In the third quarter, management reported that the company's operating ratio had remained roughly steady from the same period last year, at 56.9%. A railroad's operating ratio measures how much the business spends in operating expenses on every dollar generated in revenue. A low ratio reflects an efficient, well-managed company. (Source: "CSX Corp. Announces Third Quarter 2020 Financial Results, Authorizes Additional $5 Billion Share Buyback," CSX Corporation, October 21, 2020.)
Holding the line on margins might not sound interesting, but it's actually a remarkable accomplishment. The COVID-19 pandemic sent CSX's revenues plunging 11% year-over-year. And given that the railroad's costs are mostly fixed, most analysts expected a big spike in the operating ratio. So to see CSX's management keep this number constant reflects the success of their aggressive cost-cutting efforts over the past few months.
Management plans to pass on most of these cost savings to shareholders. In addition to posting better-than-expected financial results, CSX's board of directors also announced that they will authorize a $5.0-billion stock buyback program. By reducing the total number of outstanding shares, stock buybacks increase the remaining shareholders' claim to future earnings. At a time when most companies have suspended such programs, launching a fresh share repurchase agreement represents an enormous vote of confidence in the business on the part of executives.
"I am incredibly proud of how CSX's exceptional team of railroaders continues to deliver against the challenges this year has presented," wrote CSX Corporation's president and chief executive officer, James M. Foote, in a note to shareholders. (Source: Ibid.)
"Their hard work allowed CSX to efficiently absorb the record rebound in volume while maintaining high levels of customer service."
Wall Street seemed impressed. Following the release of the third-quarter numbers, analysts at RBC Capital Markets boosted their rating for CSX stock from "Sector Perform" to "Outperform." Other investment banks, including Credit Suisse Group AG (NYSE:CS) and Wells Fargo & Co (NYSE:WFC), also reiterated their bullish outlooks, practically begging their customers to get in on the opportunity. So it was no surprise to see a rush of new buying interest send CSX shares up almost 20% in November. (Source: "CSX Corporation (CSX)," Yahoo! Finance, last accessed December 15, 2020.)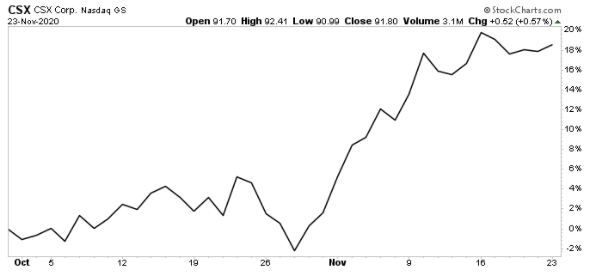 Chart Courtesy of StockCharts.com
Investors can likely expect more gains from CSX stock in the months ahead.
I often describe railroads as the "arteries" of the U.S. economy, so they will likely be the biggest beneficiaries of COVID-19 vaccines being rolled out. And efforts to trim costs now during the economic downturn will turn CSX Corporation into a money machine when the company's revenues eventually rebound.