Why New Residential is a Top Pick: A Dividend Yield of 11.2%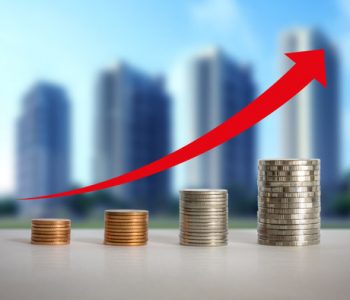 Stocks with super-high dividend yields typically have a bunch of risks surrounding them (which is why they have such high yields in the first place). But once in a while, our team at Income Investors comes across a high-dividend-yield stock where the dangers actually seem to be decreasing.
Mortgage specialist New Residential Investment Corp (NYSE:NRZ), for instance, is up solidly over the past year on an improving outlook, but still boasts a mouth-watering double-digit dividend yield. Now, regular readers know that I'm usually against chasing high-flying stocks–or ultra-high yields, for that matter–but there are definitely times when it makes sense.
Remember: investing is all about making an assessment on future earnings power. So if a company's fundamentals are firming up, its operating environment is improving, and its dividend remains nicely covered, it might be worth paying up for.
From what I can see, NRZ stock checks off all those boxes. Let's take a closer look.
Interesting Interest Rate Play
For those who haven't heard of New Residential before, it is a publicly traded real estate investment trust (REIT) that invests in and actively manages investments primarily related to residential real estate. The company's bread-and-butter is in purchasing mortgage servicing rights (MSRs), which are simply, as you guessed it, the rights to service an existing mortgage.
See, due to the growing complexity of the residential mortgage market, banks are finding it beneficial to just have someone else service their mortgages in order to focus on what they do best: making more loans.
Companies like New Residential help lighten the load on lenders by specializing in the various tasks of servicing mortgages (collect monthly mortgage payments, set aside taxes and insurance, forward payments to the mortgage lender, etc.). In exchange for these services, New Residential gets paid a handsome fee.
But here's the best part of MSRs: they are one of the few fixed income assets that actually increase in value as interest rates go up. Why? Well, as interest rates rise, the mortgages underlying the MSRs are less likely to be refinanced, which extends the life of the servicing fee stream. Needless to say, but with the Federal Reserve having recently hiked interest rates for the second time in three months, that kind of positive interest rate sensitivity is especially favorable.
It should come as no surprise, then, that NRZ stock has been flying amid this new cycle of higher interest rates.
New Residential Rollin'
Outside of MSRs, New Residential also seeks returns through residential mortgage-backed securities (RMBS) and their associated call rights. I won't bore you with the complex dynamics of this area of the business, but just know that the "callable" nature of this debt gives New Residential the option to require full loan repayment before the end of the loan term, providing the company with solid upside to boot.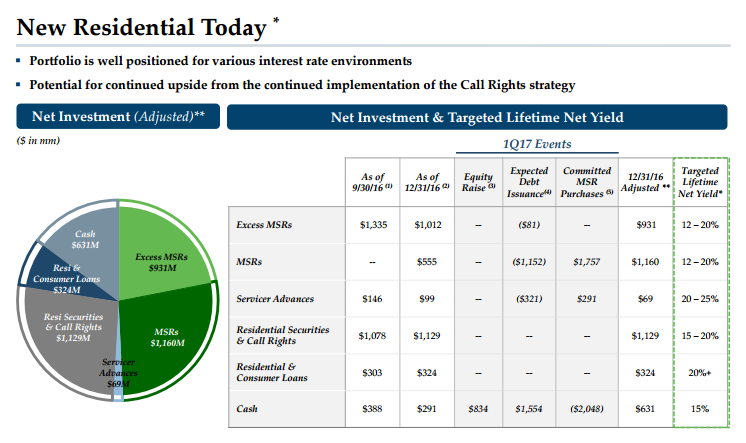 Source: "Quarterly Supplement 4Q 2016," New Residential Investment Corp, December 31, 2016.
So, generally speaking, New Residential's goal is to leverage its expertise within MSRs and RMBSs to drive attractive returns that will deliver "strong and growing dividends to shareholders."
So, how is management fairing on these objectives? Well, judging from the company's quarterly results last month, very well.
In Q4, net income clocked in at $225.0 million, with core earnings of $155.0 million. Both were significant improvements over Q3. New Residential also acquired or agreed to acquire MSRs totaling $154.0 billion in unpaid principal balance (UPB) for roughly $1.1 billion, reinforcing optimism over the robust MSR market. Moreover, the company called in RMBS deals with an aggregate UPB of about $417.0 million and securitized roughly $274.0 million UPB of performing loans acquired as part of its "call rights" strategy.
"Last year was a good year for us and it was obviously a good year for shareholders," said CEO Michael Nierenberg. "We continue to execute on our core business plan, which is to focus on MSRs, non-agency securities with call rights and servicer advances. Going forward, our strategy will be the same." (Source: "New Residential Investment's (NRZ) CEO Michael Nierenberg on Q4 2016 Results – Earnings Call Transcript," Seeking Alpha, February 21, 2017.)
Dependable Dividends
More importantly for income investors, though, is that New Residential's strong results continue to fuel a growing and well-covered dividend.
In Q4, management paid out a quarterly dividend of $0.46 per share, but the company has since increased it by $0.02, or about 4.3%. The new $0.48 quarterly dividend will be paid to shareholders on April 28, 2017, with a record date of March 27, 2017, and clearly reflects New Residential's improving fundamentals.
In total, the company has now paid $1.3 billion in lifetime dividends.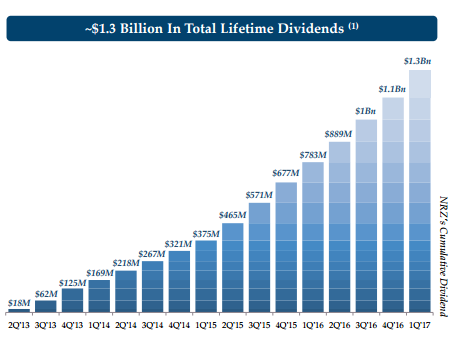 Source: "Quarterly Supplement 4Q 2016," New Residential Investment Corp, December 31, 2016.
But what is the best part about NRZ stock's dividend? Well, it has plenty of room to grow, even if core earnings remain flat. For the full-year 2016, New Residential generated $2.14 per share in core earnings, while paying out just $1.84 per share in dividends. That represents a dividend coverage ratio of 116%.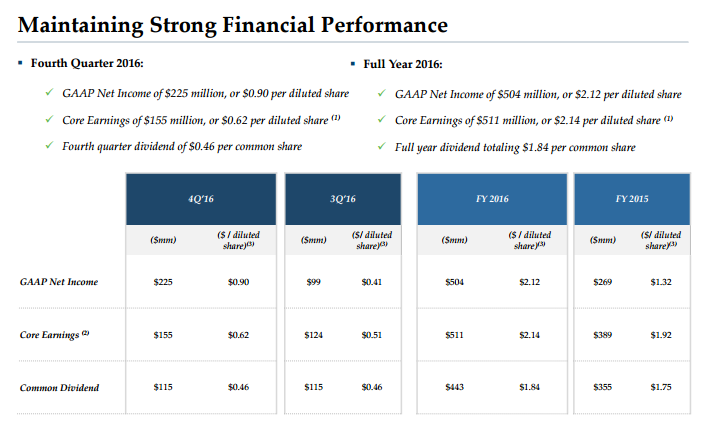 Source: "Quarterly Supplement 4Q 2016," New Residential Investment Corp, December 31, 2016.
Given that comforting payout cushion, as well as the high likelihood that core earnings will keep increasing along with interest rates, I wouldn't expect New Residential's dividend growth to slow anytime soon.
High Dividend Yield at a Decent Price
That brings us back to New Residential's white-hot stock price, which is now up a strong 47% over the past year. But when you consider the company's strong operating performance of late, improving interest rate environment, and remarkably stable double-digit dividend yield, it's tough to blame investors for their enthusiasm.
The great news is that there might be room left to run. After all, New Residential still boasts a whopping dividend yield of 11.2%. That is a bit higher than other mortgage REIT plays like Annaly Capital Management, Inc. (NYSE:NLY) (10.8%), Two Harbors Investment Corp (NYSE: TWO) (10.4%), and PennyMac Mortgage Investment Trust (NYSE:PMT) (10.9%), as well as the overall real estate industry average of four percent.
Given how solidly covered the NRZ dividend is, I can only see that valuation gap to narrow over time.
The Bottom Line On New Residential
There you have it, my fellow Income Investors: a few good reasons to consider New Residential today.
As is always the case, this isn't a formal stock recommendation, but rather an interesting idea to keep researching further. Because while New Residential's 11%-plus dividend yield looks pretty stable at the moment, it's important that investors keep monitoring interest rates, as well as the overall health of the MSR market.
But as of this moment, New Residential certainly seems like an above-average income opportunity.