Why Income Investors Shouldn't Give Up on Coca-Cola Dividend Stock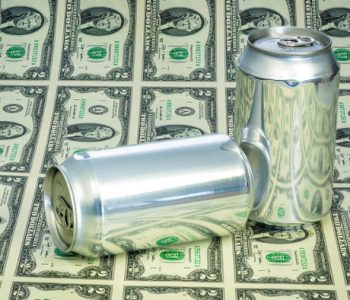 Coca-Cola Stock Is Boring, but It Provides Exciting Dividends
Stocks trading near their 52-week lows don't usually get much attention, but that doesn't mean income investors should ignore The Coca-Cola Co (NYSE:KO).
The past year witnessed a tremendous bull run in the U.S. stock market, with the Dow, S&P 500, and NASDAQ soaring past their all-time highs. However, not every stock shot through the roof. Coca-Cola stock, for instance, tumbled 6.3% in the past 12 months and is trading near its 52-week low.
Why should income investors still consider this dividend stock?
Well, first of all, despite the downturn in the KO stock price, its fundamentals still look solid.
Coca-Cola is a household name. The company's flagship product has been selling for more than a century. Over the years, The Coca-Cola Co has become a multinational beverage company, with 94% of the world's population able to recognize the company's red and white logo. Every day, 1.9-billion servings of Coca-Cola's beverages are consumed by people around the world. (Source: "Who We Are," The Coca-Cola Co, last accessed February 13, 2017.)
The company is extremely entrenched in the beverage industry. It's not exactly rocket science to make a soft drink. But while many companies have tried to compete with Coca-Cola, few managed to become its real competitors. Globally, The Coca-Cola Co is the number-one provider of sparkling beverage, juices, juice drunks, and ready-to-drink teas and coffees.
Best of all, the beverage industry is not really a fast-changing one. If a company has a deeply entrenched position in it, it could keep generating decent returns year after year.
Having a recurring business is one of the most important reasons why Coca-Cola stock is a good pick for income investors. Some tech company may have enormous sales in one year, but if a new technology hits the market tomorrow, that company could become obsolete before you know it. Fortunately, the nature of the beverage industry is very different from tech. Right now, Coca-Cola has 20 brands that generate more than $1.0 billion per year in sales each.
Coca-Cola is also known for operating in a relatively recession-proof industry. While meals at restaurants can seem like a luxury in hard times, a 12-pack of Coke is still affordable enough for many consumers. This means no matter where we are in the economic cycle, Coca-Cola's products would continue to sell well.
There are plenty of companies generating sizable profits year after year. But not all of them are good dividend plays. This is because companies are not under obligation to pay a dividend.
I'm not saying that all companies should pay a dividend. In fact, if a company has a great growth project, it might be in the shareholder's best interests for them to pursue it. However, for investors that want to collect predictable income from their portfolios, dividend paying giants like KO stock are probably better suited for the task.
The company has paid a quarterly dividend since 1920. Moreover, management has raised the Coca-Cola dividend payout every year in each of the past 54 years. Coca-Cola stock is the perfect example of a recession-proof income investment. The economy had its booms and busts in the last 54 years, but this dividend stock never stopped raising its payout to income investors.
Final Thoughts on KO Stock
Of course, no company is perfect. And for Coca-Cola stock, the ongoing trend of consumers embracing the health and wellness trend could be a concern.
However, note that the company is not just selling sugary sodas. Some of its top brands, such as "Simply," "Minute Maid," and "Dasani," should perform well even as people move away from sugary drinks. Moreover, 18 of the company's top 20 brands offer a zero- or low-calorie alternative.
Coca-Cola might be in a boring business. But as long as people prefer bottled drinks to tap water, KO stock should have no problem to keep rewarding dividend investors.