Why I'm Banking on Exxon Mobil Corporation's 8.1% Dividend Yield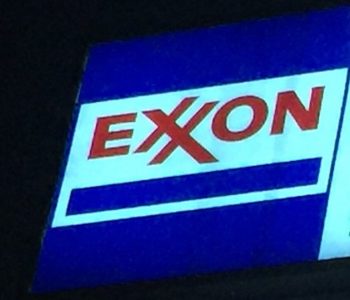 Can You Really Trust Exxon Mobil Corporation's 8.1% Dividend?
The COVID-19 pandemic has hammered many businesses. But some businesses have suffered worse than others.
Case in point: Exxon Mobil Corporation (NYSE:XOM). Commodity prices plunged after government lockdowns ground economic activity to a halt. As a result, the energy giant just posted some of the worst financial results in its history.
The company's drilling business? Profit warning. Exxon's refining operations? Struggling. The chemicals division? In disarray.
So it's no surprise to see some analysts questioning the sustainably of Exxon's dividend. And with a yield approaching 8.1%, it's clear that some investors on Wall Street don't trust the payout. Let's dive into the numbers.
At first glance, you might assume that Exxon Mobil Corporation's dividend is toast.
The company reported a second-quarter earnings loss of $1.1 billion, the biggest earnings deficit in the firm's history. The second-quarter release also presented Exxon's first consecutive quarterly loss in more than 30 years. (Source: "ExxonMobil Reports Results for Second Quarter 2020," Exxon Mobil Corporation, July 31, 2020.)
Even a rookie financial analyst can see the problem here.
As a general rule, you need to make a profit in business, and it's difficult to pay shareholder dividends when a firm bleeds money. But Exxon's straight profit number doesn't provide a good indicator of the company's financial viability.
Instead, we want to turn to a more useful metric: free cash flow.
Free cash flow represents the cash available for the company to pay dividends and interest to investors. It also strips out one-time accounting charges that can sometimes distort a firm's financial results.
For 2020, analysts project that Exxon Mobil Corporation will generate $15.5 billion in free cash flow. Over the same period, the company is on track to pay out $14.7 billion in dividends.
Generally, I like to see companies mail out 90% or less of their profits as dividends. So Exxon's 95% payout ratio sits well beyond my comfort zone.
But that situation will likely improve in the coming years. Oil prices have rebounded since their spring lows at the start of the COVID-19 pandemic. That should start to pad Exxon's bottom line.
Looking forward, Wall Street projects that Exxon's free cash flow will top $16.5 billion and $17.0 billion in 2021 and 2021, respectively.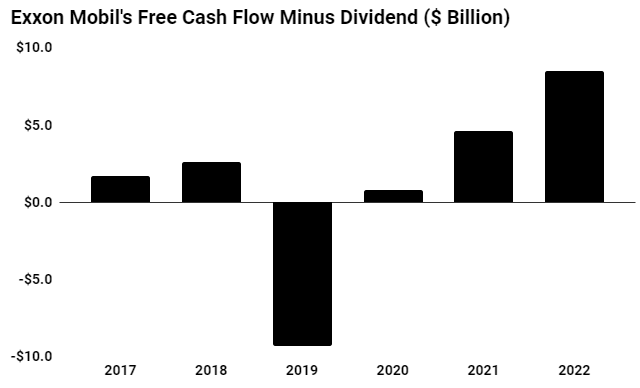 (Source: "Investor Relations," Exxon Mobil Corporation, last accessed August 3, 2020.)
In the meantime, Exxon has the financial wiggle room to tide it over in the meantime.
At the end of 2019, the company had only $0.19 in debt for every dollar of assets on the balance sheet. That is one of the lowest leverage ratios of its Big Oil peers.
Furthermore, Exxon still has one of the highest credit ratings, AA, from Standard & Poor's Financial Services LLC. That means management still has easy access to credit to fund any deficit while it waits for the economy to rebound. (Source: "Exxon Mobil's Credit Rating Downgraded a Notch By S&P," Nasdaq, March 16, 2020.)
Bottom line: Exxon Mobil Corporation's dividend looks safe for now.