WhiteHorse Finance Stock: Undervalued 11.6%-Yielder Pays Quarterly Base & Variable Dividends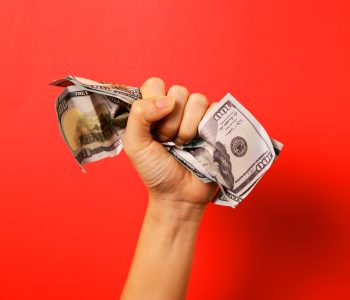 Why WHF Stock Represents a Magnificent Opportunity
High interest rates are great for business development companies (BDCs), but it's imperative that any BDC that you look at has a large portion of floating-rate investments. Fixed-rate investments lock in the amount of interest a BDC can charge on a loan or other type of investment. On average, 80% of the loans in a typical BDC's portfolio have floating interest rates.
WhiteHorse Finance Inc's (NASDAQ:WHF) investment portfolio almost exclusively comprises floating-rate loans. As of June 30, a whopping 99.02% of its loans had floating interest rates; just 0.08% had fixed rates. (Source: "Earnings Presentation: Quarter Ended June 30, 2023," WhiteHorse Finance Inc, last accessed September 19, 2023.)
The portfolio also mainly comprises first-lien and second-lien secured loans. Senior secured debt has top-priority repayment status that's secured by collateral. If a company is liquidated, senior secured debt gets settled first. Collateral assets can be sold to cover that debt.
WhiteHorse Finance currently has 116 positions across 70 companies. Since its initial public offering (IPO) in December 2012, the BDC has invested $2.5 billion in 218 transactions. Its average debt investment is $7.1 million, and the current fair value of its investment portfolio is $728.4 million.
WhiteHorse Finance Inc invests in small-cap companies with enterprise values between $50.0 and $350.0 million. Those companies are overwhelmingly in non-cyclical or light cyclical industries. The BDC invests in businesses in a wide range of sectors, including retail; office services and supplies; air freight and logistics; specialized consumer services; building products; health-care services; and commodity chemicals.
Core Net Investment Income Up 35% Year-Over-Year
For the second quarter ended June 30, WhiteHorse Finance announced that its core net investment income increased by about 35% year-over-year from $7.8 million, or $0.334 per share, to $10.6 million, or $0.456 per share. (Source: "WhiteHorse Finance, Inc. Announces Second Quarter 2023 Earnings Results and Declares Quarterly Distribution of $0.37 Per Share," WhiteHorse Finance Inc, August 8, 2023.)
During the second quarter, WhiteHorse Finance invested $19.3 million in three companies that it recently added to its portfolio. The BDC also invested $4.5 million in companies that were already in its portfolio before the quarter. Also during the second quarter, WhiteHorse Finance's proceeds from sales and repayments totaled about $28.8 million.
The BDC ended the second quarter with cash and cash equivalents of $23.1 million, compared to $22.2 million as of the end of the first quarter. It also had $96.4 million of undrawn capacity under its revolving credit facility.
Commenting on the second-quarter results, WhiteHorse Finance Inc's CEO, Stuart Aronson, said, "The current market environment offers exceptionally attractive terms as terms and conditions in the lower middle market have returned to more normalized conditions and the quality of deals has improved.  Our pipeline has returned to an all-time high…" (Source: Ibid.)
He added, "The strength of the pipeline enables us to be conservative in our deal selection, and we are being cautious in the face of a weakening economy and remain focused on credits with compelling risk return characteristics.  The deals that we're continuing to work on are mostly non-cyclical or light cyclicals, and we continue to be highly selective about which credits we underwrite."
Quarterly Dividend at or Above $0.355/Share Since IPO
WhiteHorse Finance Inc is a dividend powerhouse. WhiteHorse Finance stock has paid dividends of at least $0.355 per share every quarter since becoming a public company in 2012.
The company used to pay annual special dividends. Those payments are represented by the lower points in the red line in the chart below. It last paid a special dividend in March, of $0.07 per share.
In May, WhiteHorse Finance introduced a policy to pay quarterly base dividends and, when applicable, variable supplemental dividends. The board will determine the amount of the supplemental dividend each quarter. (Source: "WhiteHorse Finance, Inc. Announces First Quarter 2023 Earnings Results and Increases Quarterly Distribution to $0.37 Per Share and Introduces Quarterly Variable Supplemental Dividend Policy," WhiteHorse Finance Inc, May 9, 2023.)
WHF stock's current base distribution is $0.37 per share, for a yield of 11.6%.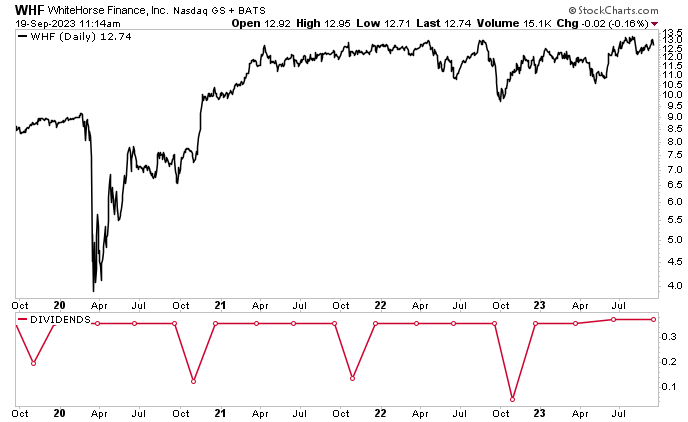 Chart courtesy of StockCharts.com
WhiteHorse Finance Stock Up 6.8% in 2023 & Has 10% Upside 
WHF stock has, for the most part, traded in a fairly tight price range over the last two years, but it has recently made some solid gains, and it could break out further. On August 7, shares of WhiteHorse Finance Inc hit a new intraday record high of $13.31, and they have mostly held on to those gains since then.
Currently trading at $12.74 per share, WhiteHorse Finance stock is up by:
11% over the last six months
6.8% year-to-date
8.9% year-over-year
Those are decent gains, and conservative Wall Street sees even brighter days ahead for WHF stock. Analysts have provided a 12-month average share-price forecast of $14.00. This points to potential upside of approximately 10.0%.
The Lowdown on WhiteHorse Finance Inc
WhiteHorse Finance Inc is a wonderful BDC with a diverse portfolio made up almost exclusively of floating-rate investments.
The company has a solid balance sheet, it has been throwing off lots of cash, its quarterly dividends have been at or above $0.355 per share since its IPO in 2012, and it recently introduced a quarterly base and variable-rate dividend policy.