While Not a Market Favorite, This 6.6% Yielder Deserves a Look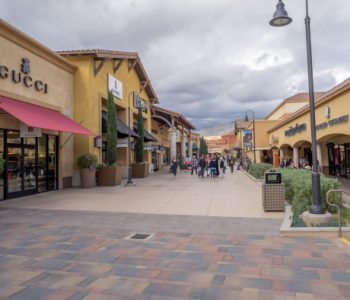 iStock.com/jewhyte
A Top Dividend Stock You Likely Haven't Considered
Betting on out-of-favor stocks can be risky. But if you are talking about the beaten-down shares of Tanger Factory Outlet Centers Inc. (NYSE:SKT), then even the most risk-averse income investor should take a look.
Tanger Factory Outlet Centers is a real estate investment trust (REIT) headquartered in Greensboro, North Carolina. Because the company owns shopping centers, SKT stock hasn't been a hot commodity; over the past five years, shares of Tanger Factory Outlet Centers Inc plunged more than 30%.
Wall Street analysts like to talk about "retail apocalypse" these days. And they do have a point. As consumers move from brick-and-mortar stores to online shopping platforms, the retail industry has taken a huge hit. Even some of the most established retailers have announced store closures.
Still, I don't think that's a good enough reason to ditch Tanger Factory Outlet Centers Inc. As a matter of fact, I believe that the downturn in SKT stock could be an opportunity for value-conscious income investors.
The reason is simple: SKT is not the average retail REIT.
Tanger Factory Outlet Centers Inc.
You see, while Tanger is considered a retail REIT, the company focuses exclusively on outlet centers. Right now, the company's portfolio consists of 44 outlet shopping centers located in 22 states and in Canada totaling 15.3 million square feet. These properties are leased to more than 3,100 stores that are operated by over 540 different brand name companies. (Source: "Management Presentation," Tanger Factory Outlet Centers Inc., last accessed December 19, 2018.)
In other words, the company provides a platform that connects bargain-seeking consumers with brand name products. And that platform has been working quite well, as Tanger's outlet centers attract more than 188 million shoppers annually.
To see why SKT is special, all you need to do is taking a look at its occupancy rate, one of the most obvious performance metrics for a landlord. In the third quarter of 2018, Tanger's portfolio occupancy rate increased by 80 basis points sequentially to 96.4%. Looking further back, you'd see that the company's occupancy rate has stayed at or above 95% for more than 25 years.
Returning Cash to Investors
Of course, most REIT investors are looking for income. And as it turns out, dividend is where SKT stock truly shines.
Tanger Factory Outlet Centers Inc. has increased its dividend for 25 consecutive years. In the last five years, the company achieved a compound annual growth rate of 10% in its payout. (Source: "Dividend History," Tanger Factory Outlet Centers Inc., last accessed December 19, 2018.)
Paying $0.35 per share on a quarterly basis, SKT stock offers a generous annual yield of 6.7%.
And despite the strong retail headwinds facing mall REITs these days, the company has no problem covering its payout.
In the third quarter of 2018, Tanger Factory Outlet Centers Inc. generated funds from operations (FFO) of $0.63 per diluted share. Considering that the company declared and paid $0.35 per share in dividends during the quarter, it achieved an FFO payout ratio of 55.6%. (Source: "Tanger Reports Third Quarter Results," Tanger Factory Outlet Centers Inc., November 1, 2018.)
As a rule of thumb, I like to see REITs paying out less than 75% of their operating cash flow as it would leave them with a margin of safety. With a payout ratio of just 55.6%, Tanger's dividends are more than safe.
In the earnings report, management also raised their guidance. They now expect Tanger's FFO to come in at between $2.42 and $2.46 per diluted share for full-year 2018. This would easily cover the company's total dividend of $1.3925 per share paid for the entire year.
SKT Stock: A Value REIT for Income Investors
Just like with regular stocks, valuations matter for investors considering real estate companies. But because cash flow tends to be more important for a REIT than earnings, we usually look at the price-to-FFO ratio rather than the price-to-earnings ratio.
Using data for the trailing four quarters, we see that Tanger has a price-to-FFO ratio of 8.86 times, while its peer group—which includes 16 other retail REITs—have an average price-to-FFO multiple of 12.37 times. (Source: "Peer Analysis," Tanger Factory Outlet Centers Inc., last accessed December 19, 2018.)
Therefore, not only does SKT stock offer dividend growth that's rarely seen in an out-of-favor industry, but the company's shares are actually cheaper than its peers.
Added up, you'll see that SKT stock's 6.7% yield deserves a serious look.