Which is the Fastest-Growing Economy?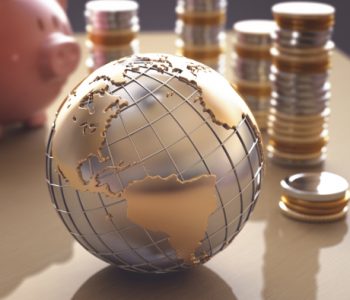 Top Emerging Economies in the World
Which is the fastest-growing economy in the world? Year-over-year growth in GDP is one of the top measuring sticks used to gauge the long-term health of a country's economy. Across the world, nations are looking into how to fuel this growth in sustainable ways that lead to a more robust economy with the strength and stability to compete on the international stage.
Of course, growth is by no means the be-all and end-all for a country's economy. And it should, of course, be taken with a grain of salt (as you'll see below, some of these states are in less than desirable positions politically, economically, and socially). But it is a useful metric to determine some of the fastest-growing economies and top emerging economies in the world.
An important caveat worth mentioning is that these numbers naturally skew favorably towards developing countries. For instance, it's easy to be the fastest-growing economy in the world if you have a GDP of $1.0 billion and you increase that by eight percent within a year. Much harder to, say, take an economy of $1.0 trillion and see even a five-percent gain. But that speaks to the purpose of these measurements, which is to make you aware of which countries are experiencing the fastest growth and not necessarily yet able to–or even close to–challenging top economies.
Having said all that, let's take a look at which country is the fastest-growing economy in the world.
Which is the Fastest-Growing Economy? 
| | | | |
| --- | --- | --- | --- |
| Rank | Country | GDP Growth (%) | Est.GDP Growth 2017 (%) |
| 10 | China | 6.6 | 6.5 |
| 9 | Senegal | 6.6 | 6.8 |
| 8 | Bangladesh | 6.9 | 6.8 |
| 7 | Cambodia | 7 | 6.9 |
| 6 | Tanzanian | 7.2 | 7.1 |
| 5 | Laos | 7.5 | 7.0 |
| 4 | India | 7.6 | 7.6 |
| 3 | Cote D'Ivoire | 8 | 8 |
| 2 | Burma | 8.1 | 6.9 |
| 1 | Iraq | 10.3 | 1.1 |
Sources: CIA World Factbook, World Bank
China is far and away the largest economy on this list, which makes it perhaps the most shocking inclusion on the top 10 list of fastest-growing economies in the world.
Take, for example, that the below nine economies combined only account for about half of China's gross domestic product (GDP), and you see that China is in a different sphere economically.
China is a world-class player with the second-largest economy in the world, and the strong growth only speaks to its continued push upwards towards international economic ubiquity. Of course, this growth has come with not only consequences, but also detractors. While growth is almost universally praised by economists (so long as it is practiced sustainable), some have criticized China's heavy state controls as artificially influencing growth and producing a lopsided economic balance.
Still, China is in an enviable position, state influence or no. Considering that the U.S., the only country in the world with a stronger GDP, has grown on average over the past eight years at a historically low 2.1% average annual rate, and you can see why the 6.6% growth rate is such a prize. (Source: "Seven Years Later, Recovery Remains the Weakest of the Post-World War II Era," The Wall Street Journal, January 20, 2017.)
But it's not all doom and gloom for the U.S.; over those eight years, it was emerging from the Great Recession. Not to mention that this is also a historically long period of sustained growth that, if maintained for roughly another two years, will rank as the longest period of continual GDP growth the country has ever seen since data on the subject was first recorded. Also, comparing one of the most modern and developed economies in the world in the U.S. to a nation that, while having made excellent strides, is still in many ways developing, there isn't as clear a winner-loser dichotomy as it appears at first glance.
But however you slice it, China is on the rise, and has one of the fastest-growing economies in the world.
Senegal 
GDP Growth Rate: 6.6%
Starting with Senegal, we now move to smaller, lesser-known-but-still-impressive economies making powerful strides forward. We also enter a number of developing nations found primarily in two distinct regions: continental Africa and Southeast Asia.
Hotbeds for economically hungry nations, the African continent and Asian subcontinent host a great many emerging markets which are in the midst of strong GDP growth.
Senegal counts itself among the West African cohort complied on this list (to be joined by a fellow nation further below). While the country itself is dwarfed in terms of population (14 million), GDP (approximately $15.0 billion) and geography by its predecessor, China, it is still an impressive feat to see such growth.
Senegal experienced an economic slowdown in 2014 going into 2015, shrinking from $15.28 billion to $13.61 billion, but seems poised again to continue its rise past 2016 and into 2017. (Source: "Senegal GDP," Trading Economics, last accessed January 23, 2017.)
Bangladesh 
GDP Growth Rate: 6.9
Bangladesh marks the first among the top emerging economies in the world to be from Southeast Asia, an area experiencing strong economic growth among a great many of its states.
Bangladesh is by no means as small as a Senegal, but is again still dwarfed by the Chinese behemoth.
With a much higher population and GDP, however, it is among the larger emerging markets on this list.
Cambodia
GDP Growth Rate: 7.0%
Cambodia can count itself quite similar to Senegal as far as demographics go. Similarly sized populations and GDPs also show how these two nations are poised for continuous growth and development.
Cambodia is looking strong going into 2017 and should be on the watch list of economists looking at strong developing markets.
Tanzania
GDP Growth Rate: 7.2%
Tanzania is among the three African representatives on this list, but the lone nation to hail from the continent's east.
A mid-sized nation (at least as compared to other states included), Tanzania has a great many things going in its favor, including strong ties to its neighbors, a relatively stable political position, and desirable resources.
Tanzania is set to be one of the more promising emerging markets in the near future for those aforementioned reasons. This, coupled with East Africa's fellow emerging states, and you have a case for a nation to watch in 2017.
Laos
GDP Growth Rate: 7.5%
Another Southeastern Asian country, Laos is among the smallest countries included on this list. Like its southern neighbor Cambodia (along with another geographical compatriot to be making an appearance on this list shortly), it faces many of the same advantages as well as challenges that this region of the world provides emerging economies.
Cheap labor and strong outside investment are fueling growth, but that has not been without its consequences, specifically in workers' rights.
India
GDP Growth Rate: 7.6%
India marks itself closer to a China than to other nations on this list, being both above the trillion mark in GDP terms and a regional superpower, both politically and economically.
India continues to see strong growth as it hopes to follow suit with China, becoming both a huge political and economic entity to go along with its impressive population and geographical size.
2016 was a fascinating year for the state, showing how the intersection of politics and economics can dominate the news cycle in the nation and affect everyday people. I'm referring to the surprise demonetization that saw the 500- and 1,000-rupee notes—86% of the currency in circulation—cease to function as legal tender. (Source: "After Day 50: The Results From India's Demonetization Campaign Are In," Forbes, January 3, 2017.)
The goal was to motivate a shift in the India economy out from the shadows and into the open—and therefore taxable—air.
Results have been mixed as a result of the bold (or, as some say, rash) policy. However, the move is notable for how economics and politics can and do interact in fascinating ways, while workers on the ground are left to adapt or suffer.
Cote D'Ivoire
GDP Growth Rate: 8.0%
Cote D'Ivoire is the final and best-performing African nation on this list. Being among some of the better situated nations in a (at times) burgeoning West Africa, and you can see the potential for a strong performance economically in the coming years.
Of course, that is not to say that the picture is all roses for Cote D'Ivoire. Several of its neighbors found themselves bearing the brunt of the Ebola outbreak, suffering not only high numbers of fatalities as a consequence of the virus, but also perhaps scaring away future investments for fear of a return.
But with the epidemic seemingly under control for now and Cote D'Ivoire avoiding the worst of it, it may be that 2017 will herald a return to economic (and social) good news for the region and state.
Burma
GDP Growth Rate: 8.1%
Following up the final African nation is the final Asian nation, Burma.
Burma faces, politically, a fascinating time in its history. Aung San Suu Kyi is the state counselor of the nation, winning in a landslide election, the first to be held in Burma for in 25 years. (Source: "Democracy in Burma," Foreign Affairs, December 1, 2015.)
This transition to democracy has hardly been a smooth ride, but with many hopeful that the nation can continue its push towards liberalization and away from a military junta, Burma will be an interesting story to follow—not just from an economic sense, but also from political and social perspectives as well. With a growth rate topping eight percent per year, this country is nearly the fastest-growing economy in the world.
Iraq
GDP Growth Rate: 10.3%
In what is perhaps the most shocking inclusion on the list, Iraq had tremendous growth in 2016, according to the CIA World Factbook.
Iraq finds itself mired in political upheaval and social unrest, in addition to facing an existential threat in the rise of extremist militant groups, with ISIS leading the pack. While these have slowed and shrunk the economy in other years, they have also helped precipitate a bounce back by over 10%, making Iraq the sole nation to post such a high number of growth. This easily places the country as the fastest-growing economy in the world.
That hardly means that Iraq is the most stable of economies to invest in, but it does show that even among chaos and discord, an economy can still see gains.