What Will Happen to Disney Stock in 2019?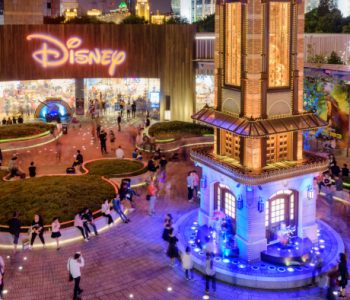 iStock.com/efired
Disney Stock Forecast
Over the past several years, the stock market had a hard time determining the value of Walt Disney Co (NYSE:DIS). But now, Disney stock is finally making a comeback, advancing 15.6% over the past 12 months. Will the bull run continue for the entertainment giant in 2019? Let's take a look.
For those searching for a Disney stock forecast, it's important to understand what led to the stock's sideways drift in the first place. From 2009 to 2015, shares of Walt Disney Co had a tremendous rally. One of the things that fueled Disney's surging stock price—especially toward the end of the rally—was the high expectation for the seventh Star Wars movie, Star Wars: The Force Awakens.
The movie turned out to be a huge success. In fact, it went on to earn $2.07 billion at the box office worldwide, making it the third-highest grossing film of all time, only behind Avatar and Titanic. (Source: "All Time Box Office," Box Office Mojo, last accessed October 15, 2018.)
But market participants seemed to be selling on the news, as Disney stock had some major pullbacks after the movie's successful release.
At the same time, investors were concerned about cord-cutting in the broadcasting industry. With the rise of online streaming platforms, traditional television services did not seem as appealing to consumers as before. Owning multiple media networks, such as ABC and ESPN, Disney stock was not exactly a market favorite.
The chart below shows the journey of Disney stock in the past five years:
Disney Stock Chart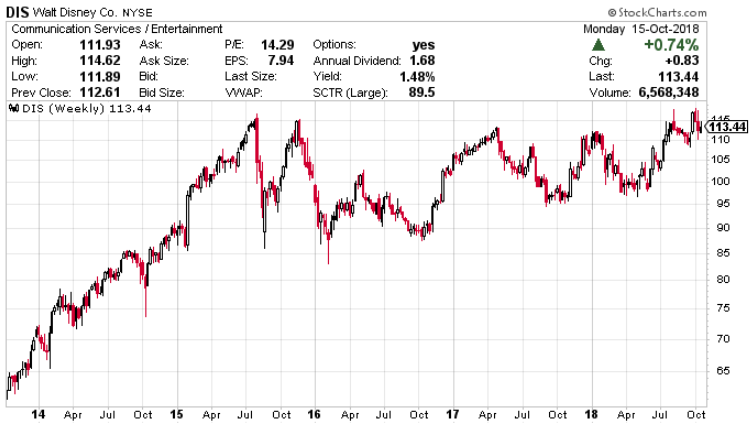 Chart courtesy of StockCharts.com
Walt Disney Co: Generating Solid Financials
Recent financial news suggests that Disney has been churning out some decent numbers. In the third quarter of its fiscal 2018, which ended June 30, the company's revenue grew seven percent year-over-year to $15.2 billion. In the first nine months of the fiscal year, Disney's revenue totaled $45.1 billion, also up seven percent from the prior year period. (Source: "The Walt Disney Company Reports Third Quarter And Nine Months Earnings For Fiscal 2018," Walt Disney Co, August 7, 2018.)
In particular, revenue from the company's Studio Entertainment segment surged 20% year-over-year in the third quarter. Growth was driven by the success of Avengers: Infinity War, Incredibles 2, and Solo: A Star Wars Story, all released during the quarter, as well as the continuing performance of Black Panther.
What's just as notable, though, is the result from Disney's Media Networks segment. The bears often argue that as consumers move from cable TV to on-demand video streaming, this particular segment (which is also Disney's biggest segment) would take a huge hit. And yet, in the third fiscal quarter, Disney's Media Networks revenue grew five percent year-over-year to $6.2 billion.
What to Look Forward to in 2019
In 2019, box office success is something investors can continue to look forward to, as the company has quite a few upcoming films with blockbuster potential. Disney plans to release Captain Marvel next March, another Avengers film in May, Toy Story 4 in June, The Lion King in July, and Star Wars: Episode IX in December 2019. If these movies do well at the box office (which they probably will, given the huge followings of these franchises), the company's Studio Entertainment segment could get a solid boost in 2019.
And for those worried about cord-cutting, note that Disney is going to offer its own direct-to-consumer streaming service. While the company is yet to nail down a date, its Chairman and Chief Executive, Officer Robert A. Iger, said that the company is, "on track for a late-2019 launch of [its] Disney-branded streaming service" in the latest conference call. (Source: "The Walt Disney (DIS) Q3 2018 Results – Earnings Call Transcript," Seeking Alpha, August 7, 2018.)
Disney has been known for its content. Its movies and TV shows have a fan base across multiple generations. The launch of its own streaming service could turn into a catalyst for DIS stock in 2019.
DIS Stock: An Income Investor's Perspective
Of course, the stock market is always unpredictable. While Disney stock has got several things going for it next year, there are other factors that could affect its share price. For instance, in the stock market pullback earlier this month, even some of the most solid companies in the world saw their share prices tumble. If the market experiences a correction in 2019, it could impact Disney stock.
Still, there is a surefire way for investors to earn a return from this Burbank, California-based entertainment giant: through dividends.
You see, with an annual yield of 1.5%, Disney's payout isn't all that impressive. But note this: since switching to a semi-annual distribution schedule in 2015, the company's per-share payout has grown by 27%. (Source: "Walt Disney Company (The) Dividend Date & History," Nasdaq.com, last accessed October 15, 2018.)
Here's the best part: despite delivering sizable dividend increases over the years, Disney is not really paying out all that much. The company is expected to generate adjusted earnings of $6.93 per share for full-year fiscal 2018. Yet its two semi-annual dividends totaled just $1.68 per share. That would translate to an expected payout ratio of just 24%, leaving a wide margin of safety and plenty of room for future dividend increases.
Whether DIS stock goes up or not, income investors can look forward to a dividend hike in the company's fiscal 2019.