WGL Holdings, Inc.: This "Forever Asset" Has Returned 117%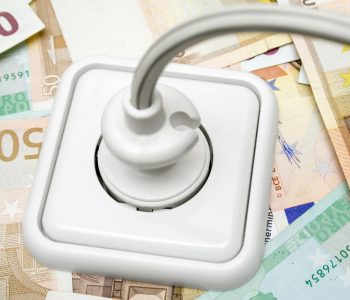 iStock.com/winterling
This Dividend Stock Has Soared 117%
Today's chart highlights one of our favorite sources of dividend income, "forever assets."
Regular readers have heard this term before. Simply put, forever assets represent businesses you can buy today and hold for the rest of your life.
These firms enjoy entrenched market positions and have paid out distributions for years. My approach? Buy them, stick the certificates somewhere safe, and cash the dividends for decades.
Case in point, WGL Holdings, Inc. (NYSE:WGL). Since we recommended the stock to our Automated Income subscribers in 2015, shares have delivered a total return (including dividends) of 117%. And while the company doesn't get a lot of airtime on CNBC, the case study provides a lot of useful lessons for income hunters.
It helps that WGL provides a timeless service. People always need to light and heat their homes. If Maryland residents don't want to freeze in the winter, they have to write WGL a check.
Such "boring" services always have demand. While companies that sell the basics might not be flashy, they get steady business. That means strong returns for investors.
Moreover, utilities have little competition. You can't exactly have two sets of power lines running through a house. And even if a competition did enter the market, they would only split the existing business. That would be an unprofitable outcome for everyone.
This leaves WGL with a virtual monopoly. Such a situation has allowed WGL to pay out dividends every year since 1972. Better still, shareholders have enjoyed some tidy capital gains over that period.
Of course, we're not the only ones who appreciate this business. Last year, Canadian utility AltaGas Ltd (TSX:ALA) offered to buy WGL for $88.25 per share. At the time, this represented a 16.3% premium from where the stock traded previously.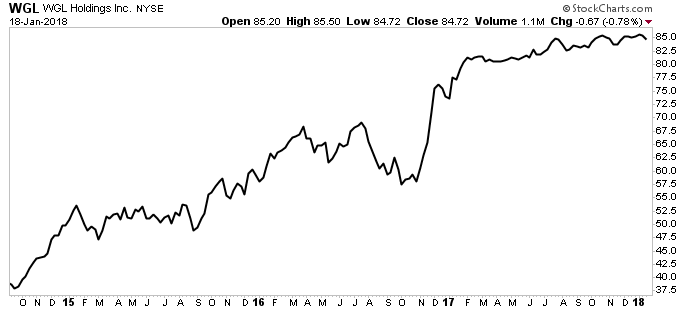 Source: StockCharts.com
You could call it a bittersweet moment for our subscribers. On one hand, shareholders collect a windfall. On the other, we lose a lucrative income stream.
Regardless, WGL highlights the power of buying forever assets. When you own wonderful, entrenched businesses that payout growing dividends, you're going to do pretty well over the long haul.