WFC Stock: Why Wells Fargo & Co Is Still a Top Dividend Stock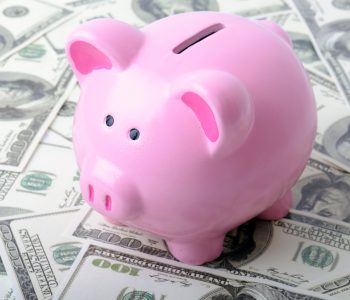 WFC Stock Is a Long-Term Pick
There is a certain type of business that once you have an established position in, it would be extremely difficult for someone to challenge that position. Wells Fargo & Co (NYSE:WFC) stock is in that business: banking.
These days, banks do a million things. But for Wells Fargo, the key business model is still lending money to consumers and businesses at higher interest rates than it borrows at. And despite being a century-old method, earning net interest income has proven to be one of the most durable ways for banks to make money.
The key to note for WFC stock investors is that the bank is deeply entrenched in the retail banking industry. It currently serves one in three households and one in 10 small businesses in the U.S. The bank has a huge branch chain network with more than 8,500 locations and 13,000 ATMs. Last year, approximately 1.6-billion customer interactions were conducted at the bank's branches and ATMs.
Retail banking may not be as lucrative as wholesale banking, but with such a huge presence, Wells Fargo has built an extremely durable business. Sure, wholesale banking can be profitable with a small number of large clients, but business could see big swings during the booms and busts of economic cycles. Retail banking, on the other hand, is proven to be a lot more stable business. And having a stable business is crucial to providing a steady stream of dividends.
Another thing to keep in mind is that although everyone knows that retail banking is a good business to be in, not everyone can get a piece of the action. Think about it: Wells Fargo has a branch or ATM located within two miles of half the U.S. census households and small businesses. To compete with it, you would need to build an equally large branch network and convince millions of customers to switch. In other words, there are extremely high barriers to entry.
With a rock-solid business model and the industry's high barriers to entry, Wells Fargo is poised to deliver long-term growth.
Business Conditions Improving
Of course, with what happened with the fake-account scandal last year, investors may have some concerns when they look at WFC stock. Shares of Wells Fargo were beaten down quite harshly when the news broke, and the bank had to pay a $185.0-million fine. But now, WFC stock has bounced back up and the brand still stands strong.
The chart below shows overall satisfaction and customer experience at Wells Fargo based on the bank's survey results. As you can see, the bank did take some damage last year, but the overall trend has been recovering with overall satisfaction rebounding back to pre-settlement levels.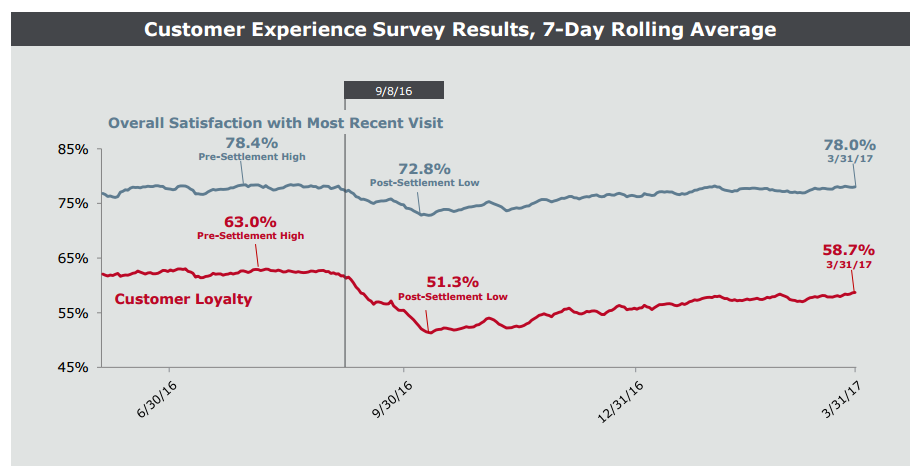 Source: "Community Banking," Wells Fargo & Co, May 11, 2017.
By the end of the first quarter of 2017, the number of primary checking customers at Wells Fargo increased 1.6% year-over-year. The number of point-of-sale active credit card accounts was up 3.9% year-over-year, and Wells Fargo's consumer and small business banking deposits improved 6.1% from the year-period. Most of all, customer experience and retail banking household retention rates remained stable.
Bottom line: Wells Fargo is a rock-solid business that has been around for over 160 years. The bank did make a serious mistake, but I believe income investors can still count on WFC stock for stable and durable dividends.