WFC Stock: Why Income Investors Should Own Wells Fargo & Co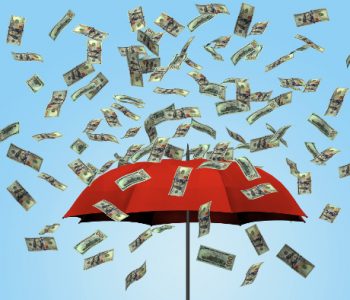 WFC Stock a Top Pick for Income Investors
The stock market is not known for being nice to companies that miss both top- and bottom-line expectations. But Wells Fargo & Co (NYSE:WFC) stock was an exception. Since releasing an earnings report that missed both revenue and earnings estimates earlier this month, Wells Fargo stock actually climbed 4.9%.
The thing is, though, WFC stock's surge shouldn't really come as a surprise. This is because the company is solid. And for income investors, Wells Fargo stock could be one of the top names to own.
Rock-Solid Business
The first thing to note is that Wells Fargo runs a rock-solid business. The company has been around for over 160 years and serves 70-million customers and one-in-three U.S. households. With $1.9 trillion in assets, it is the third-largest bank in the U.S.
The banking industry might not sound that exciting compared to the "next big thing" companies in the tech sector. However, if a business has an established position in the banking sector like Wells Fargo does, it is basically running a profit machine.
The reason is that it is extremely difficult for new companies to enter the industry. Think about it, Wells Fargo has 8,600 banking locations, 13,000 ATMs, and offices in 42 countries and territories around the world. If someone wants to challenge its position, they would need to set up an equally impressive branch network and convince customers to switch to a different bank; not an easy task to do. That's why in the past century, many tried to enter the business, but few managed to become real competitors to Wells Fargo. The high barriers to entry mean the bank holding company can keep generating handsome profits, which is a good thing to know for WFC stock investors.
Growing Financials
Of course, this doesn't change the fact that the headline numbers don't look that great at Wells Fargo recently. In the fourth quarter of 2016, the company generated $21.58 billion of revenue, lower than Wall Street's expectation of $22.45 billion. At the bottom line, WFC stock earned $0.96 per share, missing analysts' estimates of $1.00 of earnings per share. (Source: "Wells Fargo Reports $5.3 Billion In Quarterly Net Income," Wells Fargo & Co, January 13, 2017.)
However, if you look past the headline numbers, you'd see that things weren't really that bad. In the reporting quarter, Wells Fargo's total average loans was $964.1 billion, representing a six percent increase year-over-year. Total average deposits was $1.3 trillion, also up six percent year-over-year.
One of the main methods for banks to make money is by lending money to customers at a higher rate than they pay to depositors. Growth in both total loans and total deposits could lead to higher revenue and earnings for Wells Fargo in the future.
Also, interest rates are rising—a good thing for banks like Wells Fargo. Moreover, with President Trump taking office, his tax policies could lead to more business activities. And since a growing economy is often associated with higher demand for consumer and business loans, the best could be yet to come for WFC stock.
Wells Fargo Stock Returns Value to Investors
Market sentiment is hard to predict. This time, Wells Fargo missed expectations, yet its stock price went up. But in today's market, we also see companies that beat both top- and bottom-line expectations, yet their stock prices still tank.
Fortunately, Wells Fargo stock investors don't have to rely on market sentiment to generate a return, because the company pays dividends. With a quarterly dividend rate of $0.38 per share, WFC stock has an annual dividend yield of 2.66%. Over the past five years, the company's dividend payout has more than tripled. (Source: "Stock Price and Dividends," Wells Fargo & Co, last accessed January 27, 2017.)
The best part is that despite its solid business and the ability to return value to shareholders, Wells Fargo stock is not really expensive. Trading at $57.18 apiece, WFC stock has a price-to-earnings multiple of 14.20 times, which is lower than many of its competitors. Moreover, the company's price-to-sales and price-to-book ratios are also below the industry's averages. (Source: "Wells Fargo & Co (WFC.N)," Reuters, last accessed January 27, 2017.)
In today's bloated stock market, value is hard to find. That's why income investors should take a serious look at WFC stock.