Westlake Chemical Partners LP: This Safe 8% Dividend Is Worth A Serious Look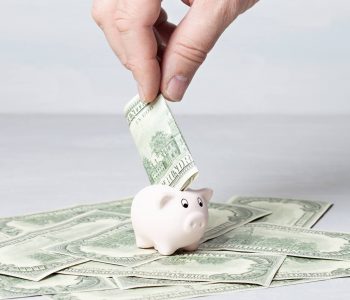 Westlake Chemical Partners Stock: 6 Years of Dividend Growth
Westlake Chemical Partners LP (NYSE:WLKP) is one of those companies that bucks the whole risk/reward scenario. A specialty chemicals company, Westlake Chemical Partners has been reporting solid revenue and earnings growth, rewarding investors with strong capital appreciation, and providing a frothy eight-percent dividend. In fact, WLKP stock might be one of Wall Street's best-kept secrets.
A limited partnership formed by Westlake Chemical Corporation (NYSE:WLK), Westlake Chemical Partners operates, acquires, and develops ethylene production facilities. The company's assets include three ethylene production facilities in Calvert City, KY and Lake Charles, LA.
The company, which converts ethane into ethylene, has an annual capacity of about 3.7 billion pounds and a 200-mile ethylene pipeline. (Source: "About Us," Westlake Chemical Partners LP, last accessed February 18, 2021.)
Ethylene, which is often called the world's most important chemical, is a leading indicator of growth in the manufacturing sector. Why? It's a building block for creating plastics.
Ethylene is developed into four different compounds, which are used in numerous products.
Polyethylene is used to make food packaging, bottles, bags, and other plastic goods
Ethylene oxide/ethylene glycol is weaved into polyesters and is also used in antifreeze for airplane engines and wings
Ethylene dichloride is transformed into a vinyl product used in polyvinyl chloride (PVC) pipes, siding, medical devices, and clothing
Styrene is a synthetic rubber used in tires and foam insulation
(Source: "Ethylene: The 'World's Most Important Chemical'," American Fuel & Petrochemical Manufacturers, last accessed February 18, 2021.)
Because of this, Westlake Chemical Partners LP's products are always in demand. Thanks to the steady demand, the company has been able to report solid financial results, a stable fee-based cash flow, and a sustainable distribution level. That, in turn, has helped fuel strong capital appreciation.
As you can see in the chart below, Westlake Chemical Partners stock has been trending steadily higher over the last five years. Since the start of 2016, WLKP stock has advanced roughly 63%.
Admittedly, that's not the kind of gains a growth stock would provide, but ethylene isn't as exciting as semiconductors. But ethylene does provide Westlake Chemical Partners with a steady income stream.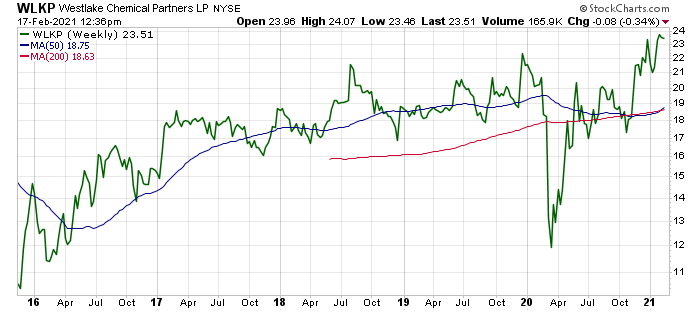 Chart courtesy of StockCharts.com
For the third quarter of 2020, the company reported that the net income attributed to the partnership increased 24% quarter-over-quarter to $18.5 million. (Source: "Westlake Chemical Partners LP Announces Third Quarter 2020 Results," Westlake Chemical Partners LP, November 3, 2020.)
The company's third-quarter cash flows from operations climbed four percent to $117.2 million. Meanwhile, its third-quarter master limited partnership (MLP) distributable cash flow advanced 25% to $21.2 million.
At the end of the third quarter, Westlake Chemical Partners had cash and cash equivalents of $1.2 billion and total debt of $3.7 billion.
The company's net income for the nine months ended September 30, 2020 increased 17% year-over-year to $51.1 million. For the same period, its cash flows from operating activities inched up 1.7% year-over-year to $340.9 million. Also for the nine months ended September 30, 2020, the company's MLP distributable cash flow climbed 3.6% year-over-year to $56.4 million.
The company noted that, last August, Southwest Louisiana was slammed by one of the strongest hurricanes to hit the Gulf Coast in over 40 years. This resulted in extensive damage to the infrastructure in the Lake Charles area, which led to production outages at two of the company's facilities.
But thanks to its agreement with Westlake Chemical Corporation, Westlake Chemical Partners LP was able to deliver reliable earnings and cash flow, which allows the company to deliver predictable distributions to its unitholders.
WLKP Stock Distribution Increases for 6 Consecutive Years
Westlake Chemical Partners only went public in August 2014, but it already has a history of providing investors with consistent dividend growth. The company has raised its annual dividend by 64% over the last six years, from $1.1483 per share in 2015 to $1.8856 now. As mentioned earlier, it currently pays an annual dividend of eight percent. (Source: "Dividend History," Westlake Chemical Partners LP, last accessed February 18, 2021.)
Because Westlake Chemical Partners is a limited partnership, it legally has to distribute most of its available cash to its unitholders. Thanks to the company's strong cash flow, Westlake Chemical Partners stock's dividend remains safe.
The company actually has a history of increasing its dividend quarterly. From the first quarter of 2015 to the first quarter of 2020, Westlake Chemical Partners increased its dividend every single quarter, from $0.2750 to $0.4714.
Those increases came to a halt in the second quarter of 2020, though. This was, of course, because of COVID-19 and then Hurricane Laura. That said, Westlake Chemical Partners didn't cut or reduce its payout to unitholders. The company has held the quarterly distribution for WLKP stock at $0.4714.
With the economy recovering and demand—and prices—increasing for most of the company's major products, it wouldn't be a surprise to see Westlake Chemical Partners resume its quarterly dividend hikes later this year.
The Lowdown on Westlake Chemical Partners LP
A leader in a lucrative niche industry, Westlake Chemical Partners LP is a great company that provides investors with strong share-price appreciation and a juicy eight-percent dividend.
The company's history of raising its dividend quarterly was disrupted in the second quarter of 2020, but that was a result of a significant decline in global economic activity. In the third quarter, though, Westlake Chemical Partners experienced a broad-based recovery that drove a strong increase in demand for many of its products.
This should help juice its earnings throughout 2021, which should then result in both a high share price for Westlake Chemical Partners stock and a resumption of its quarterly dividend payouts.