Western Gas Partners, LP: This 7.1% Yield Looks Tempting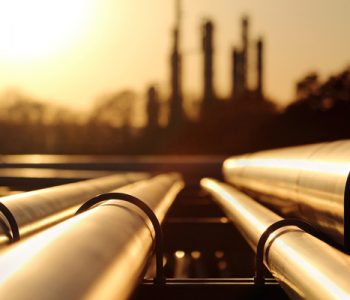 iStock.com/kodda
This Cash Cow Yields 7.1%
Today's chart highlights another big dividend payer in the oil patch: pipelines.
Regular readers have heard our bullish case for the energy industry before. New technologies have unlocked vast quantities of oil and gas across the country, creating a number of overnight millionaires in the process.
Energy infrastructure represents the safest (and maybe even the most lucrative) way to invest in the boom. The surge in U.S. oil production has created a shortage of everything from pipelines and terminals to storage tanks and processing facilities. Some of these firms can fund distribution payments as high as 10%, 12%, and even 15%.
Case in point: Western Gas Partners, LP (NYSE:WES). The partnership owns thousands of miles of natural gas pipelines, in addition to dozens of processing plants and gathering terminals. And with more cubic feet of gas flowing through its networks, this name looks tempting for income hunters.
This distribution looks reasonably safe, first of all. Current profits just cover the income stream to owners. Through the first nine months of 2017, Western Gas generated $1.10 in cash flow for every dollar paid out in distributions.
Also Read:
MLP Stock List: Earn Reliable Income From These Energy Partnerships
We'd prefer to see a bit more wiggle room. However, Western Gas operates as a cash cow with a reasonable debt load and easy access to liquidity. And, given the stable nature of these assets, unitholders don't have to worry about a distribution cut.
The payment should continue to grow. Pipeline volumes on existing assets should increase slowly, but relentlessly. Over time, Western Gas should be able to raise prices at or above the rate of inflation.
To take advantage of the nation's shale boom, management has plowed billions back into the business. Next year, executives plan to invest between $1.0 billion and $1.1 billion on new properties, plants, and equipment. This should allow Western Gas to increase its payout at a high-single-digit clip over the next five years. (Source: "Western Gas Announces 2018 Outlook," Western Gas Partners, LP, December 5, 2017.)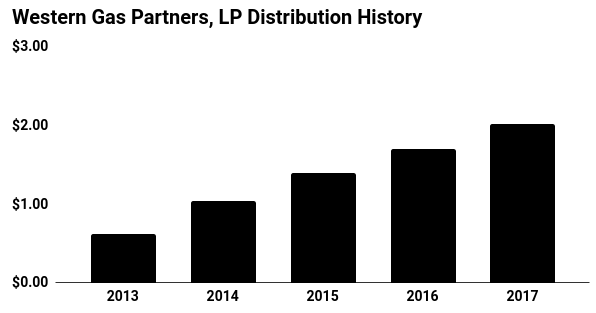 (Source: "Distribution History," Western Gas Partners, LP, last accessed January 30, 2018.)

For owners, the combination of a big upfront payout and steady growth should translate into good returns.
At today's price, Western Gas yields 7.1%. Add our growth forecast of six to eight percent, and units should provide a total annual return in the mid-teens.
Of course, you can't call these numbers set in stone. Low energy prices will eventually curtail production, which could slow the partnership's growth plans. Higher interest rates would also clip unit prices, as Western Gas competes directly with fixed-income securities for capital.
In any case, this partnership will likely keep cranking out distributions for owners. And, given the drilling boom nationwide, pipeline owners like Western Gas could be lucrative income streams for the next decade or more.