Welltower Inc: Up 51% Already, With More Upside Ahead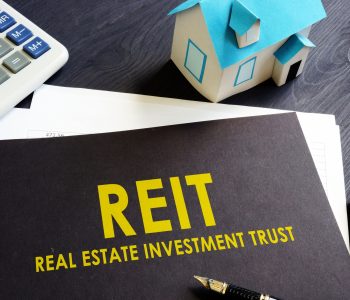 iStock.com/designer491
Welltower Inc to Profit From Coming "Silver Tsunami"
The past few years, I've been telling readers about one of the biggest income opportunities in America.
Each day, 10,000 baby boomers turn 65. An aging population will need more checkups, more doctor visits, and more medical buildings. For companies that supply healthcare services, this flow of money into their industry has created a profit bonanza.
Industry analysts call this trend the coming "silver tsunami." Conservative estimates predict that healthcare spending in the U.S. could top $6.0 trillion by 2027. This figure doesn't even include other products and services catering to elderly customers, such as nursing homes and retirement communities. (Source: "NHE Fact Sheet," Centers for Medicare & Medicaid Services, February 20, 2019.)
I've told readers to start investing in companies poised to profit from this demographic challenge. And recently, some of these stocks have started to post blowout returns. Yet despite the recent gains, it's not too late to invest in this trend.
Last week, units of Welltower Inc (NYSE:WELL) hit a 52-week high. This real estate investment trust (REIT) owns thousands of senior housing properties nationwide, in addition to dozens of rehabilitation centers and outpatient medical facilities.
Last year I recommended Welltower stock to the paid subscribers of my Retirement Riches newsletter. The REIT has enjoyed booming profits thanks to the country's growing number of senior customers.
And as you can see in the chart below, WELL units have shot up in value by over 50% since my original recommendation: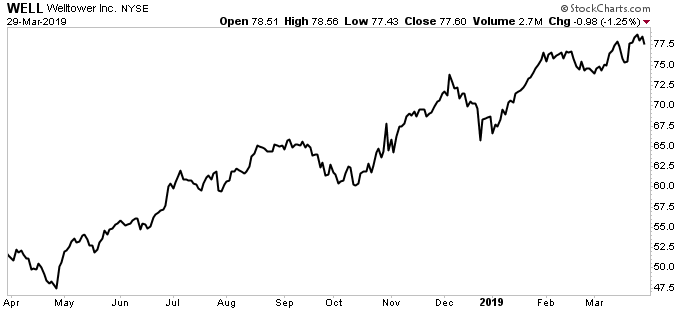 Chart courtesy of StockCharts.com
But there's more upside ahead.
You see, Welltower recently reported blowout financial results. The REIT saw net income jump 61% for full-year 2018, coming in at $2.03 per unit. Management also saw big gains in revenue, operating margins, and cash flow.
Executives also boosted their guidance for the upcoming year. The company now sees net income growing another 45% to $1.1 billion in 2019, up from a previous estimate of $781.0 million. That increase is huge, given that most U.S. companies have struggled to grow their earnings by more than 10% over the past 12 months. (Source: "Welltower Reports Fourth Quarter 2018 Results," Welltower Inc, February 12, 2019.)
"The main backdrop for our asset class never has been better [and] it's really just about to begin," said Tim McHugh, Welltower's Senior Vice President of Corporate Finance. "Through over $10.0 billion of asset sales and restructuring of the past three years, Welltower has ensured that this multi-decade demographic trend will translate to significant earnings growth, not only in the future but this year as well." (Source: "Welltower Inc. (WELL) CEO Tom DeRosa Presents at Citi 2019 Global Property CEO Conference Call (Transcript)," Seeking Alpha, March 4, 2019.)
Welltower Inc has provided a tidy income stream, too.
Since 2009, the payout has been boosted on nine occasions. Over that period, the dividend has increased by more than 50%.
Those small, steady hikes have started to add up. Today, units pay a quarterly dividend of $0.87 apiece, which comes out to an annual yield of four percent. Investors can expect their distributions to continue growing more or less in line with profits for the foreseeable future.
You still have time to buy Welltower stock at a reasonable price, but not for long. Units keep moving higher and several Wall Street firms have recently upgraded the stock to "buy."
I suggest giving Welltower Inc a second look today.