Welltower Inc: A Secure and Growing 6% Yield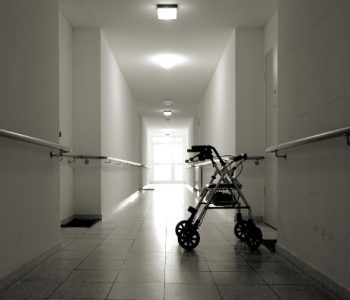 iStock.com/Heiko Küverling
This Healthcare Stock Yields 6%
Today's chart highlights a big dividend payer in healthcare.
Readers have heard our bullish outlook on this industry before. As baby boomers grow older, they'll need more medicine, more tests, and more doctor visits.
Many have called it the greatest investment opportunity of all time. We've seen huge runs in healthcare stocks like Aetna Inc (NYSE:AET), Johnson & Johnson (NYSE:JNJ), and Intuitive Surgical, Inc. (NASDAQ:ISRG). Given the sheer size of this trend, these returns show no signs of slowing down.
Case in point: Welltower Inc (NYSE:HCN). This company owns thousands of senior-care facilities across the country, which have benefited from a graying America. And with a yield topping six percent, income investors have taken notice.
Over the coming decades, few businesses will likely do better than senior housing.
Each day, more than 10,000 baby boomers turn 65. As more people enter their golden years, they often need assisted living arrangements. (Source: "Baby Boomers Approach 65 – Glumly," Pew Research Center, December 20, 2010.)
Also Read:
Welltower Inc: The Best Real Estate Play for the Next 50 Years
On one hand, some will only opt for retirement communities. On the other side of the spectrum, others will require full-service nursing homes. Still, others will need something in-between.
Regardless, it means good times ahead for property owners. Today, the industry needs to build 25,000 senior living units per year to keep up with demand. By 2030, analysts project this number will grow almost fourfold to 96,000 per year. (Source: "The Aging Population: Driving the Future of Health Care Real Estate," Welltower Inc, November 2017.)
Welltower has positioned itself for the coming boom.
The company owns a growing empire of senior-care facilities. At last count, this portfolio topped 900 properties across North America and the United Kingdom.
These investments can be quite lucrative. Welltower has focused on urban centers, where high barriers to entry prevent new competition. Good assisted living facilities can earn returns between seven and eight percent, far above the profits from multifamily or student housing. (Source: "More Growth Ahead for Seniors Housing," National Real Estate Investor, August 16, 2017.)
All of which flows straight to the bottom line. During the past decade, Welltower has grown fund flows from operations (a common measure of profitability in the real estate business) at a mid-teen annual clip. That growth rate should continue over the next 10 years, thanks to acquisitions, rent hikes, and cost-cutting measures.
This has resulted in tidy returns for owners. Since 1993, Welltower stock has increased more than 20-fold in price. Over that period, units have delivered a total return of 1,600%, including dividends.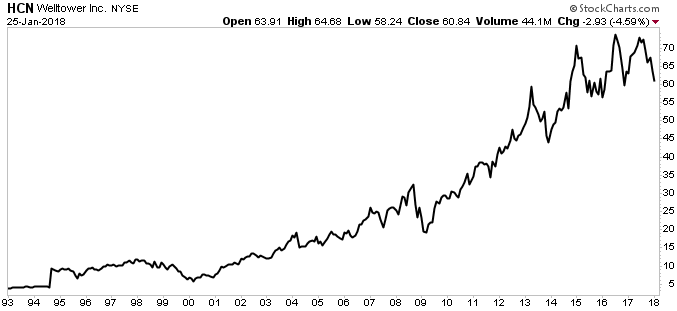 Chart courtesy of StockCharts.com
Much of these profits also get returned to owners in the form of dividends.
Welltower pays a quarterly distribution of $0.87 per unit, which comes out to an annual yield of almost six percent. And given the property owner's long track record, that payout should grow more or less in line with profits.
Of course, no company or industry is perfect. Higher interest rates could clip the unit price. New regulations could impact the attractiveness of senior housing in the years ahead.
Regardless, Welltower Inc has positioned itself to be one of the biggest investment opportunities in a generation. Senior housing providers will be drinking from a fire hose, desperately trying to keep up with demand.
That should translate into a safe stream of growing dividends.