Welltower Inc: The Biggest Income Opportunity of the Next Decade?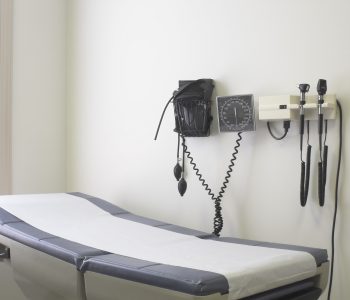 iStock.com/robeo
Welltower Inc Dividend Could Double Within Five Years
This trend represents the biggest income opportunity of the next decade.
Regular readers know I like investing in big secular trends. And right now, there's no bigger trend than the coming "gray tsunami" of America's aging population. Each day, 10,000 baby boomers turn 65. Over the next 30 years, the number of seniors in this country will more than double. (Source: "Welltower Inc Corporate Presentation – May 2019," Welltower Inc, last accessed June 13, 2019.)
For investors, the increase in seniors presents an enormous investment opportunity. An older population will spend more money on everything from medication and medical devices to nursing homes and retirement communities. Companies catering to this fast-growing market are poised to make a fortune.
One big winner from this bonanza is Welltower Inc (NYSE:WELL). The real estate investment trust owns a sprawling empire of medical offices, rehabilitation centers, and senior housing across the country. Its portfolio of properties, situated mainly in dense, urban centers, benefits from the constraints on building competitive supply. That allows Welltower to raise its rents year after year with little risk of losing tenants.
This has resulted in jaw-dropping profits. Last quarter, the company's rental income jumped 16% year-over-year to $1.3 billion. Management also boosted their earnings guidance, projecting that the company's net income will top $1.1 billion in 2019. (Source: Welltower Reports First Quarter 2019 Results, Welltower Inc, April 30, 2019.)
This has created a tidy income stream. Since 2009, Welltower has boosted its payout to investors by almost a third. Today, the company pays a quarterly distribution of $0.87 per unit, which comes out to an annual yield of almost 4.3%. (Source: Welltower Inc – Dividend History, Welltower Inc, last accessed June 13, 2019.)
This performance has caught the attention of the world's best investors. Last quarter, Securities and Exchange Commission (SEC) filings revealed that several top hedge fund managers, including Cliff Asness, Steve Cohen, and Ken Griffin, quietly accumulated large positions in Welltower stock. (Source: Welltower Inc. (WELL) – Hedge Fund Holdings, Insider Monkey, last accessed June 13, 2019.)
That explains the rally in recent months, with Welltower units popping 72% in value over the past year.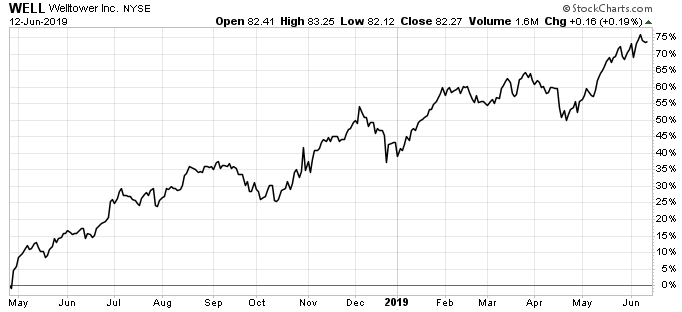 Chart courtesy of StockCharts.com
The Bottom Line on WELL Stock
Of course, Welltower stock is no sure thing. Tenants can and do run into financial trouble, and because the partnership funds its expansion through debt, higher interest rates could bite into Welltower's growth rate.
Those returns will likely keep rolling in. Cost cuts, rent hikes, and new property developments should drive respectable earnings growth for years to come. Management can pad its growth rate further through acquisitions, as demonstrated by its recent purchase of 55 medical office buildings from CNL Healthcare Properties.
Income investors should take notice.