Wells Fargo & Co: Is Top Dividend Status of WFC Stock Safe?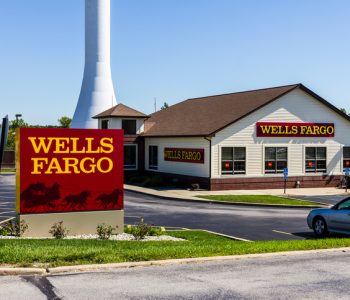 WFC Stock: Shielding Dividend From Scandal Fallout
Wells Fargo & Co's (NYSE:WFC) stock has been under severe scrutiny the past month after a scandal surfaced that the bank's employees opened about two million fraudulent accounts to meet their sales targets. For income investors, the biggest worry has been whether this development is big enough to derail the bank's journey to growth and whether their dividends are under threat.
Since this news was broken in early September, WFC stock has fallen over 10% on fears that this scandal may deprive one of the top dividend-paying stocks of its loyal customers and damage its balance sheet, compromising its future ability to generate income to distribute among its shareholders.
Wells Fargo stock began its slide early September when financial media reported that the U.S. Consumer Financial Protection Bureau imposed a $185.0-million fine on Wells Fargo, as its retail banking employees, under pressure to cross-sell financial products and meet sales targets, opened two-million accounts for customers who never authorized them. Over the past five years, more than 5,300 employees also applied for credit cards for their customers without their knowledge. (Source: "Wells Fargo to Pay $185 Million Fine Over Account Openings," The Wall Street Journal, September 8, 2016.)
Let's get a little deeper and see what has changed since this scandal hit Wells Fargo stock and how its value preposition has changed.
WFC stock is down about 18% so far this year, a year when the S&P 500 is up about five percent and JPMorgan Chase & Co. (NYSE:JPM) has gained three percent during the same time. As its third-quarter results show, Wells Fargo still has a strong balance sheet, supporting one of the top dividend yields among the banking stocks.
Wells Fargo Stock: Third-Quarter Profit Remains Strong
Hidden behind all the negative publicity related to the scandal, however, was an impressive third quarter, in which earnings per share were $1.03, above the analysts' forecast of $1.01 on revenue of $22.33 billion. (Source: "Wells Fargo Reports $5.6 Billion In Quarterly Net Income; Diluted EPS of $1.03; Revenue Up 2 Percent from Prior Year," Wells Fargo & Co, October 14, 2016.)
In another important development, intended to calm angry investors and its account holders, Wells Fargo rolled its head as John Stumpf, the bank's chairman and chief executive officer, left this month, and Tim Sloan, a 29-year Wells Fargo veteran, took the helm. But despite all the assurances from the new CEO that he wants to put the past behind and restore investors' confidence, investors seem unimpressed amid all of the negative headlines and sour sentiment toward the stock.
I think that, given their being the third-largest lender by assets in the U.S., Wells Fargo is too big to fail. It has a massive deposit base with more than 8,700 locations and more than 12,800 ATMs.  Wells Fargo's asset base remains strong as it maintains healthy capital levels while continuing to return capital to shareholders.
During the last quarter, Wells Fargo's net payout ratio was 61%, which is well within a reasonable limit after it returned $3.2 billion to shareholders through common stock dividends.
Final Word on WFC Stock
Though it's too early to predict a long-term financial impact of this fake account scandal, but Sloan tried to reassure investors that there is no threat to dividends because of potential litigation and government investigations. (Source: "Wells Fargo Backs Dividend Amid Scandal; JPMorgan, Citigroup Top," Investor's Business Daily, October 14, 2016.)
At 3.39%, Wells Fargo has the highest dividend yield among its close peers, including JPMorgan and Bank of America Corp (NYSE:BAC). The quarterly dividend for WFC stock investors has surged three times since 2011. Wells Fargo paid $0.38 a share quarterly dividend in the second quarter of this year, from $0.12 a share in the same period in 2011.
As I wrote in my September 16 analysis, Wells Fargo stock's long-term value is still intact and dividend investors shouldn't rush to exit this position. For new investors, this may be a good opportunity to consider WFC stock to add to their portfolio.