Wells Fargo & Co: Why WFC Stock Sunk 1% on Friday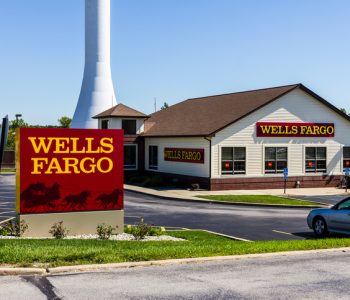 WFC Stock Beats Quarterly Earnings Estimates
Wells Fargo & Co (NYSE:WFC) reported better-than-expected quarterly earnings results on Friday before the bell and WFC stock initially gained one percent at the open on Friday morning. However, those gains did not last very long, as Wells Fargo stock quickly gave up its gains and fell one percent by late morning.
Investors were initially pleased with Wells Fargo stock's earnings beat. WFC stock earned $1.03 per share for the third quarter, which surpassed analyst expectations of $1.01 per share. Revenue totaled $22.3 billion for the period, barely edging out forecasts of $22.2 billion.
One major reason for the surprise beat is that Wells Fargo enjoying strong growth in loans and deposits, which increased seven percent and five percent last quarter, respectively. As the U.S. economy continues to grow modestly, consumers are benefiting from falling unemployment and rising home values.
However, once the market had a chance to digest the quarterly earnings report, it focused on what may happen going forward. The market is forward-looking, and investors are seeing the potential for trouble lurking up ahead for the banking giant.
Trouble May be Lurking for Wells Fargo Stock
This is a very difficult time for the U.S. big banks, and especially Wells Fargo. The company has been having difficulty throughout 2016 due to the pressure banks are facing from extremely low interest rates. In addition, the recent scandal involving WFC stock could be a significant headwind for future quarterly results.
Wells Fargo stock was hit with a $185.0-million fine because employees opened millions of new accounts for customers without their consent. This allowed salespeople to collect commissions by hitting sales incentive targets, but the backlash from the public has been considerable, culminating in the CEO stepping down. (Source: "Wells Fargo CEO John Stumpf Steps Down," The Wall Street Journal, October 12, 2016.)
While WFC stock beat expectations last quarter, it is likely the damage to the company's brand will be longer-lasting. Investors should keep a close eye on future quarterly results to make sure the bank remains on track.
That said, Wells Fargo stock is still a highly profitable bank that stands to benefit meaningfully from a rise in interest rates. WFC stock returns a significant amount of profits to investors through a high dividend yield. WFC stock currently yields 3.4%, which is appreciably higher than the two-percent average dividend yield in the S&P 500.