Forget iPhone 7, Here's Why Apple Stock (AAPL) Is a Top Dividend Pick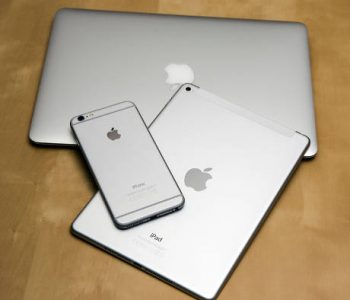 The Real Reason to Like AAPL Stock
There are quite a few reasons to like Apple Inc. (NASDAQ:AAPL) stock. For instance, many people are excited about the release of its new flagship product, the "iPhone 7." But for income investors, the real reason to like Apple stock is quite simple: steadily growing dividends.
AAPL stock had a pretty good run in the past three months, but looking a bit further back, the story is not so cheerful. In the past 12 months, Apple stock is down four percent.
However, if you are a dividend investor who doesn't rely on "Mr. Market" to provide you with returns, you'd see that AAPL is still a top dividend stock.
Despite massive swings in Apple's stock price in the past year, the company's quarterly dividend rate never declined. In fact, Apple raised its quarterly payout by 9.6% to $0.57 per share this April. At today's price, the company has an annual dividend yield of 2.11%.
Going forward, Apple stock is setting up to be a great pick for income investors. And it all starts with its proprietary operating system.
AAPL Stock: Strength of Services

Apple uses its own operating system on all its devices. Therefore, as the company sold tens of millions of devices each quarter, it has built up a giant ecosystem. Back in January 2015, Apple surpassed the one billion iOS devices sold milestone. A year later, Apple announced that it had one billion total active devices, including "iPhone," "iPad," "Mac," "iPod Touch," "Apple TV," and "Apple Watch." (Source: "Q1'16 Earnings Supplemental Material," Apple Inc., January 26, 2016.)
With so many users in its ecosystem, Apple could build a giant services business. In fact, the company's services segment is already booming. In the third quarter of Apple's fiscal 2016, which ended June 25, revenue from services grew 19% year-over-year to a June quarter record of $6.0 billion. (Source: "Apple Reports Third Quarter Results," Apple Inc., July 26, 2016.)
In particular, App Store revenue surged 37% year-over-year to a new all-time high. "Apple Music," "iCloud," and "AppleCare" all posted solid gains for the quarter. In the past four fiscal quarters, the company's services revenue totaled $23.1 billion, an almost $4.0 billion increase year-over-year. Apple expects the company's services segment to be the size of a Fortune 100 company next year. (Source "Apple (AAPL) Timothy Donald Cook on Q3 2016 Results – Earnings Call Transcript," Seeking Alpha, July 26, 2016.)
As you would expect, the key to such impressive growth is Apple's huge active installed base of devices. For the quarter, installed base-related purchases grew 29% year-over-year to $10.3 billion.
The neat thing about a booming services segment is that a large part of its revenue could be recurring. At the same time, services do not have to follow the same product update cycle of hardware devices.
Note that this is not the first quarter of fast growth for Apple's services business. In all three quarters of the company's fiscal 2016, revenue from services posted double-digit, year-over-year improvements.
Also Read:
Apple's Dividend History and What to Expect in 2017
AAPL Stock: Is Apple Inc. a Great Dividend Play for 2017?
Steady growth in services makes the segment a catalyst for Apple's dividend hike in future. But for Apple stock, the number one focus is still hardware devices. iPhone sales totaled $24.0 billion for the most recent fiscal quarter, accounting for 56.8% of the company's total revenue. (Source: "Apple Inc. Q3 2016 Unaudited Summary Data," Apple Inc, July 26, 2016.)
However, while iPhone sales looked impressive on their own, the number represented a 23% decline from the year-ago period. Some view this as a confirmation of Apple stock bears' argument that the company is only heading south from now on. However, note that in the reporting quarter, iPhone sales could have been affected by the anticipation of a new model being released today. And it's not like people have completely stopped buying iPhones; for the quarter, Apple still sold more than 40 million units of the device.
And don't forget that Apple's hardware segment includes much more than just the iPhone. While Macs' market share is still no where near that of PCs, the company's new strategy with the iPad seems to be working. With the success of the "iPad Pro," revenue from iPads grew seven percent to its best in 10 quarters. Moreover, surveys showed that about half of iPad Pro purchases are for work-related purposes; if more consumers decide to replace their PC notebooks with iPad Pros, the segment's revenue growth could continue into the future.
The Bottom Line on AAPL Stock
Last but certainly not least, Apple stock is trading at less than 13 times its earnings, not a high number given its growth potential. If you want solid dividends rather than forces in the stock market to determine the return of your portfolio, AAPL stock is worth taking a serious look at.