Waddell & Reed Financial, Inc. (NYSE:WDR): Collect 10.1% Yield Starting November 1st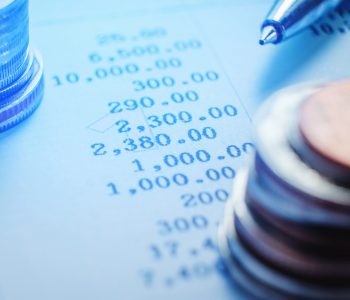 iStock.com/SARINYAPINNGAM
A Double-Digit Yielder You Likely Haven't Considered
This company runs an extremely profitable business, and pays generous dividends with a yield more than five times the S&P 500's average.
Investors who want to lock in this yield need to act quick, because the next distribution date is November 1. To receive that dividend check in the mail, investors have to sign up by Monday, October 9. Let me explain.
The company responsible for paying these oversized dividends is Waddell & Reed Financial, Inc. (NYSE:WDR). Headquartered in Overland Park, Kansas, Waddell & Reed is in the asset management and financial planning business.
You may not have considered WDR stock directly, but you might have seen some of its products when you were visiting your financial advisor. This is because Waddell & Reed and its subsidiaries offer a wide range of investment products, including Waddell & Reed Advisors Group of Mutual Funds, Ivy Funds, Ivy NextShares, Ivy Variable Insurance Portfolios, and InvestEd Portfolios.
As a matter of fact, Waddell & Reed is one of the oldest mutual fund complexes in the U.S., introducing its first group of mutual funds back in 1940. The company expanded tremendously over the years and currently has more than $80.0 billion in assets under management. WDR's products are distributed through its own retail broker-dealer channel, as well as a retail unaffiliated distribution channel. The company also serves institutional clients such as defined benefits plans, pension plans, and endowment funds.
The business is quite easy to understand. Waddell & Reed manages clients' money and charges a fee for it. The company does not have to drill an oil well or build a factory to conduct its business; all it needs is people to manage the money and distribute the products.
And that's why the business can be so profitable. In 2016, Waddell & Reed generated $148.0 million in net income. Not bad for a company with just $1.6 billion of market cap. (Source: "Financial Highlights," Waddell & Reed Financial Inc, last accessed September 20, 2017.)
By running a simple and profitable business, the company is able to return value to shareholders. The chart below shows WDR stock's regular dividends paid per share in the last four years:
WDR Stock Distribution History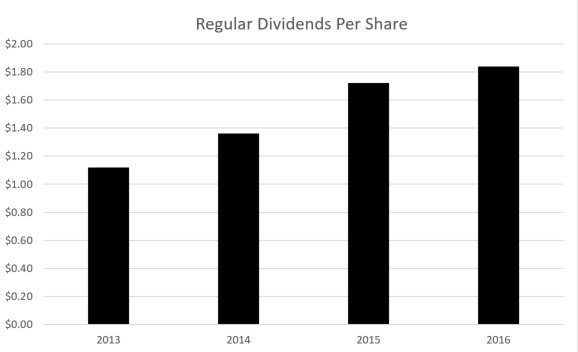 Source: "Dividends," Waddell & Reed Financial Inc, last accessed September 20, 2017.
In 2013, the company paid $1.12 of dividends per share. In 2016, the payout was $1.84 per share. That's an increase of 64%!
Right now, WDR stock pays quarterly dividends of $0.46 per share. At the current stock price, that translates to an annual dividend yield of 10.1%.
To put it in perspective, the average dividend yield of all S&P 500 companies right now is just 1.9%. So investors purchasing WDR shares today would be earning a yield more than five times the benchmark index's average.
If you are interested in collecting the double-digit yield from this asset manager, mark this date: October 9. That's because while the next round of dividends won't be mailed out until November 1, the dividends are only paid to investors who own shares before the ex-dividend date of October 10.
Also Read:
10 Highest-Paying Dividend Stocks for 2017
10 High-Yield Small-Cap Dividend Stocks for 2017