Washington Prime Group Inc: This 15.7% Yield Looks Interesting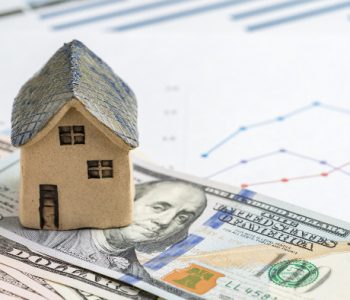 iStock.com/Nuthawut Somsuk
Is This 15.7% Yield Safe?
Let me start by stating the obvious: you have to dig really hard to find a decent yield nowadays. After a 10-year bull market, most stocks look pretty expensive.
You can, however, still find value in one place: the 52-week low list. No doubt, some of the names end up here for a reason. But if you're willing to poke through the market's discount rack, you can scoop up an outright bargain.
Take 15.7% yielder Washington Prime Group Inc (NYSE:WPG), for instance. Traders have hammered shares of this shopping mall owner on account of falling sales and profits. So, will this distribution eventually get cut? Let's take a look.
Management has made a lot of smart moves, first off. Executives have focused almost entirely on tier-1 malls, which have weathered the e-commerce storm quite well. These properties accounted for 81% of net operating income last year, up from 77.4% in 2016.
Also Read:
5 Best Income Funds for Retirement
Management has also paid down debt. In the previous quarter, Washington Prime Group trimmed $650.0 million in liabilities from the balance sheet. With less money going out the door in interest payments, management has a lot more wiggle room.
And while the outlook for brick-and-mortar looks bleak, these assets still crank out lots of cash flow.
Washington Prime Group generated $2.04 per unit in fund flows from operations (FFO), a common measure of profitability in the real estate business. Next year, executives project that number to come in between $1.48 to $1.56 per unit. (Source: "Washington Prime Group Reports Fourth Quarter and Fiscal Year 2017 Results," CNBC, February 21, 2018.)
You don't need a Ph.D. to see profits moving in the wrong direction here. That said, this income more than covers the partnership's $1.00-per-unit distribution. So the distribution looks safe, at least for now.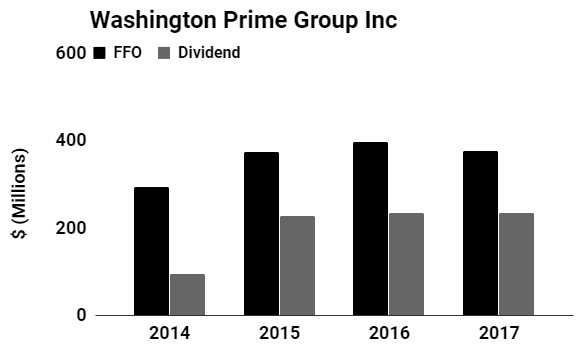 Source: "Investor Relations," Washington Prime Group Inc, last accessed February 23, 2018.

The open question here? Future cash flow. More than 12,000 stores will close their doors in 2018, up from about 9,000 last year. That could push a number of shopping mall landlords into bankruptcy. (Source: "A tsunami of store closings is about to hit the US — and it's expected to eclipse the retail carnage of 2017," Business Insider, January 1, 2018.)
However, only the low-end malls face the real danger of going out of business. Tier-one properties continue to generate cash flow. High-end malls also have a number of options, including changing their tenant mix to Amazon.com, Inc. (NASDAQ:AMZN)-proof businesses (i.e. more gyms and restaurants) or exiting the retail game altogether (convert existing space to offices, warehouses, or condos).
For now, Washington Prime Group will likely keep paying out distributions to owners. This partnership doesn't represent the safest investment around. But thanks to the partnerships top-tier properties, light debt load, and ample cash flow, management has a lot of wiggle room to turn things around.