Warren Buffett Loaded Up on GM Stock, Should You, Too?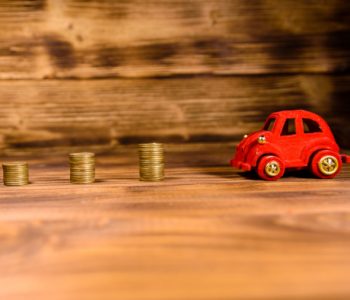 iStock.com/igorbondarenko
Buffett Bought Another 1.4 Million Shares of General Motors Stock
With words like "trade wars" and "tariffs" often mentioned in the news, the U.S. automotive industry hasn't been a stock market favorite lately. However, that did not stop Warren Buffett from loading up shares of one Detroit-based automaker: General Motors Company (NYSE:GM).
You see, institutional investment managers with more than $100.0 million in equity assets under management are required to disclose their U.S. equity holdings every quarter in a Form 13F to the U.S. Securities and Exchange Commission (SEC). Buffett's company Berkshire Hathaway Inc. (NYSE:BRK.B) recently made its filing.
Berkshire's filing to the SEC showed that by the end of June 2018, Buffett's company owned 51.4 million shares of GM stock. That was 1.4 million shares more than it had at the end of March. (Source: "Form 13F," U.S. Securities and Exchange Commission, last accessed August 21, 2018.)
With GM shares trading at around $37.00 apiece, Warren Buffett's stake in the automaker has a value of approximately $1.9 billion.
Note that Buffett is undoubtedly one of the greatest investors of our time. From 1965 to 2017, the per-share market value of his company skyrocketed 2.4 million percent. (Source: "Berkshire's Performance vs. the S&P 500," Berkshire Hathaway Inc, last accessed August 21, 2018.)
That's no misprint.
Therefore, every time Berkshire files its 13F, investors are tempted to follow Buffett's actions. So let's take a look at General Motors stock and see if it deserves a spot in an income investor's portfolio.
GM Stock: Not a Market Favorite
As I mentioned earlier, U.S. automotive companies are not exactly the hottest stocks at the moment. The reason lies in the possibility of a trade war with China.
General Motors sells a lot of cars in the Chinese market. It also has several joint ventures in the country. Investors are concerned that if the trade war escalates, sales of GM vehicles would slow down in China.
That concern has put quite a bit of downward pressure on General Motors Company's share price. Over the past two months, GM stock slipped more than 10%, which was quite a tumble, considering that GM is a large-cap company with more than $50.0 billion of market capitalization.
General Motors Stock Chart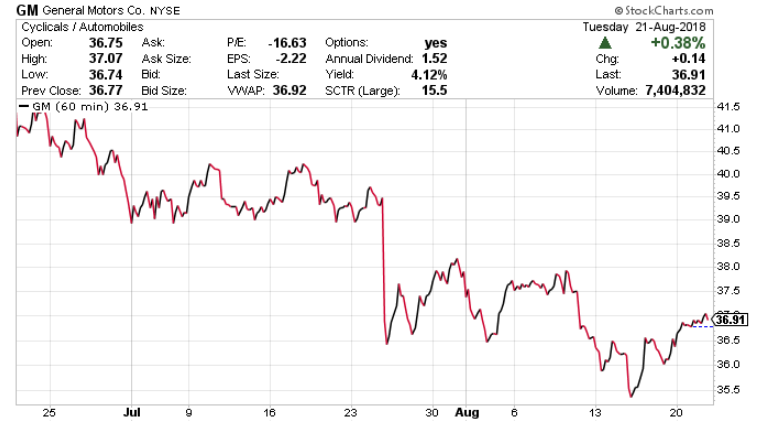 Chart courtesy of StockCharts.com
With the recent pullback, however, the General Motors stock valuation has become quite attractive. Right now, GM has a price-to-earnings (P/E) multiple of 8.7 times, which is substantially lower than the auto and truck manufacturing industry's average P/E ratio of 14.3 times.
Furthermore, the company has a price-to-sales ratio of 0.4 times and a price-to-cash-flow ratio of 2.8 times. Both numbers are considerably lower than the industry average (1.2 times and 8.5 times, respectively). (Source: "General Motors Co (GM.N)," Reuters, last accessed August 21, 2018.)
Of course, a cheap valuation can sometimes be a sign of trouble. But if you take a closer look at General Motors' financials, you'd see that the company offers something that's reassuring for income investors: a reliable stream of dividends.
A Solid Dividend Stock
GM stock reinstated its dividends in 2014 with an initial quarterly rate of $0.30 per share. Since then, the company has raised its payout twice. With General Motors currently paying $0.38 per share on a quarterly basis, its dividends have increased by 27% in four years. (Source: "Historical Dividends – GM Common Stock, $0.01 Par Value," General Motors Company, last accessed August 21, 2018.)
Combining a growing payout with lackluster stock price performance, GM is able to offer a substantial annual dividend yield of 4.1%. To put that in perspective, the average dividend yield of all S&P 500 companies stands at just 1.8% at the moment. (Source: "S&P 500 Dividend Yield," Multpl, last accessed August 21, 2018.)
The best part is, other than offering a generous yield, General Motors also stands out due to its dividend safety.
In 2017, the company generated an adjusted net income of $6.62 per diluted share, representing an 8.2% increase from 2016 and marking a new record. Since General Motors declared and paid total dividends of $1.52 last year, it had a payout ratio of 23%, leaving a wide margin of safety. (Source: "Earnings From Continuing Operations," General Motors Company, last accessed August 21, 2018.)
In the first half of this year, General Motors' adjusted earnings came in at $3.24 per share. Again, the amount easily covered its total dividends of $0.76 per share declared and paid during this period. (Source: "Second-Quarter 2018 Earnings," General Motors Company, last accessed August 21, 2018.)
Bottom Line on General Motors Stock
A low payout ratio is great for income investors. It means that, even if GM's bottom line deteriorates due to, say, declining sales in China, there's a good chance that the company can still make enough money to cover its dividends. After all, current numbers suggest that General Motors Company is paying out less than one-fourth of its profits.
And since GM stock gets Warren Buffett's approval, maybe income investors should consider it, too.